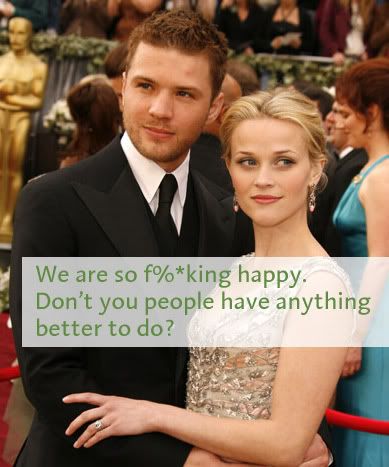 Reese Witherspoon is like her character Tracy Flick in the movie Election with Matthew Broderick. If you haven't seen it yet, you should rent it because it's cute. Reese's character is an annoying over-achiever with a permanently pasted-on smile. She's tireless and stops at nothing to get what she wants.
That's why we think that if Reese and Ryan are having a rough patch, Reese will make it work.
Access Hollywood says there's nothing to the cover story in this week's Life & Style that Reese and Ryan are having trouble. They base this on Reese's remarks, which may have nothing to do with reality:
"He's been in Toronto and he came all the way down here for just like 24 hours to be with me, so it was really nice, Reese told us in a recent interview.
Now, Reese and Ryan are together in London, where Ryan traveled to be with Reese while she's working on her new film "Penelope."
And in a relationship consisting of two busy actors, those are the types of things you have to do to make it work, as Reese told us.
"We love each other. We have done everything together for nine years," she smiled.
Reese will make her relationship work. She will also make us believe that everything's fine in her life, and that's what she's supposed to do as an actress. Jennifer Aniston, take a note.
Here are pictures of Ryan and Reese returning to their hotel on Oscar night. Pictures [via]
Three more after the jump.