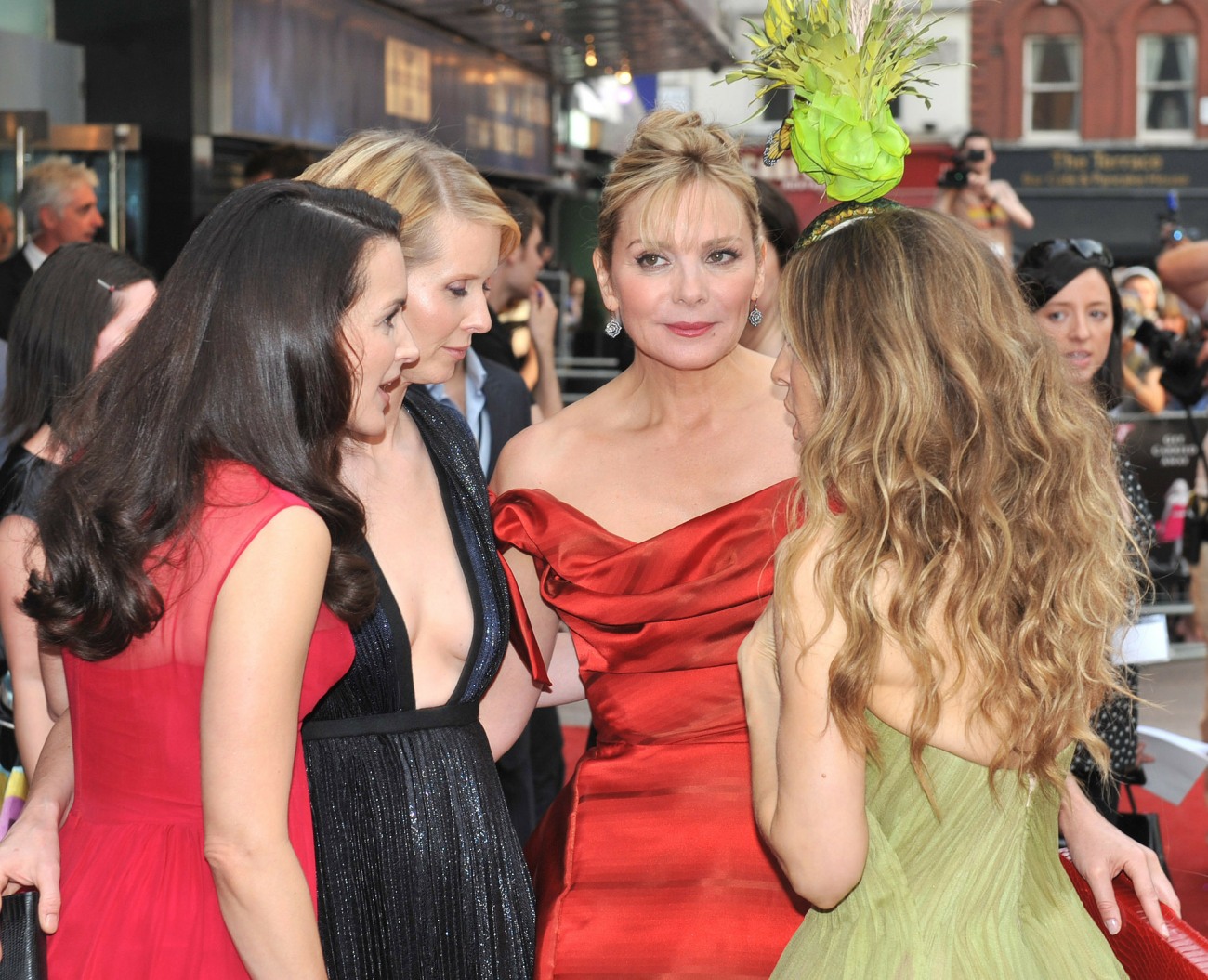 What has happened in the past week with the Sex and the City cast is kind of crazy, right? I keep thinking of it as "The Public Shaming of Kim Cattrall." It's true that there have always been long-simmering resentments within the SATC cast, mostly between Sarah Jessica Parker and Kim Cattrall, but I always thought both women would keep the thin veneer of sisterhood to the grave. Not so much. I also have to admit, before the events of the last week, I'd always been kind of "meh" on Kim as a person. She's talented, she seemed cool in interviews, but I'd never really thought too much about her. After seeing the wolves descend on her and try to bury her with bitchy gossip, I'm now a big-time fan. What's happening to her has made me very uncomfortable on her behalf and I'm glad to see her standing up for herself publicly. Kim also tweeted about the week-long drama on Friday:
Josh, I've played 'SAM' for 20 years. Am moving on & so should you. Try #SensitiveSkin my show on @Netflix https://t.co/mJYOybZMi8

— Kim Cattrall (@KimCattrall) October 6, 2017
She also retweeted this:
@IamQuincyMorris & IBM family SUPPORT friend of the show @KimCattrall in moving from SATC! DON'T believe the lies!https://t.co/Eb9DuyOBuX pic.twitter.com/kX6lqzlhjX

— Legal Aids TV (@LegalAids_TV) October 6, 2017
But still, *someone* has an axe to grind about Kim being a terrible, terrible diva. People Magazine had yet another story where "sources" just had to f–king reiterate that It's All Kim's Fault and Kim Is To Blame. I want to get in Sarah Jessica Parker's face and sing "Let It Go."
Kim Cattrall, Sarah Jessica Parker, Kristin Davis, Cynthia Nixon spent years combating rumors that there was tension between the four of them while filming their Emmy-winning HBO series and its two big screen sequels. But a source close to production tells PEOPLE the actresses had conflicts and consciously kept that from fans.

"They genuinely did care about each other and worked very hard to protect their relationship," the insider says. "Every relationship has its ups and downs and they worked very hard to protect fans from moments that weren't ups."

Multiple sources tell PEOPLE that star Kim Cattrall's demands led studio Warner Bros. to kill Sex and the City 3, which Parker had said had a "beautiful, funny, heartbreaking, joyful, very relatable script and story" ready for filming. Sources have told PEOPLE that Cattrall made "outrageous demands" to re-board the movie franchise. Another source previously countered that Cattrall was not happy with the "humiliating" plotlines for her character in the movies. (Warner Bros. has not commented).

While Cattrall has since denied that her demands had anything to do with the death of the in-development sequel — which she said she refused to board back in 2016 — an insider tells PEOPLE that the actress is refusing to own up to her part.

"It's amazing Kim is saying she wasn't negotiating because she was absolutely asking for many demands, some of which have already been quoted," says the insider. "When she said the relationship was toxic, it's interesting because she is the one who creates the drama, but she won't take honest responsibility for her actions. She's been protected by their silence for so long I think she just expects that."
Nothing says "that other woman created the drama" than a person who refuses to let go of a grudge and continues to give these "who me, I'm so innocent!" quotes about drama to People Magazine. I could seriously picture Sarah Jessica saying that to People, it really, really sounds like her. And it's sad. Meanwhile, the New York Post had a very interesting history of the beef between SJP and Cattrall – go here to read it. They identify the pattern – SJP was mad that Kim was a "scene-stealer" during the TV show and SJP would basically isolate Kim with the help of cast and crew, while simultaneously pushing stories which casted Kim as the "villain." This happened when SJP wanted to make all of the films – Kim would resist because she didn't want to do something, and a spate of stories would appear about how Kim is terrible and she's dragging her heels, etc.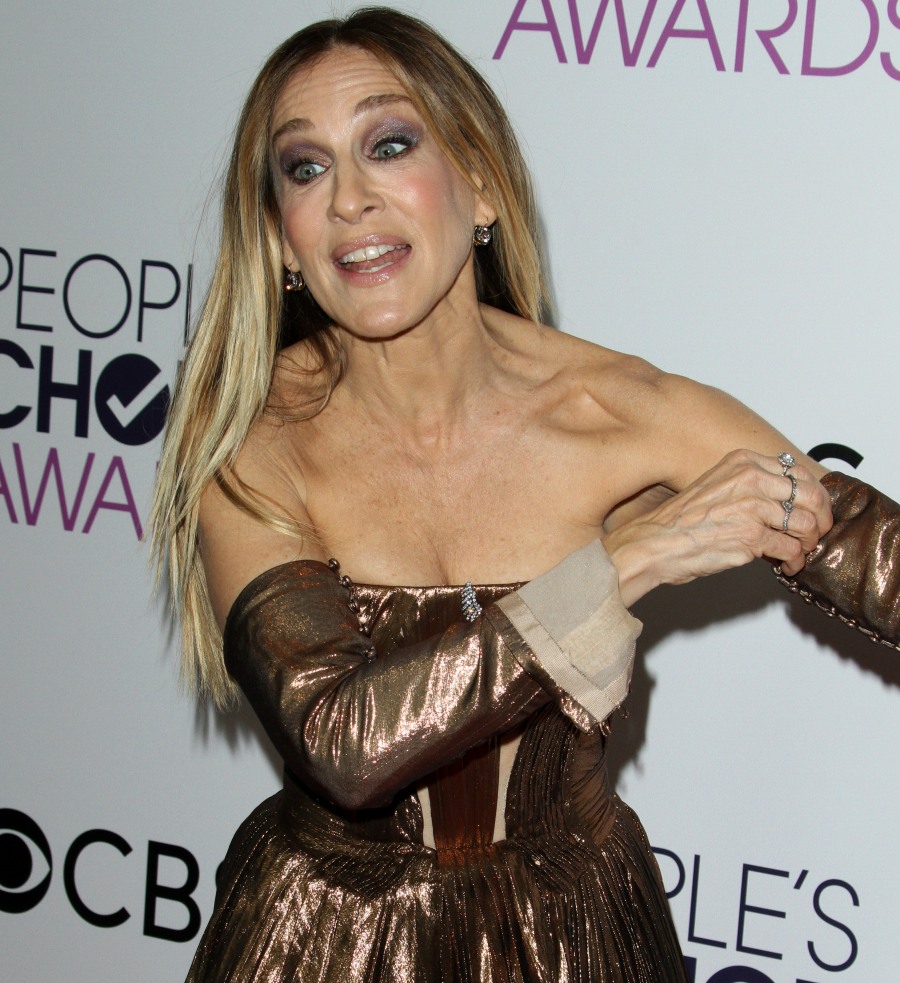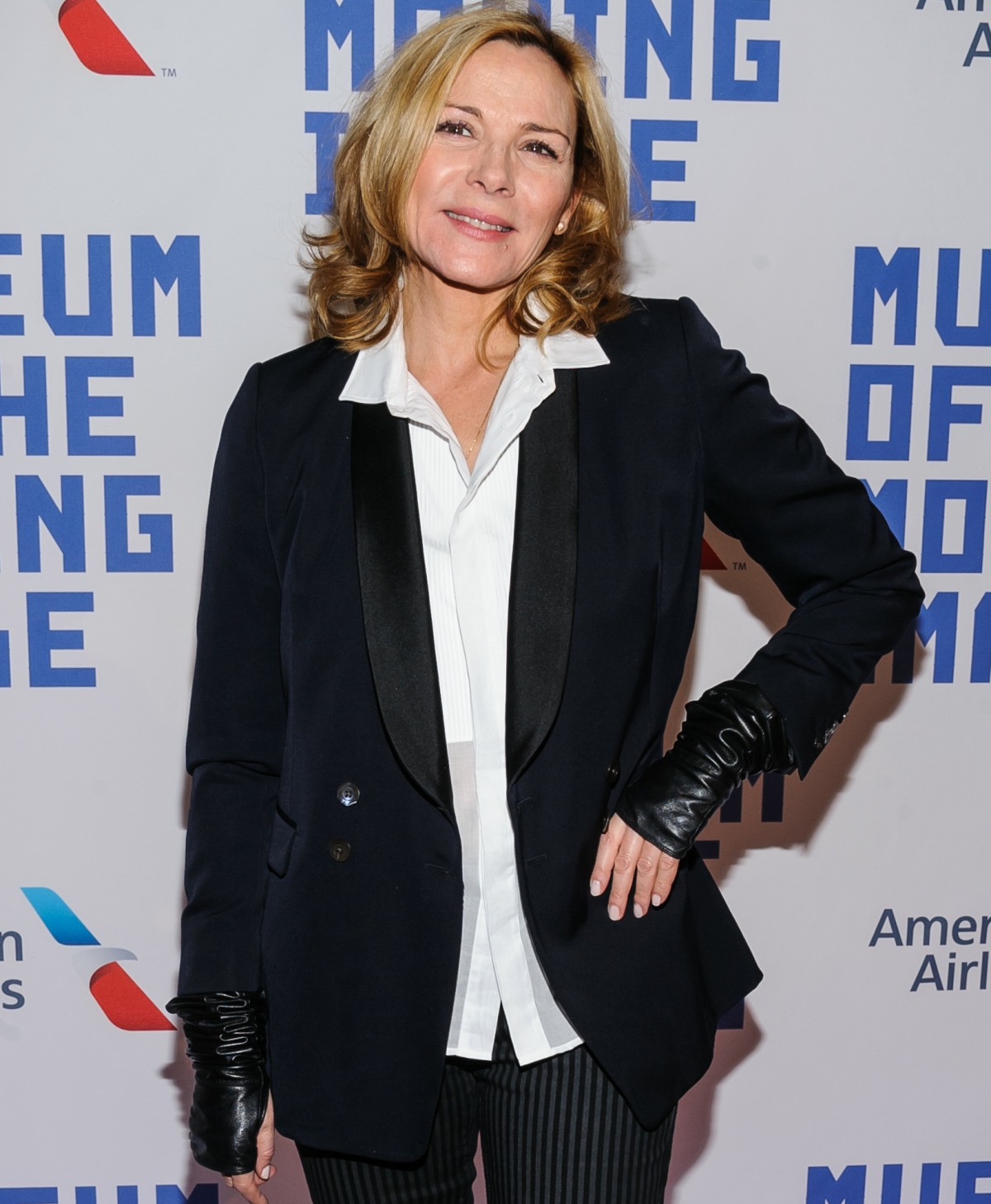 Photos courtesy of WENN.