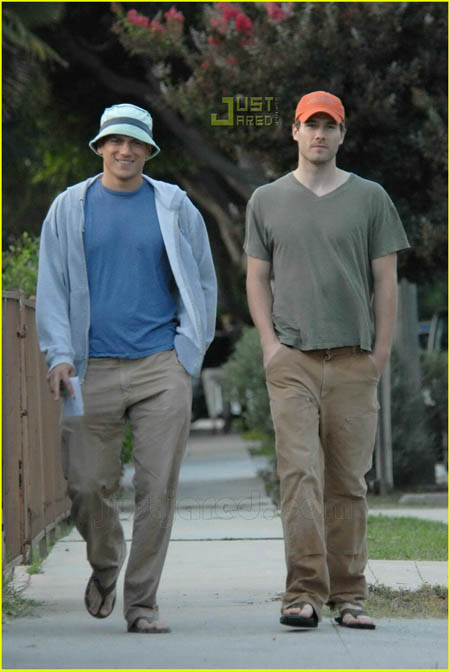 My husband I and love Prison Break. We are still watching season two over here in Switzerland, although I read all the spoilers on Wikipedia and enjoy teasing him by revealing key plot details while he hums and covers his ears. The episodes are getting more outrageous and the plot twists are beyond plausible, but if you watch it you're willing to buy all the near brushes with capture and unexplained getaways because it sucks you in. This is due in no small part to Wentworth Miller's charisma and commanding presence. You believe the guy is capable of anything, and you want to follow him around while he deftly evades authority.
Anyway there have been rumors for quite some time that Wentworth Miller plays for the opposite team. It doesn't matter to me because I'm married anyway, and there's little chance any of these hot famous guys would give me the time of day even if I was single. I'm cute and all, but I'm not surgically enhanced or delusional. You can appreciate a hot guy who's not into women as much as one who is. Once you're hitched you're not getting anything else, so you may as well accept that it's all fantasy.
Miller was photographed out with a guy who is known to be gay and is just as attractive as he is, and rumors are heating up. He was seen with Luke MacFarlane, who is TR Knight's ex boyfriend and was on Over There and Brothers and Sisters. It's possible these two are friends who are both actors and are super hot and dress alike. They do have a lot in common.
Here's the description from Just Jared, where we found the pictures:
Wentworth Miller hangs out actor pal Luke MacFarlane in Los Angeles on Saturday.

According to spywitnesses, the pair first avoided being photographed together, but eventually walked down the street together with a smile.

Wentworth, 35, and Luke, 27, started their day off together by visiting printing store Kinko's, where the Prison Break star surfed the web.

Afterwards the pair grabbed some drinks from Starbucks and headed to a small art gallery in Culver City. Finally, Went and Luke went to the In-N-Out Burger drive-thru and called it a day.
A lot of gay actors and actresses are closeted not because they're trying to hide their orientation, but because they realistically fear that their career will suffer. If the public sees tons of pictures of an actor or actress out with their same sex significant other we're supposedly less likely to find them believable in, say, a romantic comedy with a member of the opposite sex. I have a gay family member who is out and proud. Maybe because of that I like to think that I'm unbiased enough to find a gay person entirely believable in a straight role.
I would love to see Wentworth Miller go on to A-list film career, perhaps as a Jason Bourne type of sensitive action hero or a James Bond level seducer. He's so good on Prison Break, and he needs to be cast in some top films. Maybe it's best if we don't know the real news about Miller in case there's even a small chance that rumors can affect his career. He's a talented guy and someone needs to consider him for a leading role in a box office hit.
I'm not outing the guy, I'm just reporting on news that's already out and not saying that it's true. Hopefully there is a distinction and that's different from going after someone. Feel free to bash me if I'm wrong, because I have some misgivings about covering this.
Thanks to JJB for linking this, and to Just Jared for the photos, where you can see a lot more pictures of Wentworth and Luke.