Good luck getting Kathleen Kennedy & @RianJohnson to explain what #TheLastJedi means. We tried—here's what they said https://t.co/IJRch5ed40

— VANITY FAIR (@VanityFair) October 10, 2017
SPOILER warning: As you know, the Star Wars: The Last Jedi trailer dropped and people are losing their minds over it. I'm often get overly excited about films but I can't in this case. I was so let down by The Force Awakens that I'm not sure I'm going to make seeing The Last Jedi much of a priority. I do like Mark Hamill and, of course, the opportunity to see Carrie Fisher will probably drive me to the theater. Plus, my indifference worked in my favor for Rogue One so, who knows – maybe I'll love it.
I do love the playfulness that surrounds Star Wars Universe. In this case, everyone wants to know who The Last Jedi is. Despite the fact that Obi-Wan mentioned it in Empire Strikes Back (Leia was never trained), some folks plugged their ears and said 'lalalalala.' So when Vanity Fair did an interview with Lucasfilm's president Kathleen Kennedy and TLJ writer/director Rian Johnson, they thought they'd get to the bottom of this. VF asked point blank and Kathleen questioned why on earth (or Dagobah, your choice) she would answer that. VF used the excuse, "because George Lucas did":
Vanity Fair: So, do we know what the words The Last Jedi allude to?
Kathleen Kennedy: Why in the world do you think I would tell you that?

VF: I'll tell you why. Back in 1998, I interviewed George Lucas for V.F. ahead of The Phantom Menace, and I asked, "Who or what is the phantom menace?" And he nonchalantly said, "Oh, it's Darth Sidious."
KK: Did he really?

Just like that.
KK: I'm not going to do that.

V.F.: Did you think up the title?
Rian Johnson: That was the very first thing, when I had not even written the script. When I was coming up with the story, I had that title. So I've had that title in my head now for years. I was so terrified that someone would guess it—it seemed like an obvious title. Every time a fake title would leak, I would hold my breath and click on the link and be like, "Oh no, did they get it?" But luckily, we were able to put it out clean.

VF: So, is "Jedi" plural or singular?
RJ: See, that's the funny thing. I heard that in the foreign translations for the title, they made it plural. In my head, it's singular. It makes sense with the story, to me, that it's singular.

VF: "Is it Luke? Is it Rey?"
Rian Johnson: I never thought that was going to be the question. I guess partially because the answer—and this is going to sound like I'm being coy, but I swear I'm not—is, you do have to see the movie. It's not as simple as saying, "It's this person—ha-ha!" It is a little more complicated than that. I guess I can say this, that when—no, I'm not going to say anything.

VF: Come on! The train has left the station.
RJ: One would think, let's say this, that at the end of Episode VII it refers to Luke, because of the notion that this religion has died out and he is the last of them.

VF: One would think?
RJ: One would think.
I left the plural single argument in because it's such a huge debate in the SWU community. I fall heavily on the Jedi-for-both side: 'one Jedi, a team of Jedi.'
Obviously, all of this is to pique interest since we all know the answer – The Force Awakens spelled it out in black and yellow:
— Farhan Mahalludin (@nowherefarhan) October 10, 2017
So, when Vanity Fair published their article, Rian took a page form George's book:
It's Luke.

— Rian Johnson (@rianjohnson) October 10, 2017
There you are, in case you still had any doubt. OF COURSE there will be more: a twist, a loophole – a gotcha. Although honestly, at this point it would be more interesting if Luke was the last and only Jedi. Like, no one would expect that. I think this is all so we don't ask who Rey is and who her parents are. Remember the whole "Is Jyn Erso Rey's mother?" debate that distracted all of us from figuring out the plot of Rogue One? But there's so much in the trailer to try to throw our scent off. Ice wolves? Where did they come from and how do I get one? And that furry, webbed-footed Guinea pig/penguin screaming into the abyss? That's a Porg. Since you'll be stepping on someone's neck this Holiday season to get the last one on the shelf, I thought you'd want to know what it was called. (The memes are already worth it, though.)
Plus, the Star Wars Universe isn't going to squelch one rumor and not leave a thousand in its wake. While we are battling over Rey's parentage, which side will she choose, will Kylo Ren kill General Leia or where can I get an ice wolf – there's the matter of the poster and who is possibly overseeing this whole thing:
Vader looms over the poster pic.twitter.com/1CqafFWOgR

— Star Wars Junk (@StarWarsJunk) October 10, 2017
Crap. And with a few deft Tweets, they pulled me back in. Alright, SWU – you win this round.
You don't choose the Porg life. Porg life chooses you. pic.twitter.com/ps9ycxqIIP

— Funny Or Die (@funnyordie) October 10, 2017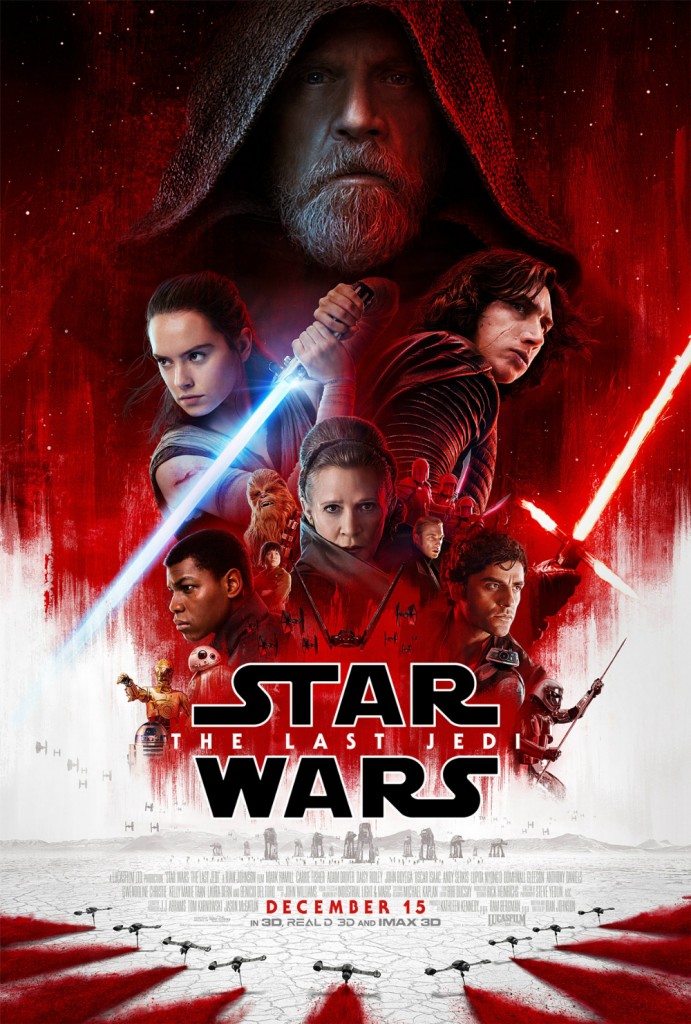 Photo credit: Lucasfilm, Twitter and Getty Images>