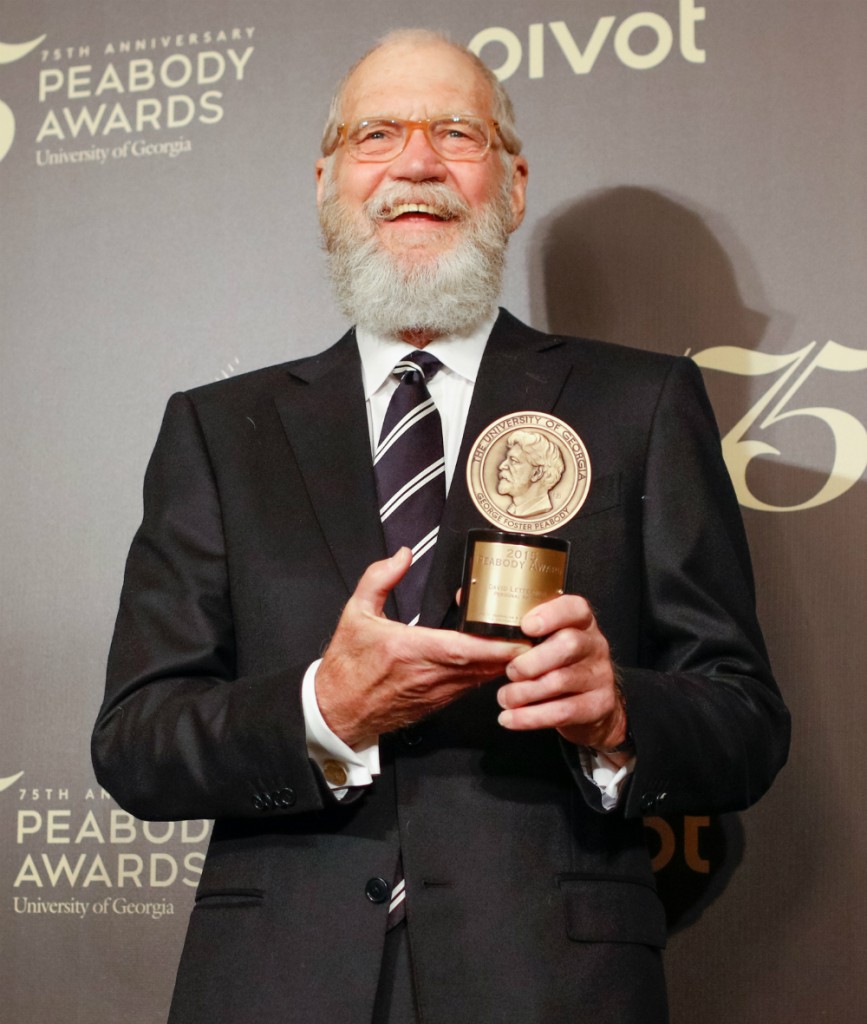 David Letterman received the Mark Twain Award for American humor on Sunday night in a star-studded affair that included Jimmy Kimmel, Sen. Al Franken, Steve Martin and Martin Short, among others. The biggest moment came when the 2016 Mark Twain recipient, Bill Murray, presented Dave with the honor. That was due in large part to that fact that he was dressed in Tudor-attire and was a riot, but also for the poignant reason that Bill was Dave's first and last guest on Late Night. Most outlets are noting how political the event was overall. Considering this was a Kennedy Center Honor, the presenters and the current climate in America, I don't think its political bent was much of a surprise. But the reason it is of note in this case is Dave famously shied away from being a political comedian. In the end, however, even Dave couldn't walk away from politics, using Mark Twain himself to convey his thoughts.
David Letterman was never known as a particularly political comedian, preferring a detached irony-drenched tone that favored the surreal and silly over topical humor. But there was an unmistakable political tint to much of Sunday night's ceremony to present Letterman with the Mark Twain award for American humor.

Kimmel jokingly blamed Letterman for helping to bring Trump to power.

"It's like you went out for cigarettes one day and left us in the hands of our abusive, orange stepfather," Kimmel quipped.

He praised Letterman profusely, recalling a monologue he delivered on his show shortly after the 9/11 attack.

"You let us know it was OK to move on and OK to laugh again," Kimmel said. "Dave, you led the way for all of us."

Comedians Martin Short and Steve Martin, a previous Mark Twain honoree, needled Letterman about his bushy white retirement beard with a line touching on the country's current divisive political atmosphere.

"Dave has always had excellent instincts. What better time than now to choose to look like a Confederate war general," Steve Martin said.

Former First Lady Michelle Obama sent in a video tribute and Pearl Jam lead singer Eddie Vedder thanked Letterman for being a longtime "friend to music" and performed the song "Keep Me in Your Heart" by the late Warren Zevon, a Letterman favorite.

On Sunday, (Bill) Murray predictably stole the show with a surreal performance dressed as an Elizabethan monarch.

Murray said the perks of the Twain award elevate you above normal humans.

"You're not exactly a god, but you're way up there," he said. "You will be able to walk up to any man or woman on the street, take a lit cigar out of their mouth and finish it. You'll be able to board any riverboat in this country."

Murray then announced he was hungry and had a burger brought to him on stage. He then ordered platters of burgers delivered to Letterman's balcony and cajoled Letterman's son, Harry, to toss a pickle to the masses below.

Letterman ended the evening with a brief speech and a bit of dark humor, saying, "I kind of wish this award could be presented posthumously."

He thanked the "hundreds and hundreds, perhaps thousands" of people who helped him along the way. He closed with a politically tinged quote from Mark Twain himself on the subject of patriotism: "Patriotism is supporting your country all the time and supporting your government when it deserves it."
I love most Mark Twain quotes but that one especially. It was the perfect quote to chose for both the messenger and the occasion. The ceremony was recorded and will air on local PBS stations November 20. I'm no expert on Dave so I was shocked to learn that Jimmy Walker gave Dave his first job as a joke writer. One of the few clips that was posted from the actual show was this one of Dave and his longtime band leader, Paul Shaffer. Paul also spoke during the show, saying, "I believe that Dave would run into a burning house to save my children. And I hope and know, Dave, that I would do the same for you, should you some day feel comfortable enough to tell me where your house is." I don't know if you all saw it but Paul and Dave were also reunited on Kimmel's show in Brooklyn last week. Dave and Paul go together like milk and cookies.
Dave is coming back to TV with a long-format interview show on Netflix. Since Dave's whole shtick is irony, he'll have plenty of material to work with these days. But I also think it's why Dave is becoming more and more outspoken about politics because I don't really think you can avoid it in any kind of interview format. Maybe he's trying to condition us to the new, politically-charged Dave. Or maybe he just can't frikking take it anymore like the rest of us.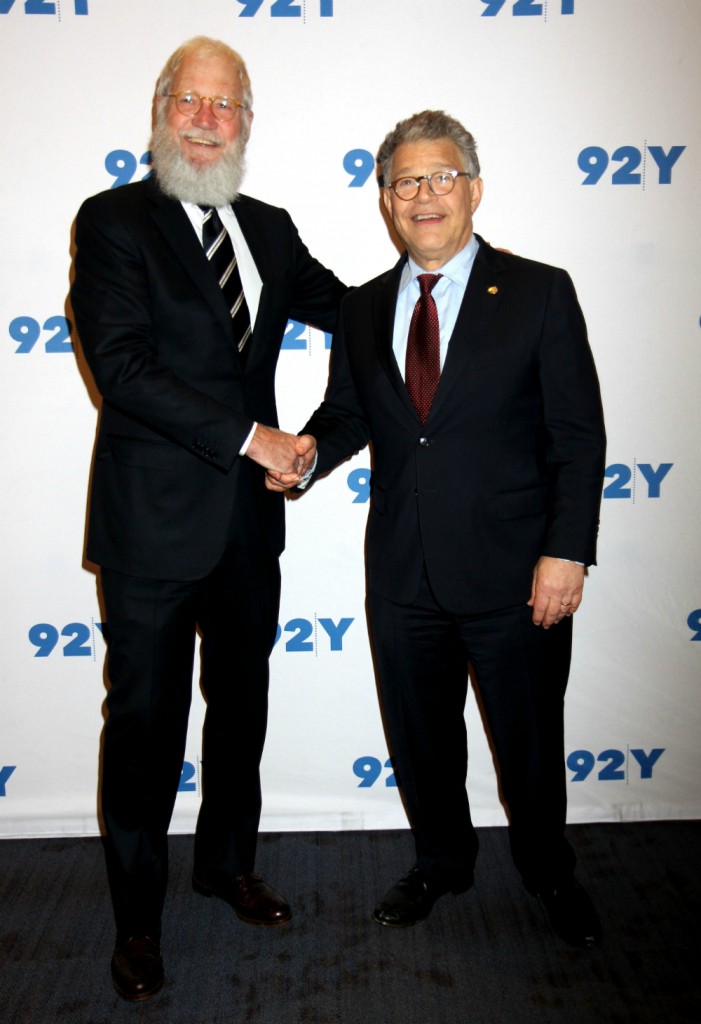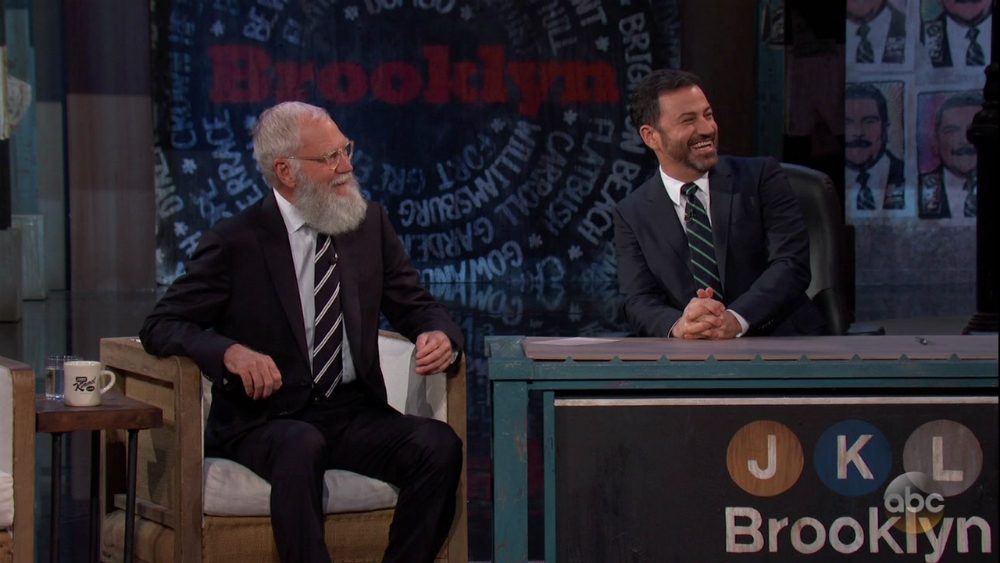 Photo credit: WENN Photos and Getty Images