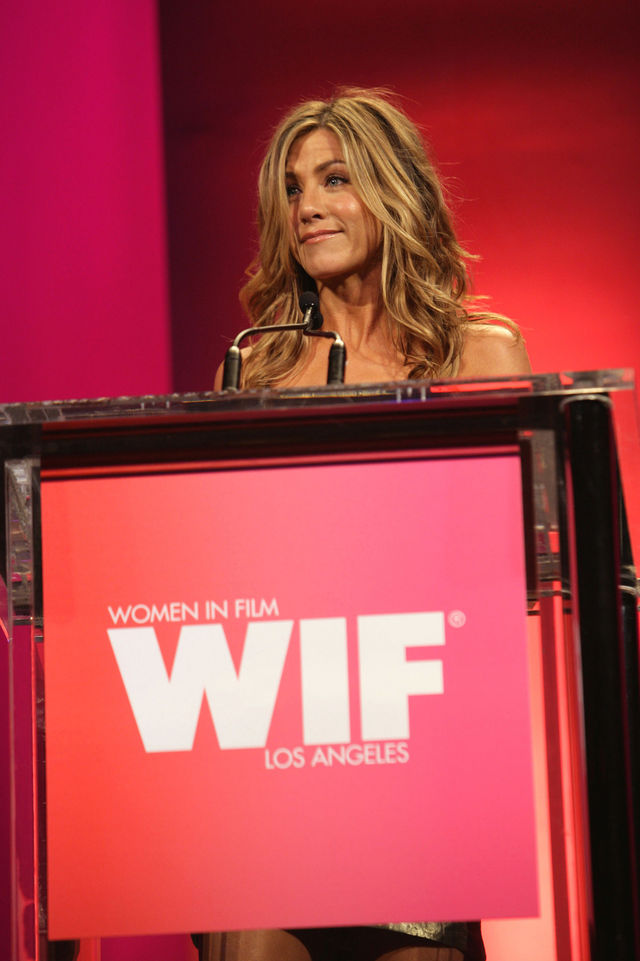 It sounds like Jennifer Aniston was gracious and funny at the Women in Film Awards in LA last night. She was at the ceremony to accept the crystal award for excellence in film. Host Chelsea Handler made a crack about Aniston's ex boyfriend and Aniston went on to joke about her love life in her acceptance speech, tying her career in film to her romantic record. She then got serious for a moment and thanked the show that launched her career – "Friends":
Accepting Women In Film's Crystal Award for expanding the role of women in the entertainment industry, Aniston took the stage Friday – in a body-baring Prada dress – and pointed out to the crowd of mostly female Hollywood movers and shakers that her personal fortunes over the past several years have been reflected in the titles on her film resume.

"I'm trying to be more careful than I have been in the past about the titles of movies that I choose to be in," Aniston revealed. "It's funny – I kind of noticed something a couple years ago that there seemed to be this strange parallel to the movies I was doing and my life off screen."

"It started with, well, The Good Girl," she explained. "Then that evolved into Rumor Has It, followed by Derailed, and then there was The Break-Up. And then on the lighter side was Friends with Money, which I felt was a bit on the nose."

"So if any of you have a project titled Everlasting Love with an Adult, Stable Male…," she concluded, drowned out by the knowing laughter of the crowd, which included Heather Locklear, Selena Gomez, Jenny McCarthy, Christina Hendricks and Twilight director Catherine Hardwicke.

She continued the title theme in a more nostalgic light. "There's one title that I will be forever grateful for and that essentially gave me a start to anything, which was Friends," said Aniston

"For years I got to go to work every day and I laughed and I played on the set with an unbelievably funny and creative team, both behind the scenes and in front of the camera," Aniston remembered. "To go from that experience, which honestly was the highlight of my life, to then be here standing in front of you being honored for my work in film and being allowed that transition is truly quite humbling."

Despite the sense of sisterhood evoked by the evening, Hollywood's female power players couldn't resist a good gag. Explaining that Aniston's award was given for expanding the visibility of women in the entertainment industry, emcee Chelsea Handler joked that the actress "also stopped expanding the visibility of John Mayer, and we all thank you for that," prompting a blushing Aniston to mock-bury her head in her hands.
[From US Weekly]
Aniston is gorgeous in that silver dress. It looks like the kind of dress that might be odd-looking on the hanger, but she really pulls off the look. I also love her hair in soft waves like that. Both the dress and the hair are a departure for Jen and you wonder if she's entering a new phase in life – one that also comes with better choices in romantic partners. Judging by her sense of humor about it all, she seems to know what she's looking for this time around.
Here's a clip from the awards featuring Chelsea's joke about Mayer:

Photo credit: WENN.com