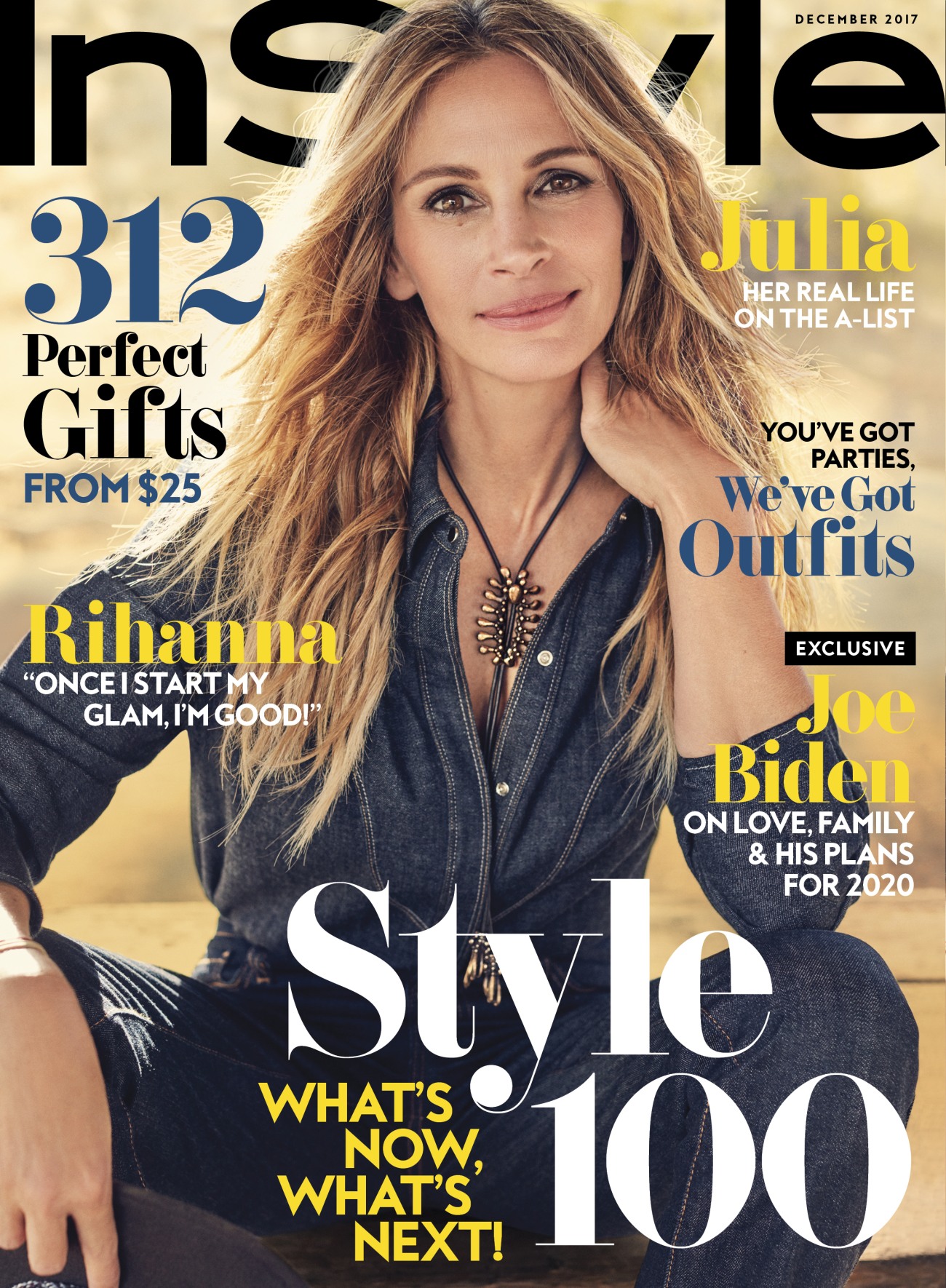 Julia Roberts just turned 50 years old in October. Nicole Kidman also turned 50 this year, only in a twist of fate, I feel like Nicole got all of the difficult sh-t out in her 40s and she entered her 50s with a lot of grace and dignity. Julia, on the other hand, seems out of sorts and… sort of like she's jealous of how much work Nicole is getting these days. Anyway, Julia has several new projects to promote, which is why she's on the cover of the new issue of InStyle. She has that new movie, Wonder (which seems like the kind of half-churchy, feel-good family film that Jennifer Garner would normally do) and a new TV series called Homecoming. Some highlights from InStyle:
On beginning a career in TV: "I don't want to go against my peoples, but it sort of is. There's a lot of really good content and a lot of diversity." She considers the project, "a total experiment… I don't even know what it really requires. I just know how to watch a TV show. I don't know how to make one."

On seeing herself in the tabloids: "I do believe that I don't need to know every weird, mean, untrue, odd [tabloid claim]. I only eat popcorn or my husband doesn't love me unless I wear blue…There is an odd occasion where I'm waiting, and I'm looking around and" – seeing a tabloid about herself – "I'm like, 'What?!' And turn around to the man behind me and go, 'Not true, sir!' "

Turning 50: "There's nothing different about this birthday than any other one. Really, people? Are we still in that space? Did anyone ever go over this with George Clooney or Brad [Pitt] before their 50th birthdays?"

Her advice for a fulfilled life: "Marry the right person, give birth to a redhead, and have great girlfriends."

Her life as a wife & mother: "There's no way to describe it without sounding sappy or ridiculous because everything in my mind ends with an exclamation point," the icon says in the December issue of InStyle, while also gracing the fashion monthly's cover. Specifically, she's talking about life with her husband of 15 years, cinematographer Danny Moder, and their three children: Henry Daniel, 10, and twins Hazel Patricia and Phinnaeus "Finn" Walter, 12. "The thing is, we have these three human beings who are just a complete reflection of the affection we have for each other."

Her 12-year-old daughter Hazel donated her hair to an organization that makes wigs for kids with cancer. "That's a big deal for a girl who's about to be 13 and has this cascading blond hair that gets commented on a lot. But she's so good and brave. She sees it as something else."
Actually, people did make a big deal about George Clooney turning 50 and Brad Pitt turning 50? Where was she? Us Weekly and People Magazine and many media outlets made Brad and George's 50th birthdays into huge deals. So, she comes across as slightly… jumpy? Like, she doesn't want to be reminded of it. She doesn't want to break the facade that she has the most magnificent life ever and that all of her life decisions were completely right and she's been vindicated by living the dream. The more she tries to convince us of that, the less I believe it. There's no shame in saying "damn, I have some regrets" or "I didn't realize this or that when I was 30-something." That's human nature. But not for Julia. Julia always has to be right and true and the best at everything!
Photos courtesy of InStyle.