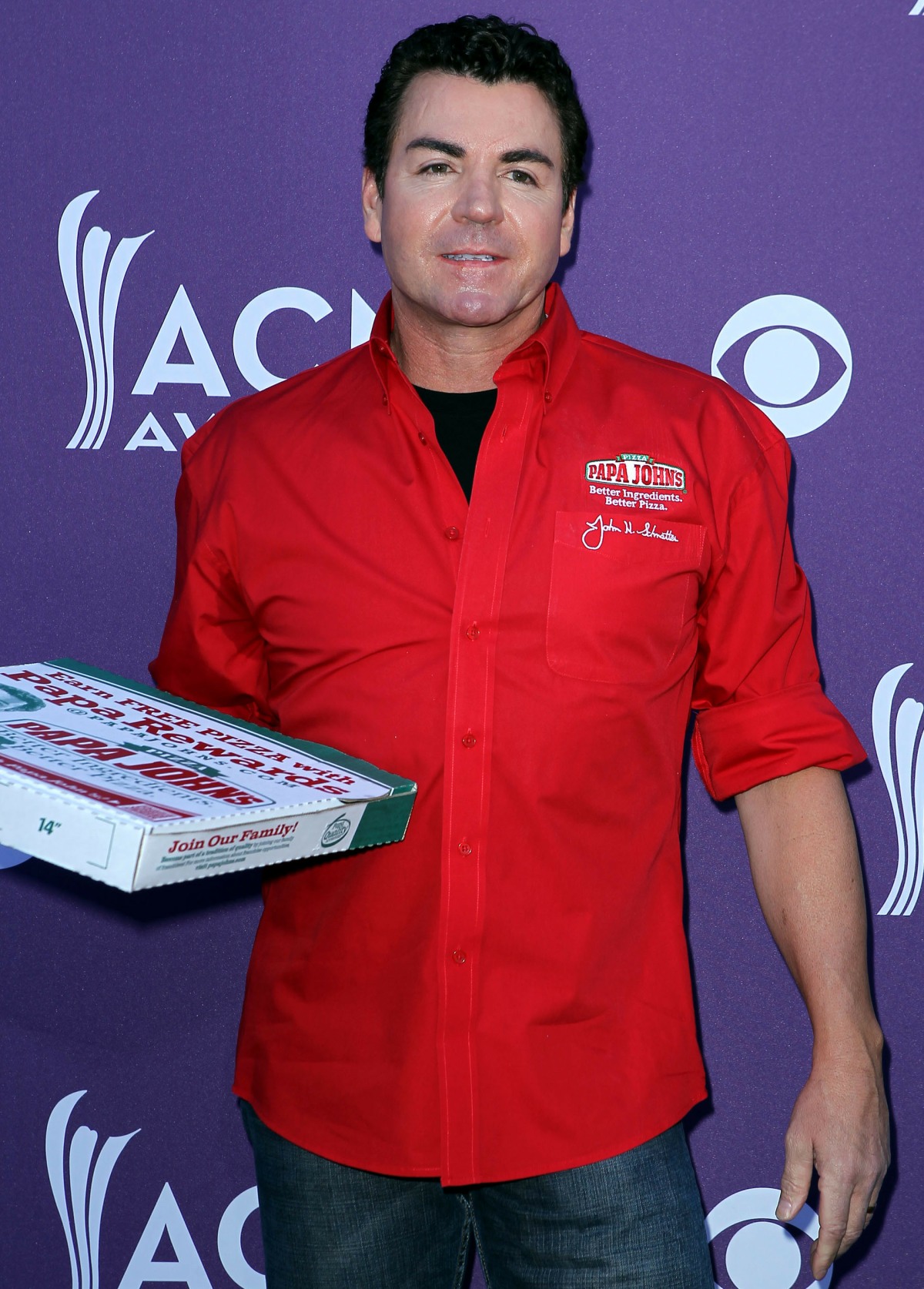 I don't like pizza! Flame on, but I've never liked pizza, mostly because the smell of melted cheese makes me nauseous. But since I am an American, I am forced to have an opinion of Papa John's Pizza. From what I've heard from the pizza-lovers who surround me, Papa John's isn't all that. It's greasy cardboard, a hot mess, whatever you want to call it. I was already primed to not give a sh-t about Papa John's pizza because of the way the company is branded, leaning in heavily with the red-state football-lovers, country music fans and NASCAR peeps. In case you couldn't tell from those dog-whistles, it turns out that "Papa" John Schnatter, the CEO of his family pizza chain, doesn't like the whole "kneeling for the anthem" thing. He doesn't like it when black football players behave like "the inmates running the prison," to quote Bob McNair.
Executives from Papa John's, the official pizza company of the NFL, expressed disappointment on a conference call Wednesday about the league's ongoing player protests during the national anthem.

"The NFL has hurt us," company founder and CEO John Schnatter said. "We are disappointed the NFL and its leadership did not resolve this."

Executives said the company has pulled much of its NFL television advertising and that the NFL has responded by giving the company additional future spots. Later in the day, a spokesman clarified that the spots themselves weren't being pulled, just the NFL shield or "official sponsor" designation on those spots.

"Leadership starts at the top, and this is an example of poor leadership," Schnatter said, noting he thought the issue had been "nipped in the bud" a year and a half ago. In revising sales estimates for the next quarter, Papa John's president and chief operating officer Steve Ritchie said on the call that the NFL deal was the primary suspect behind the decline and that "we expect it to persist unless a solution is put in place."

Ritchie said that research has found that Papa John's has been the most recognized sponsor associated with the NFL for two years running, which he said means the company's performance can track with that of the league. Papa John's has a deal with not only the NFL, but also with 23 individual teams. Company executives declined to disclose exactly how much money in projected sales Papa John's lost from its association with the NFL and declining ratings, which mean fewer people are ordering their product for game days, they said. Papa John's stock was down 8.5 percent on Wednesday.
Meh. If Papa John is going to throw a hissy about black football players exercising their free speech, maybe he should pull his advertising money from the NFL. Just take that ad money to NASCAR and the Country Music Awards and that way he won't have to deal with any black folks, I guess. I continue to be flabbergasted by just how often all of these old white dudes are revealing their true feelings, by the way. I mean, I expect this from Donald Trump, obviously. But for the CEO of a pizza chain to enter into this discussion and needing this to be a moment for the NFL to "nip this in the bud" (like football players are wayward children) and ORDER football players to stand for the anthem is… ridiculous.
Papa Johns is blaming its weak sales on black football players. Last time Papa Johns had weak sales, it blamed a black president. Maybe Papa Johns should just blame its racist CEO.

— Palmer Report (@PalmerReport) November 1, 2017
This is a bold new marketing campaign by Papa Johns pizza: pic.twitter.com/vOXDchwoYH

— Nick Jack Pappas (@Pappiness) November 1, 2017
Photos courtesy of Getty, WENN.