Part of me will never forgive Michelle Dockery. You know why? Because she was so convincing as Lady Mary Crawley, the magnificently bitchy oldest sister on Downton Abbey. Like, I'm still mad at Michelle Dockery because of sh-t that Mary did to Lady Edith. I know, I know, I need to let it go. Michelle Dockery is actually a very cool person and I suspect she is nothing like Lady Mary. In December 2015, Dockery's fiance John Dineen passed away, having lost his battle with cancer. Dockery released a statement asking for privacy and for the most part, people gave it to her – she continued working, but rarely spoke about Dineen in public. Dockery has an interview in the Guardian where she makes the lengthiest public statement on her late fiance, and it is heart-wrenching. She also talks a bit about Harvey Weinstein and more. You can read the piece here. Some highlights:
Losing John Dineen: "I don't have the vocabulary to describe what it felt like. And what it still feels like. It is…" She breaks off. "Sorry, give me a minute." In the long silence she composes herself. "I've never been more committed to anything in my life than to him. So at the time everything just shut down. Work, everything. Work didn't matter. You suddenly become an [oncological] expert. This stuff becomes your world, and that of course was my priority… I never lost hope. No. I'm not exaggerating when I say that John did not complain once, never, not once, and that gave us strength. It's what keeps you going, that positivity – to never lose that hope for a miracle. I couldn't have done it any other way."

She kept it a secret: "John was a very private person, and the hardest thing was keeping it out of the press when he was sick. It took a lot….[during filming of 'Downton'] one of the difficult things at the time was the parallels with Mary. It was just baffling, and still is to me, that my character's storyline was so similar."

She was only 33 when he died & she doesn't expect people to understand how the experience changed her: "I wouldn't expect them to. I spent more time in hospitals that year than some people do in a lifetime. I wouldn't wish it on anyone or expect them to know." After losing Dineen, she adds quietly, "You see things differently." I ask if she describes herself as a widow. "Oh, I refer to myself as a widow, yes. We were engaged, and married at heart, and so I do consider myself a widow."

How she feels nearly two years since Dineen died: "Someone said to me recently that when a baby is born, they're considered brand new up to the age of six. But after two or three years, we seem to think a death is no longer recent." She pauses, her silence marvelling at the glib misapprehension that grief could ever be temporary or finite. "It's like losing a limb, isn't it? It will always be a part of you. I know people who've had losses and they took time out immediately, but I don't think I'd have been able to do that. My decision was to keep going. And that's what we all did."

She wasn't surprised by the Weinstein stories: "No. I'd heard the rumours." She met Weinstein once, halfway through Downton, when Dockery's star was sufficiently dazzling to attract the producer's attention. "It was a very brief meeting. Nothing much happened. But I just remember," and every syllable is enunciated with fastidious precision, like an unpleasant taste, "feel-ing un-com-fort-able. Mmmm."
Even though John Dineen was Irish, I feel like Dockery's reaction to everything was so very British – the privacy, the refusal to complain or explain or ever use his illness as an excuse, the stiff upper lip in the face of devastating personal adversity. Imagine going through all of that at such a young age, when you had previously been planning your future together. The general vibe from her is that after he died, she couldn't even let herself grieve for him because it hurt too much, so she just threw herself into work and has barely caught her breath yet. Poor Michelle. I swear, I will no longer get mad at her for sh-t Lady Mary did to Edith.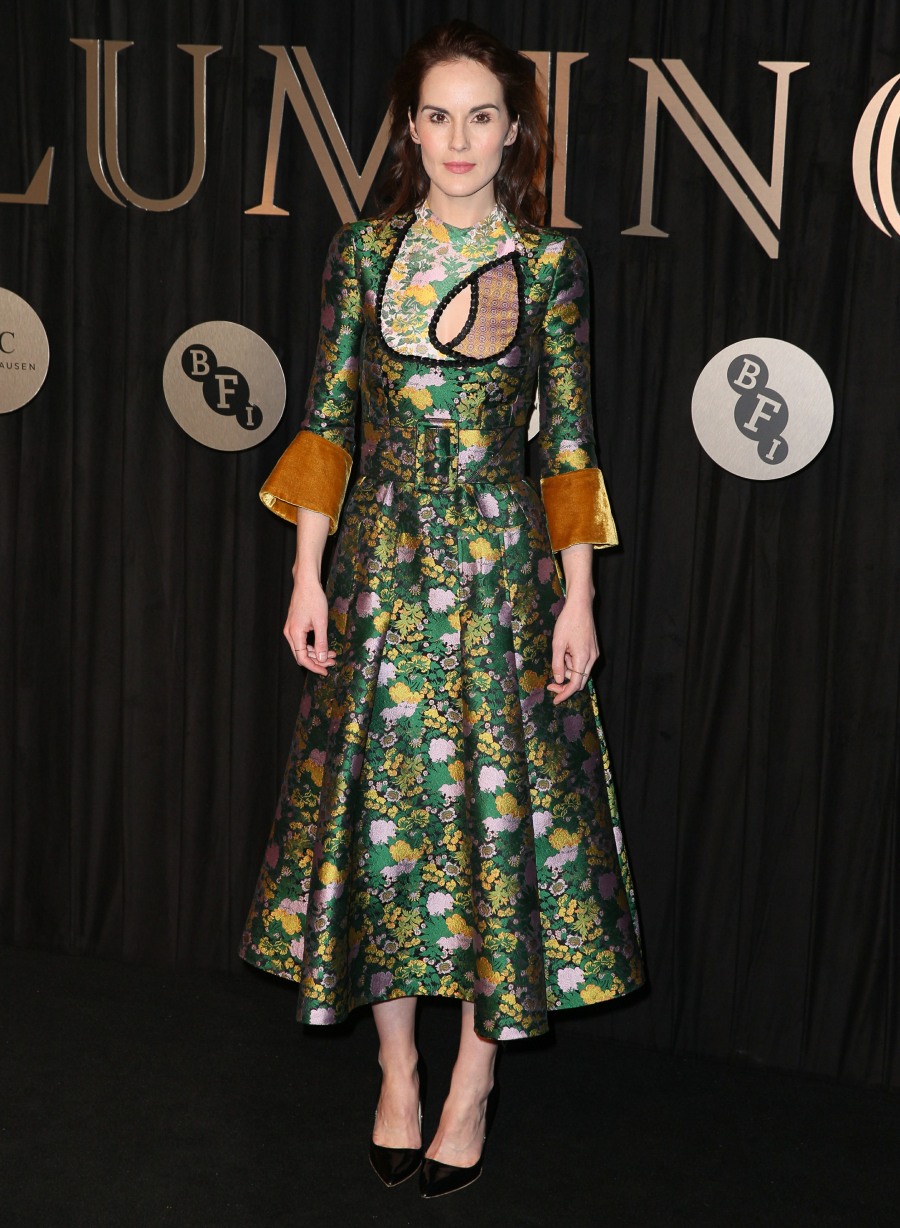 Photos courtesy of WENn.