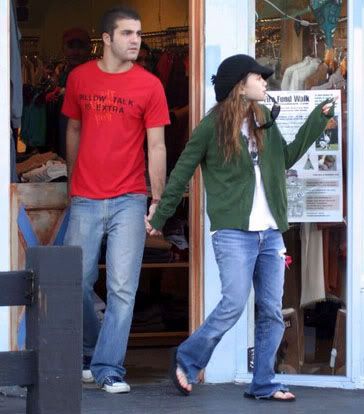 Mary-Kate Olsen has reunited with her ex-boyfriend, David Katzenberg. Katzenberg is the son of Dreamwork's head Jeffrey Katzenberg. They were together for nine months in 2004, and broke up when Olsen dumped Katzenberg for Stavros Niarchos III. Niarchos is now dating Paris Hilton.
According to Sky Showbiz, Katzenberg adores Olsen and plans to propose to her. Olsen may be reluctant to accept, however:
"He says that she is the love of his life. She's the woman he wants to spend the rest of his life with. Mary-Kate Olsen With David Katzenberg," reports Sky Showbiz.
"He's totally gone! He said he knows he wants to marry Mary-Kate and have children with her, and he's just trying to build up to the right moment to ask her…
"Mary-Kate's happy to be back with him again and is enjoying his company, but I don't think she's ready for marriage or anything just yet."
Katzenberg was so crazy about Olsen after they broke up in 2004 that he flew to LA and went to places she hangs out hoping to run into her.
Mary Kate was solo at a party Tom Arnold threw last night in Beverly Hills. Tom was honoring his real estate agent, Stephen Shapiro. (We are assuming that Shapiro is Tom's real estate agent based on some scant information we found. If we are wrong, please let us know.)
Guests included Mary-Kate Olsen, Amanda Bynes, Anthony Keidis from the Red Hot Chili Peppers, and Nick Warnock from The Apprentice. Three more pictures of the party after the jump.