As an unashamed Spice Girls fan (now and forever), I am taking this news with a grain of salt. Several times recently I've been giddy with the prospect of a reunion, only to be crushingly let down when concrete plans never materialize. According to two British media sources, the OG Spice Girls are set for a reunion next year, the 20th anniversary of the Spice World movie. Feeling old yet?
Both The Sun and the Daily Mail report that Emma Bunton, Geri Halliwell-Horner, Melanie Brown, Melanie Chisholm and Victoria Beckham have all been "locked in secret talks since the summer, and finally they are all on-board for a 2018 reunion." And, before you (read: me) get excited about seeing the Spicy ones on stage again, don't. The reunion is set to consist of a TV special and compilation album (which I am guessing is a greatest hits package with maybe one or two new tunes. I hope I'm wrong).
Talk of a Spice Girls reunion has been ebbing and flowing since a short reunion tour in 2008 and, later, their performance at the 2012 Olympic Games. Geri, Emma and Mel B. have been the squeaky wheels in attempting to get the band back together. They planned to hit the road as GEM and even recorded a new song. Unfortunately, that fell through, and all fingers pointed towards Victoria for squashing GEM.
Could it be that Victoria has had a change of heart? A source told The Sun that "getting Victoria to agree has been a coup for everyone involved, given she has always been the person holding back on a reunion" and added, "The fact she is on board now is down to how much closer the five of them have become recently."
Victoria wasn't the only Spice Girl not keen on getting back together, as Mel C. made it pretty clear last year that she had moved on from the band that made her famous. But, back in March, during an appearance on England's The Nightly Show, Mel acknowledged that "It's not really doing the band justice to go out as a four piece. Whoever's missing, it doesn't matter. I think for me Spice Girls is like a jigsaw puzzle. It's different to other bands. Look at Take That – they're going out as a three piece and they're brilliant. I love the boys! But with the Spice Girls, everything about us was the individuality and what that created together."
Are the tides turning? They finally could be, thanks to a number of reasons. The birth of Geri's son Monty in January is being viewed as a "uniting force" for the girls and Mel B.'s turbulent divorce from Stephen Belafonte may have also brought the former bandmates closer together.
The Sun spoke with a former assistant to the girls who said that "Things between them were quite icy at the start of the year. But gradually the ice thawed, and Mel [B.] was the one who drove that." The source added, "Plans at the moment are still in the early stages, and everything involving the girls tends to be complicated because they are so busy. It is not easy to get them all in the same place at the same time. But the team behind the reunion are delighted to have made it to this point."
There are still so many questions surrounding this possible reunion. Who could sort it out? Who could get to the bottom of things? I know…bring on Spice Force Five! I really want this to happen, but I am not getting my hopes up. All I have to say is, with all apologies to the Backstreet Boys, quit playing games with my heart, ladies.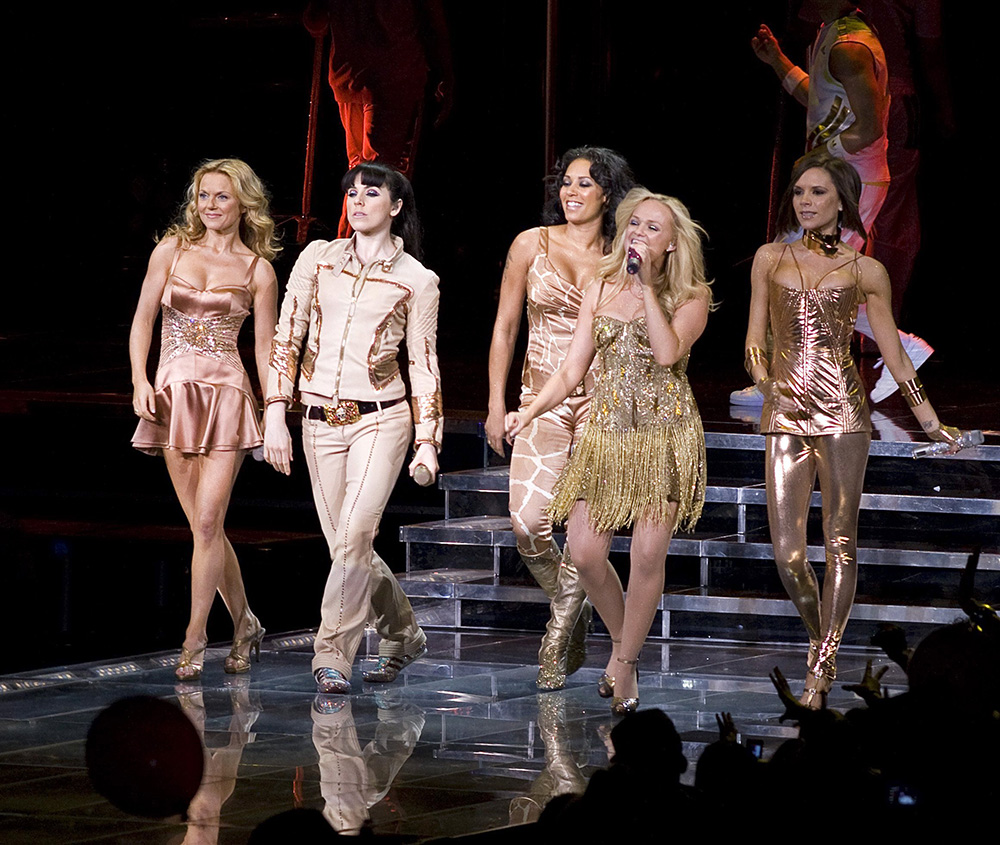 Photos: Getty Images, WENN.com