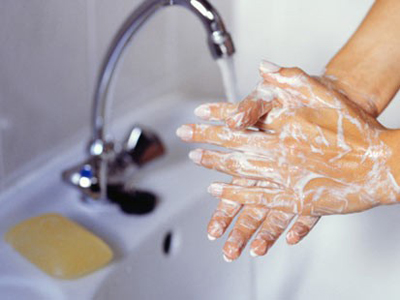 VH1 sure is starting a new trend with reality therapy television. They've had "Celebrity Rehab" with Dr. Drew Pinsky. Next they're doing a celebrity sex addiction show, also with Dr. Drew. And I've got to say that while I loudly proclaim my disdain for reality television, I really find these shows interesting – probably because they have some unexpected content. And I really prefer the "I'm peeping in on your therapy session" kind of voyeurism to the "I'm watching you eat shell bugs" type.
So VH1 is sticking with a good thing and creating another reality show based on mental health. However this time it won't be based on celebrities – it'll be about real people dealing with obsessive compulsive disorder.
VH1 has picked up a new unscripted series that centers on people battling obsessive compulsive disorder. 3 Ball Prods. is behind the still-untitled "OCD Project," which will follow a group of participants suffering from severe forms of the disease. They'll live together for several weeks in a treatment facility and undergo both individual and group treatment.

Jeff Olde, VH1′s senior VP of programming and production, noted that OCD has become a part of pop culture, thanks to various viral Internet videos as well as entertainment projects such as USA's "Monk."

"I feel our viewers will also see something of themselves in these patients as I think everyone has a little bit of OCD, making it surprisingly relatable," he said. "We want to open people's eyes and hearts to a very real side of this disorder that can often ruin careers and relationships. … Our goal is to bring some real understanding to this disease."

VH1 said the show falls into the same category of some of the channel's other rehabilitation series, including "Celebrity Rehab With Dr. Drew" and "Sex Rehab With Dr. Drew." Producer 3 Ball, which just signed with CAA, is also familiar to the TV help genre: The company produces "The Biggest Loser" for NBC and was also behind "Breaking Bonaduce."

"3 Ball's brand has always been about transformation," said 3 Ball exec producer JD Roth. " 'The OCD Project' will be another example where regular, everyday people afflicted with severe symptoms take their lives back from an out-of-control situation and inspire viewers to do the same."
[From Variety]
I really think that quote about how "everyone has a little bit of OCD" is very true. We've all got our "things," it's just a matter of how many and what type. While a lot of people think OCD and think obsessive cleanliness/fear of germs, someone with OCD can just as easily be extremely messy. I lived with a guy who had it and one of his compulsions was saving absolutely everything that could ever possibly be important to him – and that could very easily mean every gum wrapper. I'm a compulsive neat-freak who loves nothing more than a good seven bags piled up in front of the garbage can. It didn't last.
But it makes sense that there are little bits of OCD we can all relate to. I've gotten some increasingly big germ issues thanks to a crappy immune system and nearly dying from pneumonia last winter. All you had to do was look at me and I'd catch whatever you had, for twice as long and twice as bad. My roommate must have everything in parallel lines. The other one must flush the toilet 3 times, no matter what. Sometimes you grow out of these things, and other times you grow into them. Now that I'm running over some in my head, I'm realizing how long this list is getting. This show will be great. If nothing else, it'll make a lot of us super-aware and paranoid. Sounds like some good relaxing television.
This picture was titled "Germs are everywhere!!!! Thanks.