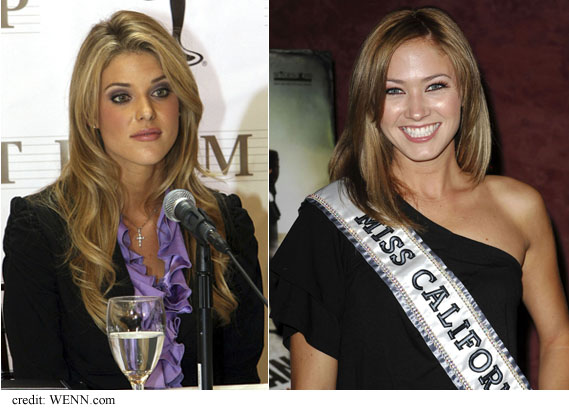 Pageant directors Carrie Prejean's lack of respect for her obligations to be the main reason they decided to fire her as Miss California USA. Her replacement was Tami Farrell, Miss Malibu and the runner-up in the Miss CA USA pageant. Now Carrie has been fired as the spokesperson for Sledge USA clothing line. She was supposed to start representing the fall line soon, but she refused to set a definitive date for important events like photo shoots. So, Sledge USA decided to follow the Miss California pageant's lead and hire Tami Farrell instead. A representative for the brand says that the decision was made after pageant directors lauded Tami's easy demeanor.
"She did not keep her appointments at all. She refused to confirm a time and date, even though we were on a very tight schedule," Nisim tells E! News, adding that "it had nothing to do with her being let go as Miss California."

As for Prejean's Sledge sub? It's a matter of déjà vu…

The former Miss California USA is going to be replaced by current titleholder Tami Farrell.

Nisim says the decision to fire Prejean was made last week and the company had originally considered replacing her with Miss Teen USA, Stevi Perry. But Sledge went with Farrell after viewing her portfolio and discussing the matter with Keith Lewis, the executive director of Miss California USA.

"We have not worked with Tami before, but we understand from the Miss California people that she's great to work with, very sweet," says Nisim. Farrell's campaign shoot will take place tomorrow in Beverly Hills.
[from E! Online]
The firing and hiring occurred within days of the photo shoot, so one can only imagine how long Carrie had put off scheduling a date. That's not much turn-around time for getting the shoot ready. But Sledge USA is an active wear brand, so alterations (if there are any) will probably be much easier than if this were a couture photo shoot.
We said yesterday that Tami would probably benefit from stepping into the shoes of such an infamously demanding predecessor, and it looks like that's the case.