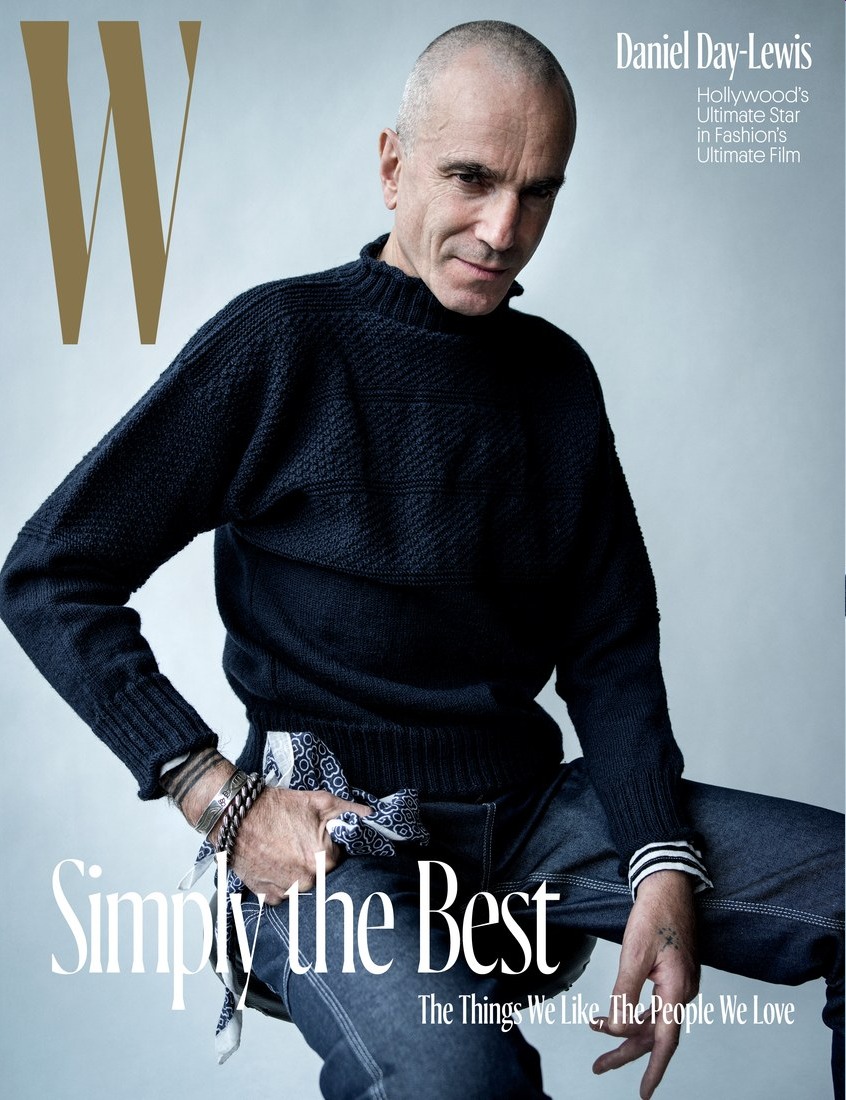 Over the years, I've covered a lot of bonkers stories and bonkers interviews. I will never label Daniel Day Lewis as "bonkers" or "crazy" or whatever, but it should be said… he is a profoundly strange man. For the most part, it's a delightful sort of strangeness, in that he's a true original, an authentic and consummate artist living in a world of oversaturation, fake reality and Twilight Zone politics. Basically, we don't even deserve DDL. He's too good for this world. I sat down to read DDL's W Magazine cover profile, not really expecting anything. But man, he actually TALKED. He's promoting Phantom Thread, his last movie ever. He announced his retirement shortly after wrapping on Phantom Thread, and he talks a lot about how he just made up his mind that the film would be his last. He also talks about learning how to sew and really learning how to craft a dress. This story is extraordinary:
To become Woodcock, Day-Lewis, who is 60, watched archival footage of fashion shows from the 1940s and '50s, studied the lives of designers, and most important, learned to sew. He consulted with Cassie Davies-Strodder, then curator of fashion and textiles at the Victoria and Albert Museum, in London. And for many months he apprenticed under Marc Happel, who is head of the costume department at the New York City Ballet, watching intently and then helping to reconstruct the famous Marc Chagall costumes for a production of Firebird. At the end of the ballet season, Day-Lewis decided he needed to build a couture piece from scratch.

"I saw a photograph of a Balenciaga sheath dress that was inspired by a school uniform," Day-Lewis told me on a chilly day in October…."The Balenciaga dress was very simple," he continued. "Or at least it looked very simple until I had to figure out a way to make it and then realized, My God, this is incredibly complicated. There is nothing more beautiful in all the arts than something that appears simple. And if you try to do any goddamn thing in your life, you know how impossible it is to achieve that effortless simplicity."

Unable to borrow the actual dress, which is in the Balenciaga archives in Paris, Day-Lewis made a sketch of it and then, using his wife as a fit model, set to draping heavy gray flannel directly on her tall, narrow frame. "Rebecca was very patient," Day-Lewis said with a slight smile. "The code that I had to crack was a very particular gusset in the armpit. You couldn't tell from the photos how the gusset was designed. Marc and I each worked on our version of the gusset and, through trial and error, ­figured it out." Day-Lewis lined the dress in silk, in a pinky shade of lilac that would become Woodcock's signature hue. "Rebecca has worn the dress," Day-Lewis said proudly. "It's very pretty."
Bless him. That kind of level of dedication to research is next-level. It makes me sort of wonder if he has an undiagnosed obsessive-compulsive disorder which is fed by his next-level preparations for his films. Here are more highlights from W:
On The Age of Innocence: "Too English. But Scorsese was a damn good reason to say yes. I had seen Taxi Driver five or six times in the first week that it came out, and I was hoping he'd ask me to do something more like that. Back then, contrary to expectations, I only wanted to tell American stories."

Deciding to do his first "English" film in 32 years: "I don't know why, but suddenly I had a strong wish to tell an English story. England is deep in me. I'm made of that stuff. For a long time, a film set in England was too close to the world that I'd escaped from—drawing rooms, classic Shakespeare, Downton Abbey did not interest me. But I was fascinated by London after the war. My parents told stories about living through the Blitz, and I felt like I ingested that. I am sentimental about that world. And my dad was very much like Reynolds Woodcock. If a poet is not self-absorbed, what else is he?"

Deciding to quit acting: "Before making the film, I didn't know I was going to stop acting. I do know that Paul and I laughed a lot before we made the movie. And then we stopped laughing because we were both overwhelmed by a sense of sadness. That took us by surprise: We didn't realize what we had given birth to. It was hard to live with. And still is."

The sadness: "I haven't figured it out. But it's settled on me, and it's just there. Not wanting to see the film is connected to the decision I've made to stop working as an actor. But it's not why the sadness came to stay. That happened during the telling of the story, and I don't really know why…I knew it was uncharacteristic to put out a statement. But I did want to draw a line. I didn't want to get sucked back into another project. All my life, I've mouthed off about how I should stop acting, and I don't know why it was different this time, but the impulse to quit took root in me, and that became a compulsion. It was something I had to do."
He seems to push away the interviewer's attempts to draw out psychological reasons for his retirement, but it struck me that he spent three decades running away from his posh, British, intellectual life and when he returned to it for Phantom Thread, he couldn't shake it off – he couldn't shake off his past, his American life, and then he realized that he actually did become a man just like his father. I don't know. It's just a theory.
Photos courtesy of Getty, W Magazine.