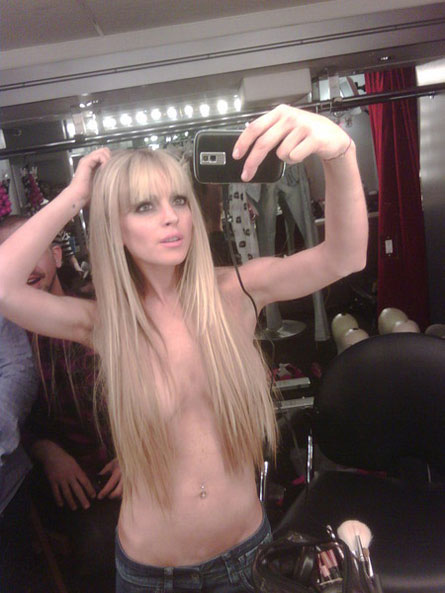 I don't give Lindsay Lohan credit for much, but I'll give her credit for this: she is good at garnering a wide variety of publicity. Just when the eating disorder/skin and bones thing has run its course, she starts hooking up with Samantha Ronson again. Or at least makes it look that way. Once we're sorta past that, Lohan gets everyone talking about the whole "Is she/isn't she drinking again" bit. Now that we're done with a solid five days of gossip about that, Lindsay's decided to really ratchet up the publicity – by presumably stealing $400,000 worth of jewelry.
Yesterday we told you how Lohan was accused of pilfering $49,000 worth of jewels from a magazine photo shoot after openly admiring them and asking to be given them several times. Not surprisingly, when the staffers balked, Lohan just took them. Well, that's the presumption anyway, since she has a long history of taking expensive things that don't belong to her.
Now People is confirming that the jewelry is actually worth a whopping $400,000, Lohan is indeed under investigation – as is everyone else at the Elle UK shoot, though I bet that's just a formality.
She may have been the last one seen wearing them, but did Lindsay Lohan steal $400,000 worth of Dior jewels from her Elle photoshoot? Under investigation by Scotland Yard, the disappearance of a set of diamond earrings and a necklace was reported on June 8. The baubles were on loan for a June 6 magazine shoot.

"We inquired and everyone from the shoot is being questioned," Lohan's rep tells PEOPLE. "Hair, make up, stylist … even photographers. Lindsay hopes they find the jewels. She is happy to cooperate."

A police spokeswoman tells PEOPLE, "Westminster Police are investigating an allegation of theft of jewelry from studios in Brewery Road in Islington. The theft was reported to a central London police station on the eighth of June after earrings and a necklace, believed to be diamond and estimated to be worth $400,000, were found to be missing approximately two days earlier."

She adds: "Inquiries are continuing and no arrests have been made. As far as who we will be interviewing – we will be speaking to a number of people in connection with the inquiry and don't discuss the identity of the people we are planning to interview."

Meanwhile, a spokeswoman for Elle U.K. released a statement exonerating the 22-year-old star. "I can confirm on behalf of Elle magazine, that items of jewelry went missing from an Elle photoshoot … and the matter is now being investigated by the police," she states. "Elle has no reason to believe that Lindsay Lohan was in any way responsible and has no further comment to make."
[From People]
Yesterday I mentioned that "I dunno anything about it" has worked as a sufficient defense for Lohan in the past, helping her get away with tens of thousands of dollars of stolen loot, including items pilfered from Louis Vuitton for a photo shoot. I'm guessing that in L.A. and New York the cops didn't make these cases a big priority and they just ran out of steam. And obviously they do have better things to do. But I really hope the Brits take Lohan down. I don't think she has regular old shoplifters' issues like Winona Ryder. I think she's just flat-out entitled. What Lindsay Lohan wants, Lindsay Lohan gets. Plain and simple.
I wonder if the upgrade in value from $49,000 to $400,000 makes Lindsay a bit more nervous. I doubt it would have made any difference to Lohan – if she wants something, she wants something. But I'm guessing that she could be charged with a much more serious crime based on the value. I'm still voting for hard labor. Though I think for Lindsay, that might mean a photo shoot without cigarette breaks.
Here's Lindsay heading to Bardot lounge in West Hollywood on May 14th. Images thanks to Pacific Coast News. Header image from Lohan's Twitter thanks to Dlisted via Gossip Rocks.