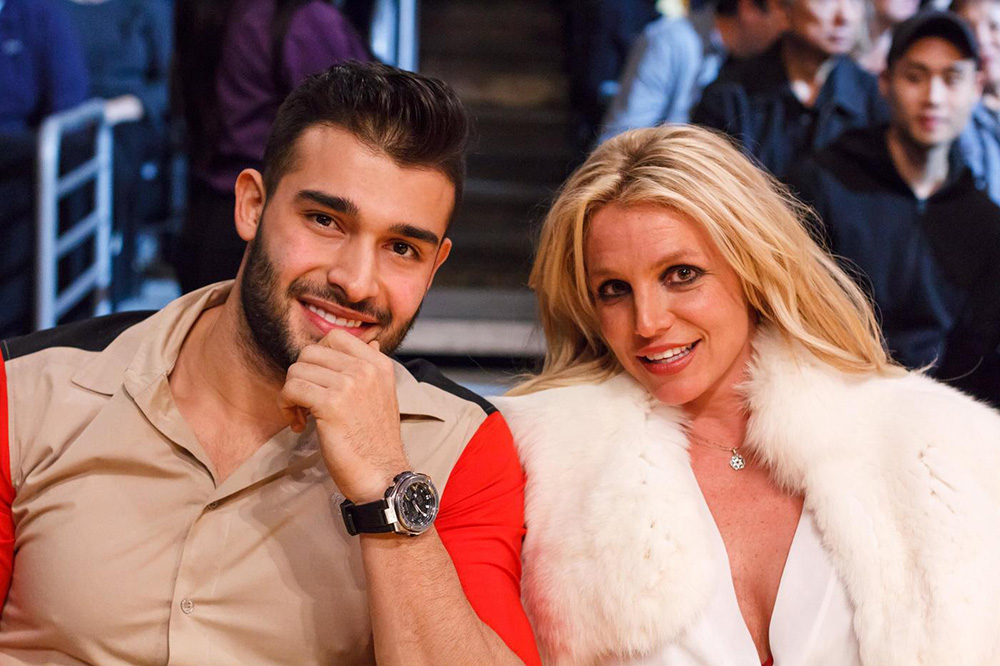 First of all, let's all take a moment to let the fact that Britney Spears is 36 sink in. Okay. Now that this sad reality is out of the way, let's talk about how her beau, 23-year-old fitness model Sam Asghari, helped the singer celebrate at her LA home. Britney and Sam met on her "Slumber Party" video and have been an item for about a year. They seem to be doing well despite their age difference, and haven't had any qualms about PDA, most recently getting spotted smooching at a Lakers game on Wednesday night.
On Saturday, Britney shared a video of Sam's sweet(ly immature) birthday tribute. As you hear Sam say, "Happy Birthday, baby," you can see a small table of birthday cupcakes and a rose petal heart on the floor. Britney noted, "Couldn't ask for a better way to kick off my birthday." I might be evil, but I can't help but think, "Aww, he's trying…" Of course, my love grinch heart may just be a couple sizes too small, possibly because no one ever did that for me. Sam also shared the clip on his Instagram, gushing "HAPPY BIRTHDAY TO MY ONE AND ONLY. Thank you for being you, thank you for showing me the true meaning of a beautiful woman and a strong mother, and most of all thank you for being mine. I consider myself the luckiest man on this planet @britneyspears #luckiestmanalive."
Not only did Brit celebrate her big day with her boyfriend, she also recruited him to shoot a special video in honor of World AIDS Day, which was observed on Friday. Britney posted her video after getting some inspiration from Madonna. Madge posted a clip of an acoustic take on Britney's hit "Toxic", adding the caption, "Silence =Death! 😷. Song For World AIDS Day! 🌎🌍🌏. #toxic #poisonparadise 🔥 @britneyspears. 🎉🎉🎉 Happy Birthday!! 💞💞💞💞." It looks like Madonna has caught up with the rest of us and used a filter that made her appear ageless (I'll admit I'm 100% guilty of this) but, hey, she brought some attention to the still ongoing AIDS crisis, so I can't give her any flak for this.
Britney posted her response video just as she embarked on her 36th year on the planet. She had Sam circle her with his camera – also showing off her festive holiday decor and HUGE Christmas tree – while she sang a snippet of Elvis' "Can't Help Falling in Love." Brit added, "I was really inspired yesterday by @madonna's post. She's right…silence = death! These words really stuck with me, because they are so true. I've always wanted to do a performance like this…singing in a pretty little black dress, with a simple 360, one take shot! I figured since it was my birthday, why not go for it?! Yes, it's definitely a "Hey, look at me" post, but the message is still there. As much as I'm not a huge fan of the vocals, Britney looks great.
Brit was a busy sharer on Saturday, also sharing a clip to help get us into the holiday spirit. Using "Let it Snow" in the background, she started the clip sharing a smooch with Sam, then showing off her outdoor Christmas lights (no "Griswold Family Christmas," but it's quite festive) and taking a twirl on the dance floor with Sam. They do look like they truly enjoy each other's company, so good for them. And Happy Birthday, Britney.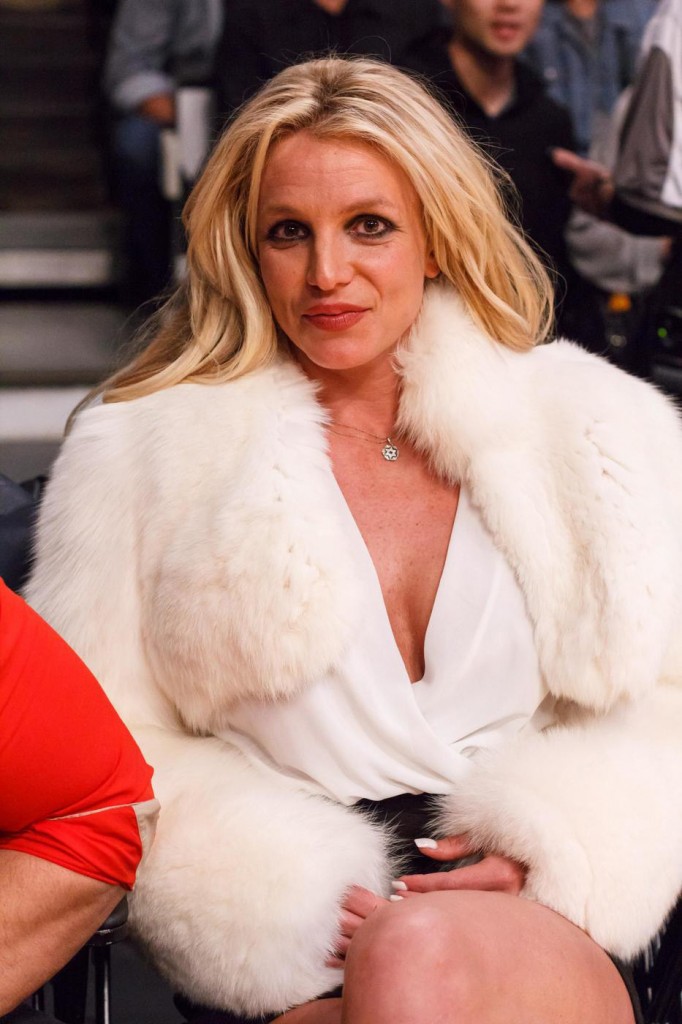 Photos: Pacific Coast News, Getty Images