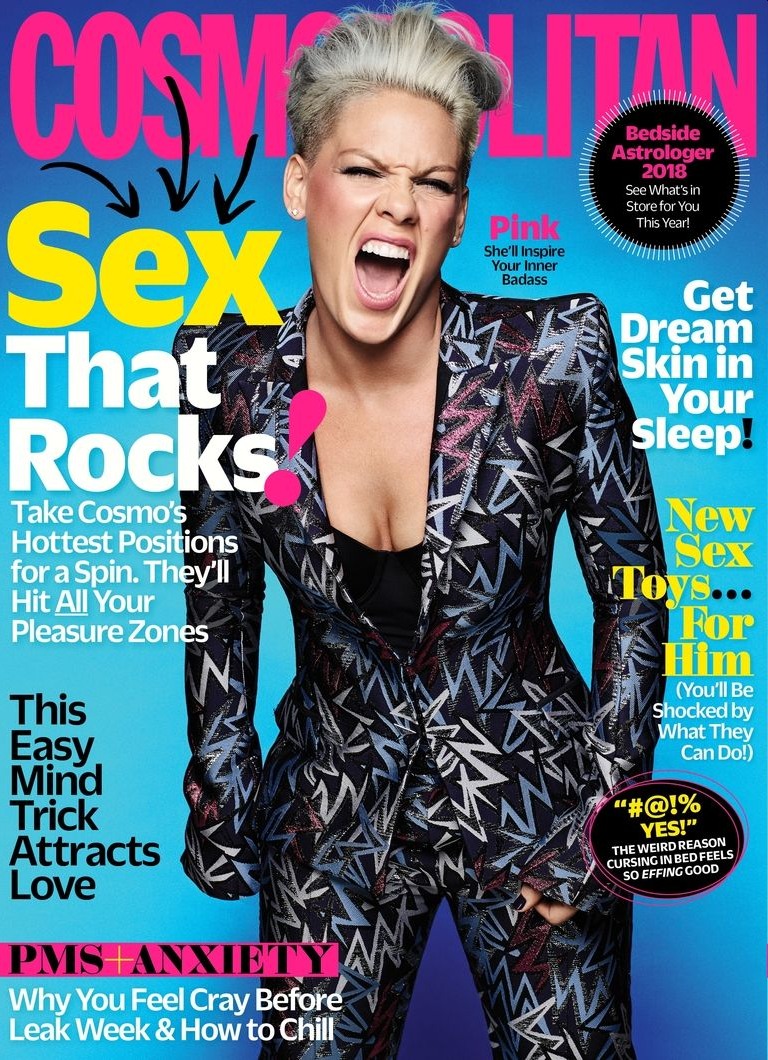 Pink covers the January issue of Cosmopolitan to support her latest album. I don't write or think about Pink that much anymore – I don't dislike her and I haven't canceled her, but I've found some of her public comments about sexuality and nudity problematic in the past few years. No one is perfect and no one has the perfect message on feminism and sexuality, of course. I think what I dislike about Pink is how strident she is about her opinions on how to define feminism when really she's Not-That-Kind-Of-Girling other women, and policing what other women do with their bodies. I bring this up because Pink shared some dating advice she gave to her 6-year-old daughter in Cosmo. Some highlights:
The advice she gave to her daughter: "She said to me the other day, 'How many boys can I have at once?' And I said, 'Excuse me?' I said, 'Probably none of them because they won't deserve you. They have to be kind, respectful, they have to be chivalrous, they have to be good to their moms, they have to be good looking, they have to be funny.'"

A famous woman I admire: "Ellen DeGeneres" Because: "She always leads with kindness."

One thing people get wrong about me: "That I'm angry."

A fictional character I identify with: "Angelina Jolie in Girl, Interrupted." Because: "I'm batsh*t."

My hopes for all womankind: "Equality, safety & respect."

How I'd describe these duet partners in one word:

Christina Aguilera: "Forgiven" + Kenny Chesney: "Charming"

Nate Ruess: "(Pain-in-the-a**) voice!" + India.Arie: "F**kin awesome"

Sia: "Looney tunes" + Eminem: "Genius"
I get that it's the kind of loving advice a mom would give to her 6-year-old daughter. The answer might have been different if the daughter was 18 years old, and the answer could have been "how many boys can you have at once? As many as you want, because you get to say what happens with your body…" and then lead into a conversation about respect, consent, love, reproductive and sexual freedom and more. Here's hoping.
Cover courtesy of Cosmo, additional photo courtesy of Getty.