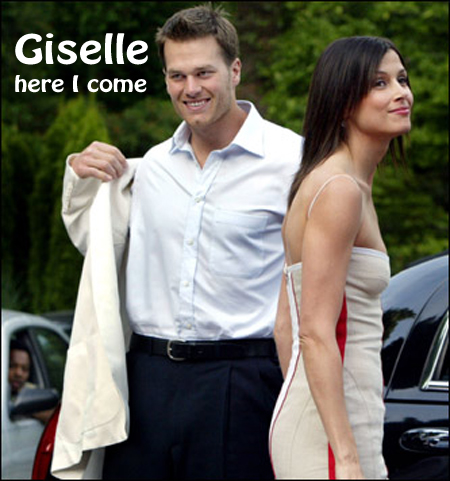 It's kind of hard to figure out the exact time line of Bridget Moynahan and Tom Brady's relationship. It seems to come down to a matter of days, which can be hard for us outsiders to figure out. But it appears that they probably unknowingly (one would assume, but who knows) conceived their son, broke up, and Tom got together with Gisele Bundchen very shortly thereafter. Because Bridget seemed to be pregnant longer than an elephant, a lot of people assumed she and Tom hooked up after they broke up, but many people have pointed out that it's not unusual for a woman to carry her first child up to two weeks longer than her due date. Either way, it seems unlikely, though certainly not impossible, that Tom found out about the pregnancy and then split. It seems more likely that they'd already broken up when Bridget found out she was pregnant, and her pregnancy status didn't bring their relationship back together (not that I'm saying she wanted it to or that it should or shouldn't have). But there's some understandable animosity between the two. Bridget seemed pissed that Tom hooked up with Gisele so quickly after their breakup. And I mean that's understandable, if your hot ex-boyfriend starts dating the world's highest paid supermodel seconds after you break up, you'd probably be pissed too. Especially if a few months later you were carrying what looked to be his own personal football team through the summer heat.
"The arrival of a beautiful baby boy has not eased the bad blood between exes Bridget Moynahan and Tom Brady.

"The New England Patriots QB flew to Los Angeles by private jet last week for the birth of his son, John Edward Thomas Moynahan.

"'Tom was only allowed to see the baby for a short time,' says a West Coast spy. 'Bridget would not see him herself.' Moynahan's publicist said in a statement: 'Bridget is very thankful for a happy baby, excited about being a mother, and very pleased that the father, Tom Brady, was able to be there for the birth.'

"But our source says: 'He was only allowed to come after the baby was born. The woman would not see him, period. And she gave the baby her last name.'

"The model/actress and Brady split last year after three years of dating. News of the pregnancy emerged just after Brady began a relationship with Brazilian supermodel Gisele Bundchen.

"'[Tom] is waiting to find out when he can see the little guy again,' says the snitch. 'Bridget is not giving him any slack on this at all.'

"Yesterday, her spokesman said Brady and Moynahan were 'together' at the hospital, but couldn't say if he was in the room during the birth. 'Bridget and Tom are on speaking terms and have the best interests of the child at heart,' he said."
[From Gatecrasher]
I think that, given just what's known about the complexity of their relationship, most of it makes sense. I doubt many women would want the father of their child in the room during labor. It's such a scary and happy and emotional process, and having someone around that hurt you (regardless of fault/reason) would make an already challenging time all the more so. Either way, Tom's allowed to move on with his life, as it seems he has, and Bridget's allowed to do the same, and to give the baby her last nae. It's not necessarily an affront to Brady. If I carried something as big as what Bridget had going on, I wouldn't be naming it after anyone else. I'd probably name it "My Mom is So Amazing" or something equally complementary. I don't know how she managed to do that. It really was ironic how it looked like the kid had a football in there at the end. Maybe he snuck one in when no one was looking. Either way, welcome to the world John Edward Thomas Moynahan.