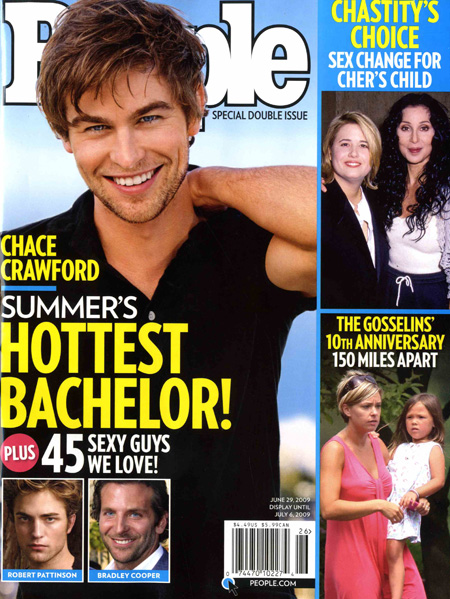 Thanks to
CoverAwards
for the People cover
Chace Crawford topped People's list of the hottest bachelors. And frankly, I don't get it. I mean he's there and he's fine. But so are a bunch of other dudes. He does have really nice eyes though… no. I'm still not going for it. He might be pretty to look at, but he just doesn't exude personality to me, and that's got to factor in a little, right? Right?
Chace Crawford talks to his parents every day, vacations with his younger sister and – unlike his Gossip Girl character – says dating a married woman is "a definite no." Without question, success (he'll star in the Footloose remake) couldn't have happened to a nicer guy. But what else is behind those blue eyes? Here's a sneak peek of the interview with PEOPLE's Hottest Bachelor!

On his first kiss: "It was fifth grade. Her name was Kiley Smith and she was my best friend's twin sister. It was one of those super-awkward things. We were at camp, on a lake, really picturesque – it¹s kind of seared into memory! We're still friends."

On a perfect date: "All you need is a pool table, beer, an electric jukebox and good conversation. The day a girl beats me in a game of Beirut [a kind of beer pong] is a good sign!"

On dating Carrie Underwood: "I have nothing bad to say about that experience. It was awesome. I just didn't know how to deal with it. I learned a ton about dating someone in that kind of spotlight. It was such a whirlwind, but no regrets."
[From People]
Interestingly, People had an earlier version of this article up that included the following two paragraphs, which were for some reason deleted:
On being single: "I'm not not looking for a girlfriend — but I'm not particularly looking for a girlfriend, either. I'm not knocking having a relationship; at the end of the day, you want to share with someone. But I just look at it as, I have the rest of my life to do that. I'm not in any rush."

On the made-up gay rumors about him and co-star Ed Westwick: "You know what we really did the first time we heard it? Ed goes, 'Oh, did you hear that rumor about us being gay?' I was like, 'Yeah, man.' He starts laughing and we're kind of like, 'Okay, you want to go play pool and have a beer?' "
[From Yahoo's OMG]
Last week Chace's publicist was extra hard at work – he was in Star, the National Enquirer, and In Touch – all reporting that he's dating 19-year-old Sports Illustrated swimsuit model Esti Ginzburg. They're filming the movie "Twelve" together. Perhaps that's the reason for the sudden deletion of the paragraph about his singlehood? After all, People's only calling him the hottest bachelor – that just means he's unmarried. Sounds like Esti might already have Chace on a tight leash.
Here's Chace Crawford at the annual Chrysalis Butterfly Ball held in Los Angeles on June 6th Images thanks to WENN.com .