I don't know what you got for Christmas, but I'm hoping Santa was good to each and every one of you. As someone who got some jewelry for the holiday, but not THAT jewelry (damn), I have to admit I'm slightly jealous of singer Meghan Trainor, who got engaged to actor Daryl Sabara over the holiday weekend.
The singer and judge on the new reality series The Four, which premieres on January 4, has been dating the 25-year-old actor, best known for his role in the Spy Kids franchise, since October of 2016. Back in April, Meghan wrote a song dedicated to Daryl called "Marry Me." Well, I guess that worked. But girlfriend has had marriage on the brain for quite a while, as evidenced by her 2015 song "Dear Future Husband."
The fruits of Meghan's labors bloomed on Thursday, the day before her 24th birthday, December 22. Surrounded by a tunnel of sparkly Christmas lights, as well as friends and family (I'm assuming), Daryl got down on one knee and popped the question. Meghan, of course, accepted through her happy tears. The next day, the excited bride-to-be posted a video of the proposal on Instagram, with her song "Hopeless Romantic" playing in the background. She captioned the clip:
I SAID YESSSS!!!! For my 24th birthday, the love of my life @darylsabara made all of my dreams come true. He proposed to me under a tunnel of beautiful Christmas lights and surprised me with my family and friends. I'm still in shock. I've never been this happy! Thank you Daryl, my family and friends for making me feel like a real princess 👸🏼💍😭💗 and thank you @ryan.trainor for this amazing video that I'm gonna watch over and over again ❤️
Daryl shared the video with his social media followers as well, writing, "Happy birthday to my soulmate. Thank you for changing my life forever and thank you for saying yes! You are the most beautiful fiancée in the world. I love you @meghan_trainor." Meghan later posted a collage of photos from the couples relationship (so far), stating, "I'm so happy it's you @darylsabara I knew it from the moment I met you❤️"
I got married (for the first time) at 24, and I really wanted to at the time, so I can sort of identify with Meghan's desire to walk down the aisle. But, as I discovered, I was too young. Does anyone else think Meghan is too? I'm not asking as a fan mind you, I'm just curious – because although "All About that Bass" was as annoying as a pop song can be, I will admit to getting a little sassy to "Me Too' at the gym and hey, she was a judge (albeit in a WTF Unicorn onesie) on RuPaul's Drag Race, so I can't hate on her. They look cute and happy, so I hope it works out for them. Congrats, you crazy kids.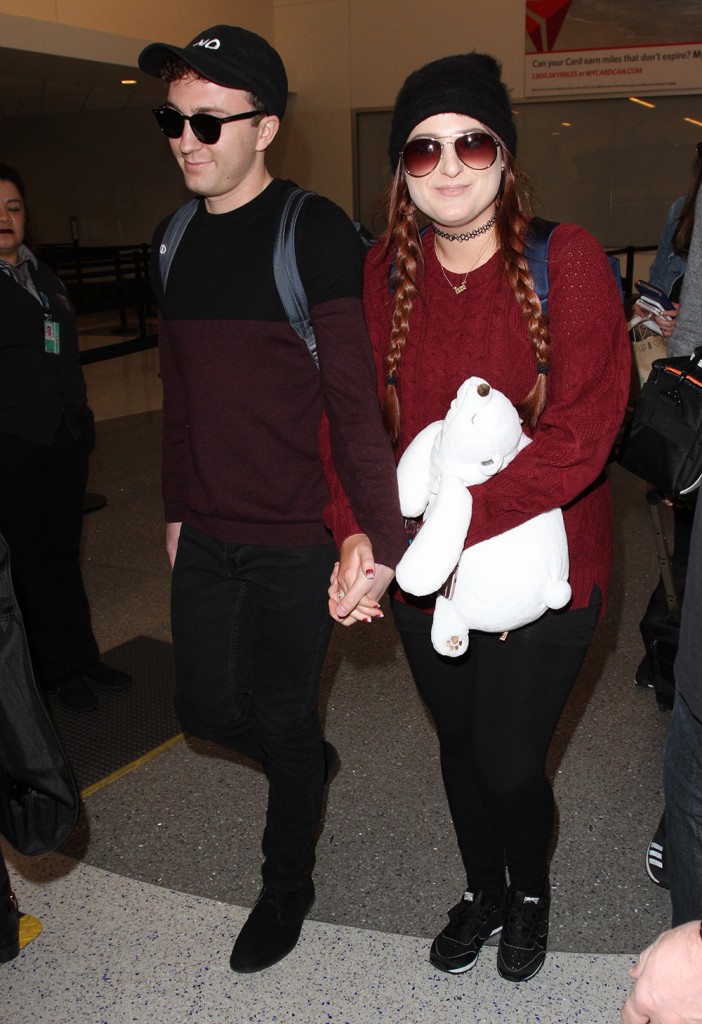 Photos: Instagram, WENN.com