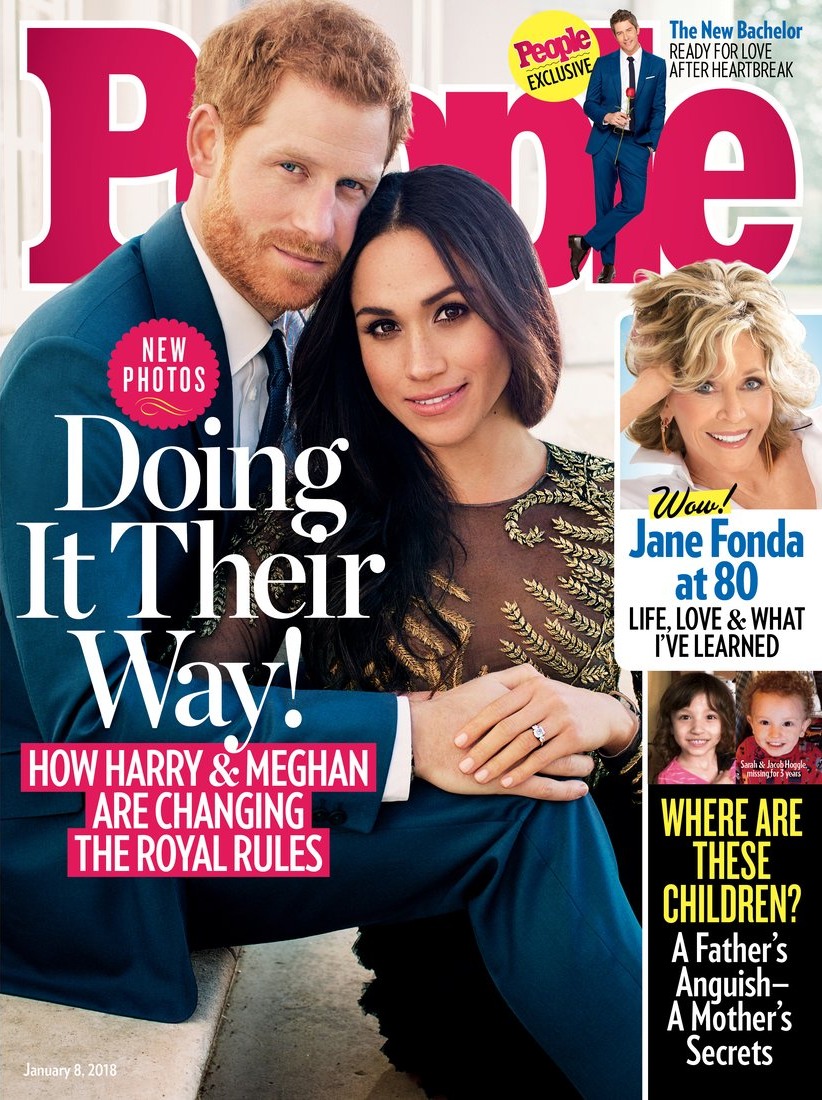 No surprise: People Magazine put Meghan Markle and Prince Harry's engagement portraits on this week's cover. There isn't much new information in the cover story, but there are a few things worth discussing. You know how I've been wondering for months why it seemed like Meghan Markle is being fast-tracked into royal life? Well, I'm starting to develop a theory. Granted, it's not just one thing – clearly, The Fast-Tracking of Meghan Markle is a multi-level thing, involving her age (gotta start having babies soon), her career (she's a natural on-camera and a quick study on royal life), and the Queen's substantial affection for her ginger grandson. But there's something else at play too, and I think I know what it is: the Windsors are falling all over themselves to be seen as "accepting" the first black woman to ever marry into the family. Like, the Queen is performing her wokeness. From the People Magazine cover story this week:
Harry, a source tells PEOPLE in this week's cover story, is "cock-a-hoop" at the prospect of their life together. (Translation: Deliriously happy.) As they plan their May 19 wedding, Harry, 33, and Meghan, 36, are "leading the planning process for all aspects," their spokesman says — with their own unique touch.

The pair are set to wed at St. George's Chapel on the grounds of Windsor Castle with the blessing of Harry's grandmother, Queen Elizabeth, the Supreme Governor of the Church of England. That would have been unthinkable in the past: Elizabeth's uncle, Edward VIII, abdicated the throne to marry the twice-divorced Wallis Simpson. (Like Simpson, Markle is also American and divorced.)

"We are a very much multi-cultural, multi-colored, multi-faith society these days," says Penny Junor, Harry's biographer. "Lots of people in Britain were born in other countries and having a royal family reflect that is very helpful. The fact that she is mixed race, a divorcée, a career woman and not a member of the British aristocracy is all very positive for the future of the monarchy, and for it to be seen to be relevant to society today."

Palace courtiers who have met Meghan (including at the annual staff party at Windsor Castle) note she has lots of new ideas. "She is smart and well-liked," one staffer tells PEOPLE.
Penny Junor was one of the royal hagiographers/biographers who was throwing tantrums about this gauche American woman just months ago, so what's changed? I suspect it's the sudden reality that the royals and the "ruling class" of Britain is overwhelmingly, blindingly white. That's something I've realized more and more as I get older – here in America, we always think we have the franchise on racist sh-t, but there are some deep strains of racism and colonialism in many European countries. The fact that Penny Junor can give some kind of speech about the multiculturalism of Britain just days after Princess Michael of Kent wore a f–king blackamoor brooch to Buckingham Palace just shows the cognitive dissonance that still exists in Britain's ruling classes.
The BBC's royal correspondent Nicholas Witchell also spoke to The Hollywood Reporter about the wedding plans and what he's expecting from the media coverage, and he too made the same kind of "nevermind the grumbling from racists, everything's fine!" statement too. He was asked specifically about the "unpleasant reactions" on social media and in the British press to Meghan, and Witchell said about Meghan:
"I think she's entirely accepted already by the mainstream. I think the British society of 2017 is very outward-looking and very forward-looking and positive. She has said she's a proud woman of mixed race heritage and I don't think any reasonable person has batted an eyelid. I think the vast majority of the popularity of the U.K. has accepted that as being a thoroughly welcome and positive and commendable development for the royal family and I think it's the same reaction from within the royal family. I don't know, but I think we've long moved on from 50-60 years ago and an American divorcee and Wallace Simpson and all that sort of stuff. I think everyone is genuinely delighted.
Yes, British society is so forward-looking that they voted to Brexit and leaned hard into anti-immigration policies, in what would be a precursor to the triumph of Donald Trump's nativism and jingoism. I'm not saying that Penny Junor or Nicholas Witchell are wrong, per se. I just think they're sort of obliviously whitewashing the larger conversations about race, ruling classes, diversity and multiculturalism in a modern society. It's almost as if they'll be pointing to Meghan for years to come and saying "we didn't have a problem with Meghan, therefore we can't be racist!" Buckingham Palace = the Sunken Place.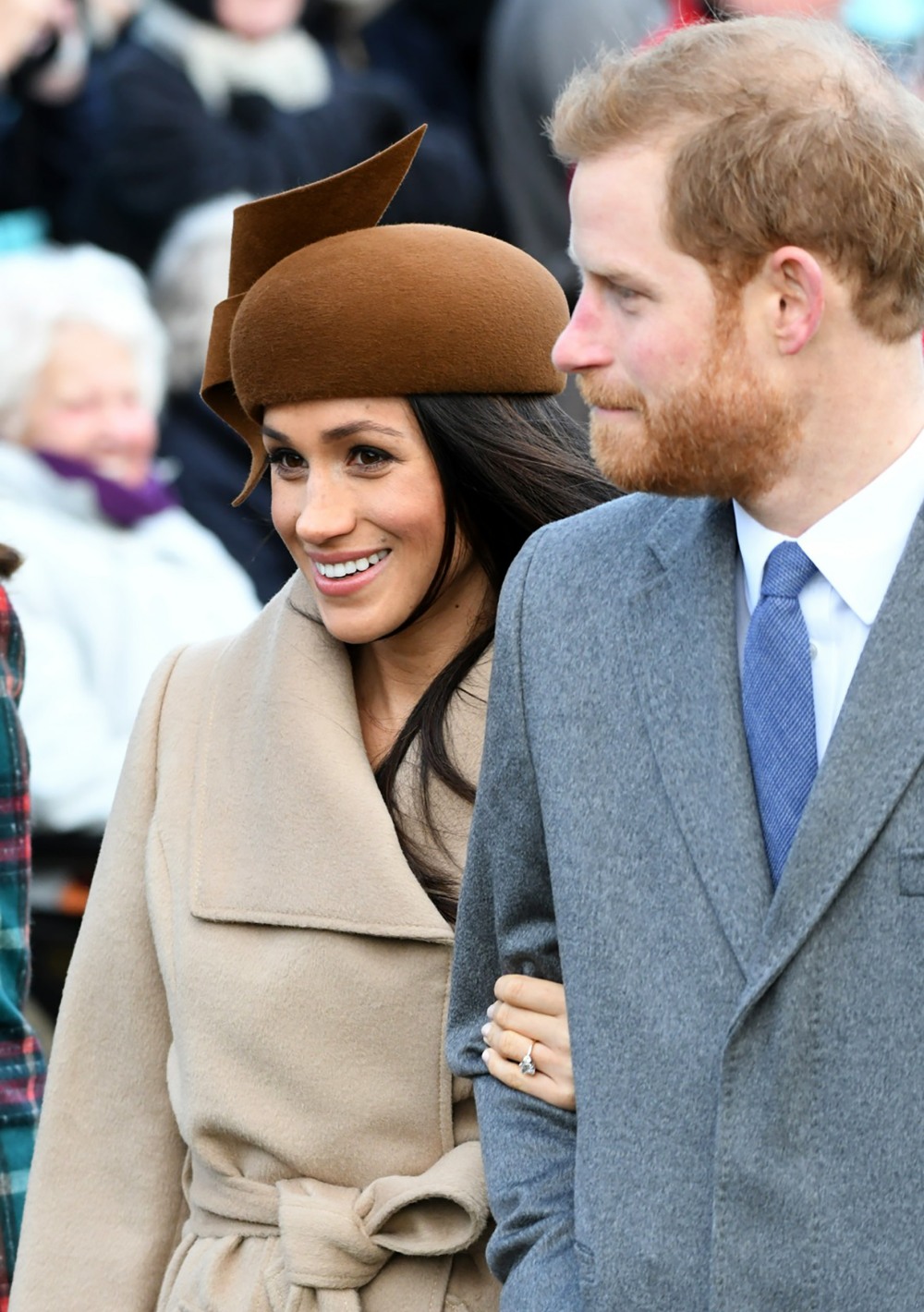 Photos courtesy of Backgrid, WENN and PCN.