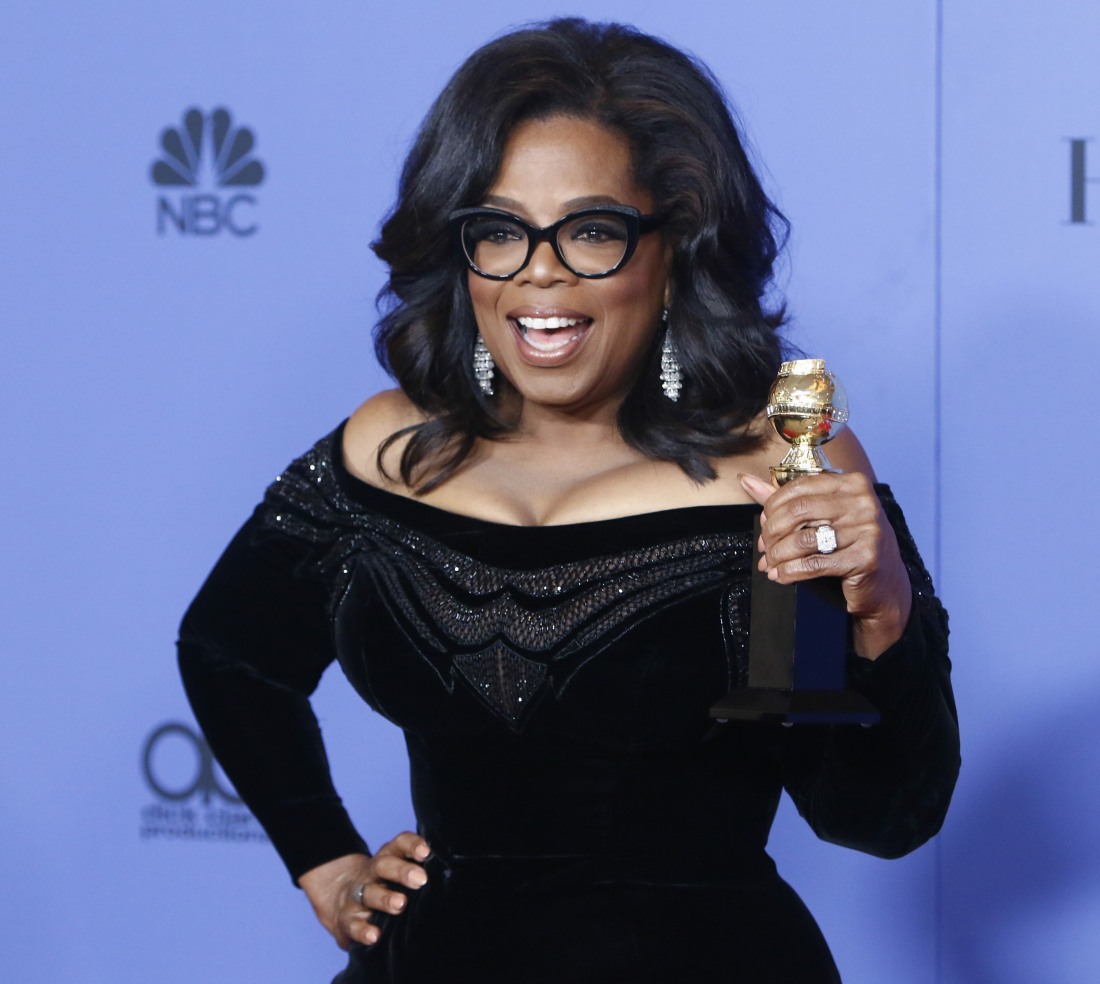 I found it frustrating and funny that so many people were butthurt about the idea of Oprah Winfrey running for president. Oprah received the Cecil B. DeMille Lifetime Achievement Award at the Golden Globes and her speech was honestly amazing. It was profound, it was engaging, it was moving, it was inspirational. She brought CB to tears, and I felt a twinge in my cold, dead heart. In case you missed it, here's the speech again:
I still have goosebumps. Good goosebumps! Not the kind of hair-standing-up-on-the-back-of-my-neck feeling that I get whenever Curious Case of Bigly Buttons casually threatens nuclear war over Twitter. So, obviously, after this speech, everyone was like "so, really, why not President Oprah?" I follow a lot of political journalists and former White House staffers on Twitter, and they were talking about it seriously too – it wasn't a joke-take, like "Oprah will heal everything!" It was more like "wow, Oprah appeals to a wide swath of diverse women of all ages, races, sexual identities, etc." It was more like "wow, wouldn't it be nice to have a president who can speak with intelligence and humility and dignity and grace?" So this is what CNN reported on Monday:
Oprah Winfrey is "actively thinking" about running for president, two of her close friends told CNN Monday. The two friends, who requested anonymity in order to speak freely, talked in the wake of Winfrey's extraordinary speech at the Golden Globes Sunday night, which spurred chatter about a 2020 run. Some of Winfrey's confidants have been privately urging her to run, the sources said. One of the sources said these conversations date back several months. The person emphasized that Winfrey has not made up her mind about running. A representative for Winfrey has not responded to requests for comment.

The Democratic race for president won't officially begin until after the 2018 midterms, but many potential candidates are already jostling for position and making trips to Iowa.

"President Winfrey" was the talk of the entertainment world after Winfrey accepted the Cecil B. DeMille Award at the Golden Globes. And the "Oprah for president?" possibility was a top story on morning TV. The touchstone of her speech was the #MeToo movement. But her hopeful message — "A new day is on the horizon" — could have doubled as a campaign rallying cry. Many liberal-leaning celebrities and viewers certainly heard it that way. And that may have been exactly what Winfrey wanted. As some political strategists have pointed out in the past year, her fame and wealth could make her a formidable Democratic Party candidate. But insiders have their doubts too: Would Americans really choose a TV star as president twice in a row?

After the speech, Winfrey's longtime partner Stedman Graham was quoted saying a run is a possibility. "It's up to the people," Graham told a Los Angeles Times reporter. "She would absolutely do it."
The most notable thing – to me – is that Steadman wasn't shutting down the speculation. Steadman didn't give a firm and definitive "no." That being said, the idea that Oprah would only run for president if "the people" begged her to is not a great one – Oprah should run if she wants to, if she thinks she would make a great president, and she should run to win.
As for those people arguing that "we don't need another celebrity president with no government experience" – are you really comparing Bigly Buttons to OPRAH? Oprah, who is an intelligent, compassionate, honest and honorable person? Oprah, who has openly made mistakes in her life and her business and has learned from those mistakes and kept it real the whole time? You're comparing her to Stable Genius?? No. It's like comparing apples to rotten oranges.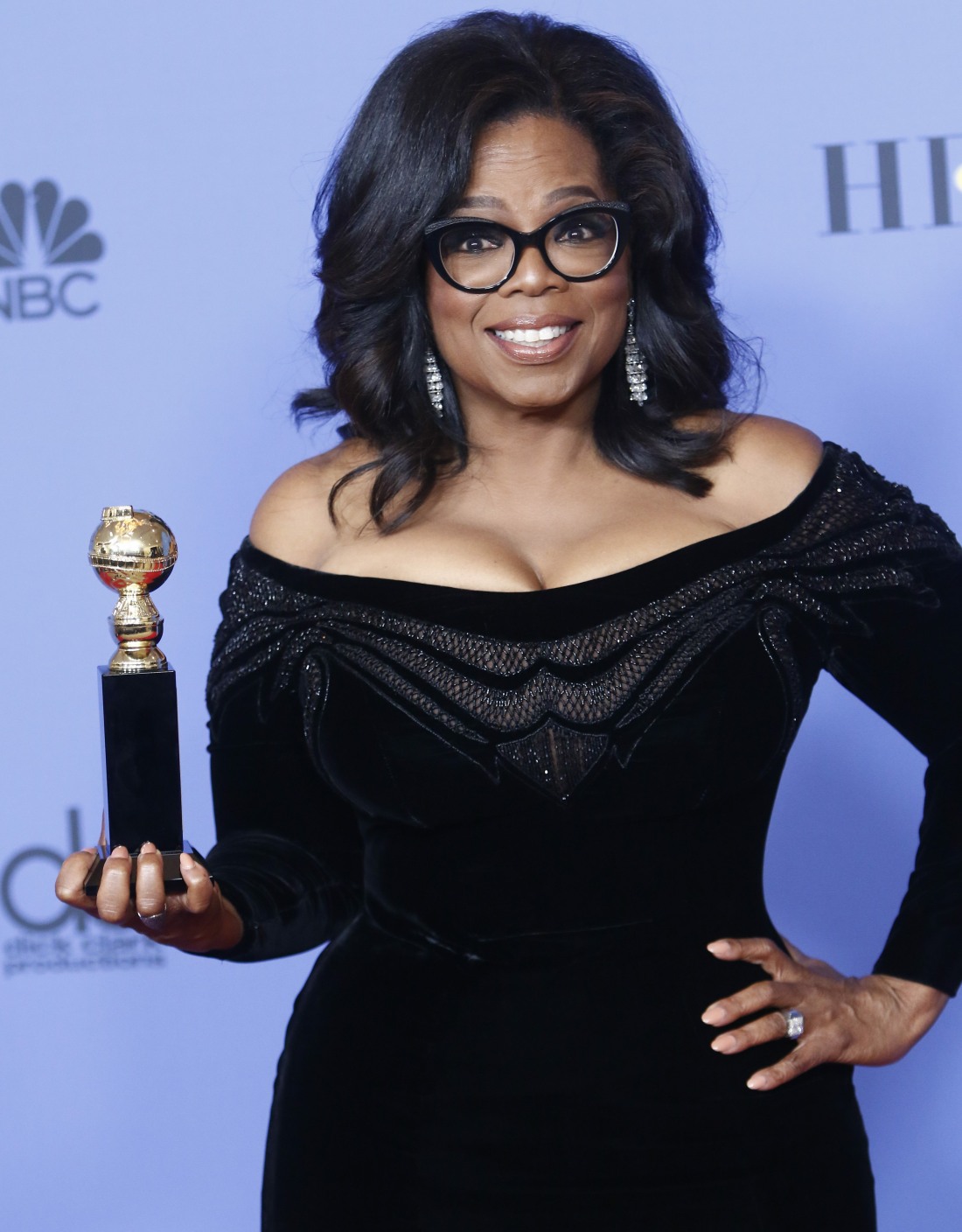 Photos courtesy of WENN.