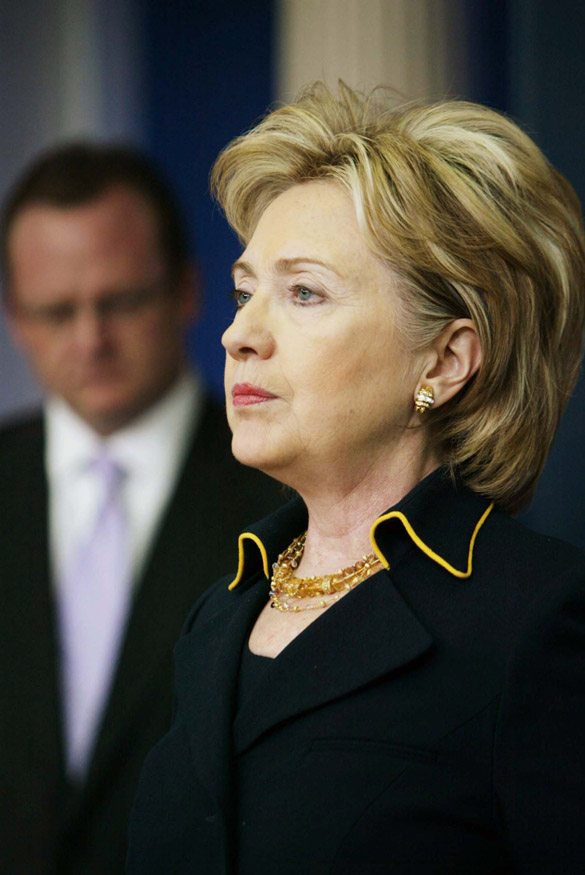 CB already covered part of this story earlier today – Hillary Clinton broke her elbow this morning and now she has officially cancelled on Angelina Jolie. Angelina and the Secretary of State were supposed to attend a Washington DC World Refugee Day event, as well as jointly hand out Foreign Service Awards. But Hillary had to cancel. Why does Hillary's elbow hate Brangelina? Is Hillary's elbow Team Aniston?
I should also note that Angelina is still scheduled to appear on AC 360, being interviewed by none other than Anderson Cooper. The rumor yesterday was that Angelina and Hillary would be doing a joint-interview on AC 360, but I could find that confirmed anywhere. I suspect that Angelina would be doing the interview, and then she and Hillary would be doing appearances together during the next few days:
Hillary Clinton has canceled a meeting Thursday with Angelina Jolie after breaking her elbow.

"On the way to the White House late this afternoon, Secretary Clinton fell and suffered a right elbow fracture," her chief of staff Cheryl Mills said in a statement overnight. "She was treated at The George Washington University Hospital before heading home."
Clinton will have surgery next week.

She was supposed to join Jolie at a World Refugee Day event and present awards at the American Foreign Service Association.

Jolie, who recently finished shooting the spy thriller Salt, is still expected to attend the event. She is also slated to appear on CNN's Anderson Cooper 360.

On Wednesday, it was announced that the Jolie-Pitt Foundation has donated $1 million to the U.N. refugee agency providing aid to displaced people in Pakistan.
[From US Weekly]
Here's a fun fact for the Brangalunatics: Hillary Clinton and Angelina Jolie are sort of related. They're cousins like eleven times removed. That little fact was revealed on the campaign trail last year, and when asked about it Hillary said she was "thrilled". She praised Angelina as a "strong independent women," who has "been very quick to give back to charities and humanitarian causes." Perhaps Hillary's elbow forgot that blood is thicker than Team Aniston.
Here's Secretary of State Hillary Clinton speaking in the Brady Briefing Room about a humanitarian aid plan for Pakistan at the White House on May 19th. Images thanks to WENN.com .