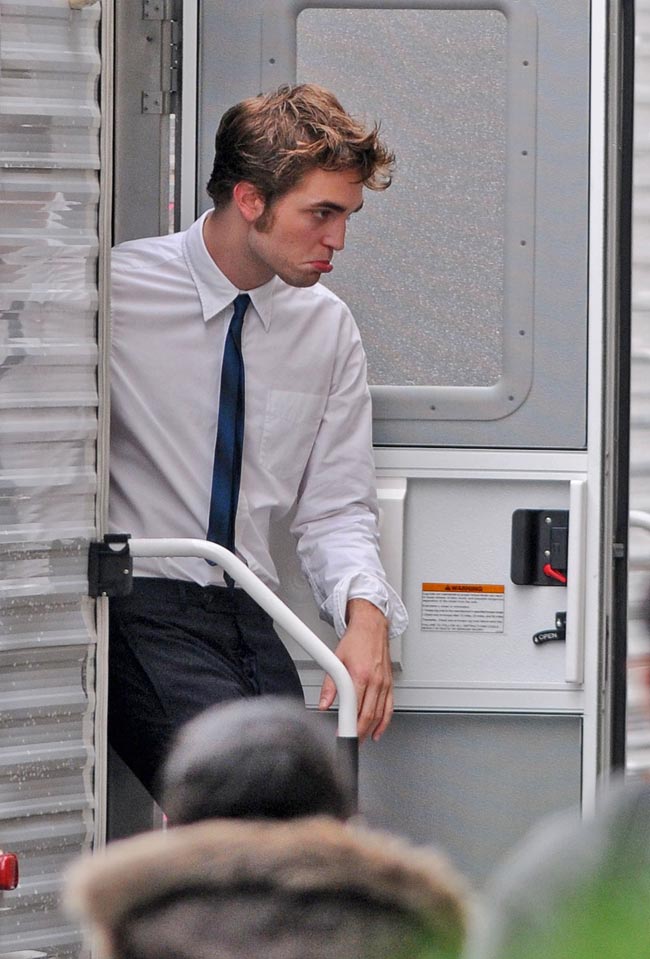 Monday saw Robert Pattinson stalked, swarmed and attacked on the streets on New York, as he attempted to simply move through the city streets, filming his movie Remember Me. The crazy Twihards aren't letting up – Thursday saw another Twihard attack, and this time they nearly killed poor Pattz. According to the report from Radar, Pattz was somewhere near the famous Strand Bookstore when a "a crowd of teenaged girls" started chasing him. Pattz is being guarded by five burly security guys, but those men were no match for hormone-crazed Twihard girls who had The Pattz in their sights. As Robert tried to run away, he apparently ran into a busy street and got clipped by a taxi. Pattz was not injured, although I'm sure the Twihard girls' feelings were hurt when one of Robert's bodyguards shouted "You see what you did, you almost killed him!" Jeez, dad! He didn't, like, have to, like, run.
Rob Pattinson is quickly learning the hazards of filming a movie in New York City – he was hit by a taxi cab on Thursday while running away from hysterical fans!

RadarOnline.com witnessed the Twilight star get clipped by a cab around noon in front of the Strand Bookstore on Broadway and 12th Street. He was not hurt.

The 23-year-old London-born actor had been inside most of the morning filming scenes for his new movie Remember Me.

A team of five security guards were trying to fend off a crowd of teenaged girls when Rob was leaving the bookstore.

It was pouring rain as they tried to hustle him quickly across the busy street to the safety of his trailer.

Some of the teen girls were hysterical and Rob rushed across the road. As he did so, a taxi grazed him. The cabbie slammed on his brakes as soon as he realized what had happened.

It appeared as if the cab hit Rob in the hip. He stood there for a moment looking stunned. The bodyguard next to him checked if he was okay and then screamed at the fans: "You see what you did, you almost killed him!"

Pattinson will be shooting around Manhattan for the next four weeks. His co-star in the film is gorgeous Lost TV actress Emilie de Ravin, who he has been seen hanging out with in the evenings.
[From Radar]
Dumb Twihards really could have killed him. A whiff of his hair must send them into an irrational spiral of lust and delusion. I really do have some affection for this kid, and I just want to give him a hug, a Valium and some chicken soup. Perhaps Emilie de Raven is already tending to his needs, though. That slut. The Twihards should have swarmed her – get her, Twihards! No, I'm joking. Please don't kill anybody, Twihards.
Robert Pattinson is shown in the header on set looking fine after the cab clipping incident on 6/18/09. Credit: Bauergriffinonline. Other photos from that day credit: WENN.com. There are also some photos from 6/16/09 on set credit: Fame Pictures