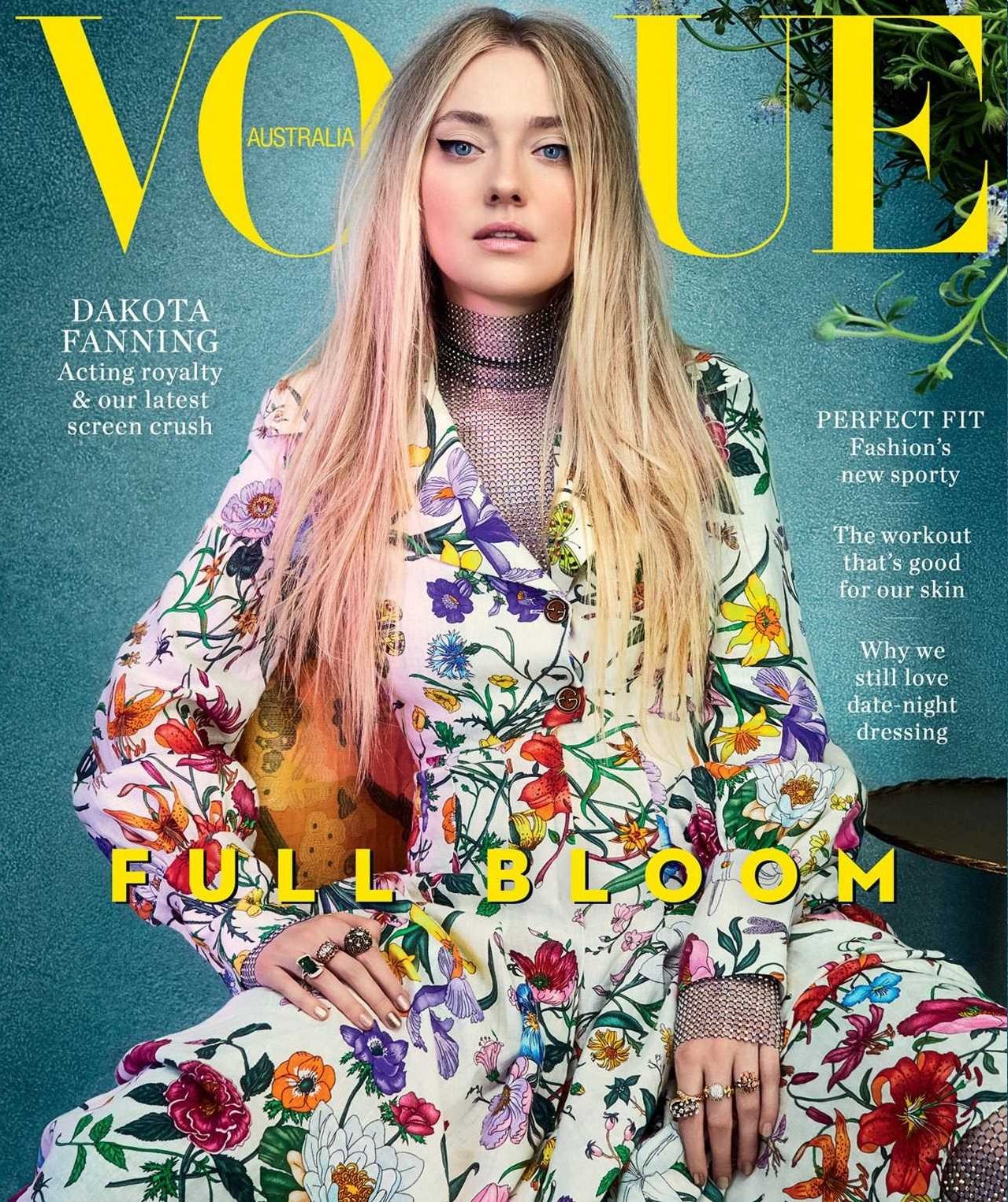 Is it just me or does Dakota Fanning resemble a young Amber Heard on the cover of Vogue Australia? RIGHT? I've never really seen a resemblance between Amber and Dakota before, but there it is. Dakota is currently promoting her role on the new TV series The Alienist, where she absolutely does not play a crime-solving ghost, despite what the commercials might make it seem like. She plays a young secretary who is deeply interested in what was then – in the 19th century – the start of criminology and forensic criminology. Anyway, her Vogue Australia interview is somewhat interesting, in that she seems like a pretty well-adjusted young woman, all things considered. You can read the full piece here. Some highlights:
Why she's working in television now: "Television has become an amazing place; I feel like I'm watching more TV than I am movies at the moment. So it was something I was completely open to, I just hadn't found the right project… There is something so exciting about TV. The way things are now, certain films will only screen in certain theatres and countries, and people might not even know they exist. So it's something really cool for me to know that this show is going to be available every day and reach more people in their own homes. "

She's not a crazy-method actress: "[There's] a boundary, and I've always said or thought this in the back of my mind: maybe it's because I started when I was younger, but it's all make-believe. It's like: 'Oh, I'm going to go pretend to do this.' As I've gotten older, the boundaries have always been clear and that's stayed with me. So I still am just like: 'Oh, I pretended that happened to me.' It's also important to remember that just because you acted something doesn't make you actually know what it's like."

She's never been a child-star cautionary tale: "I think because I've always maintained that I never felt that I was entitled to anything because I did movies. I guess that comes from my mum. It took her years and years to admit that we lived in Los Angeles. When people were like: 'Oh, where do you live?', her answer was always: 'We're from Georgia, we live in Georgia, we're just out here doing this for some film Dakota is doing for a little while.' There was no: 'We're moving to Hollywood so Dakota can be an actress!' I just never wanted to make too big of a mistake that jeopardised what I love doing. There can be other reasons that it goes away – nothing is ever guaranteed. But, I never wanted it to be taken away from me because I had made a really bad decision, you know? And I'm also really scared of my mum and didn't want to get in trouble or disappoint anybody."

On the controversial Marc Jacobs campaign she did at 17: "There are much more important things to talk about than what I'm wearing or not wearing. It's a waste of energy. I'd done things with Marc Jacobs before and [photographer] Juergen Teller is a friend of mine and when somebody tried to pollute that, I was just like: 'You're not going to take this away from me. This is so cool. It's girlie and pretty and I can wear that I want. If you're being creepy, then you have the problem.'"

She's dating: She says she's "happily not single", but not dating "a public person". "I've always sort of dated somebody a little bit removed. I see the whirlwind of [famous] people dating [famous] people and it just looks so intense."

She's a social media stalker: "Hey, I've done it! I swear, when it comes to Instagram, my stalking abilities are unparalleled. I can find out anything, I really can. I have a private account for my stalking. But it would weird me out if someone started talking about all that stuff. It's like: 'Okay, look it up for your own personal knowledge bank, just don't tell me you have!'"
SO MUCH THIS: "It's also important to remember that just because you acted something doesn't make you actually know what it's like." I love that. I love how she describes how she sees her job as an actor, and how she's basically side-eyeing actors who go on and on about their crazy method and their struggles and whatever. And the actors who believe that because they played a ballerina or whatever that they are actually an expert in that field now. How is that Dakota – at the age of 24 – has this all figured out? She's great.
Cover courtesy of Vogue Australia, additional photo courtesy of Getty.