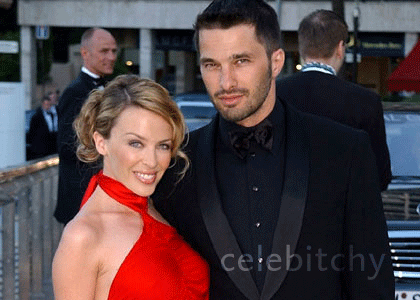 Olivier Martinez might be a nasty love rat, but his ex-girlfriend, model Sarai Givati, wants you to know she'd never do the dirty on Kylie Minogue.
"We had a relationship but there was no lying on his part and to my knowledge – and I believe him – there was no overlap between him seeing Kylie and then seeing me," Givati told London newspaper, The People.

"Looking back now, because of all the hurtful things said about me, I would, maybe, have given more time between the end of his relationship and the beginning of ours because it wasn't easy for me having people think that I split them up."

The Israeli model and Martinez, 41, became lovers in the last week of January, a few days before he and Minogue, 39, announced they were parting after four years.

"When I asked him why he had split from Kylie, all he said was: 'It was time to break up' and that the relationship had run its course.

"I really didn't ask more than that."
The whole way she words this statement kind of sounds like she doesn't really believe Olivier, and is waiting for him to get caught out. Caught again, since the two of them were photographed together before Kylie and Ollie had split. Some reports have the model involved with Olivier in December.
Then again, maybe Kylie chucked Ollie because he bored her in bed.
"Sex is the most natural thing in the world. When I'm in a relationship, I like lots of it," she reveals. "I like to be swept off my feet – but I do have a very low boredom threshold!"
Slightly less sexy, but very brave, is that Kylie is trying to beat her biological clock and have a baby. Alone, and after the fertility destroying cancer treatment. Reports say she plans to undergo a 'revolutionary treatment' to conceive naturally.
"She has been taking advice on whether she's physically fit enough and whether medical science is advanced enough for her to consider going ahead with the treatment."

Kylie, who failed to get pregnant using IVF treatment with ex- lover Olivier Martinez when she was first diagnosed with cancer, is hoping to persuade the actor to start a family – but is willing to raise a child alone.

The source added: "Kylie has been talking to Olivier lately and has raised the subject of getting back together. There's nothing she would love more – but she wants to do it properly this time and that means having children. They haven't come to an agreement yet but Kylie is willing to go it alone and be a single mother if that is what it takes."

"She adores children and has always wanted her own family. Her 40th birthday next year and the birth of her first nephew last year have brought that home to her more than ever."
Kylie is turning 40? Seriously? I remember watching her on TV when I was a kid, and she was practically a kid, and I wanted to dress just like her. It was the 1980s. It was bad.