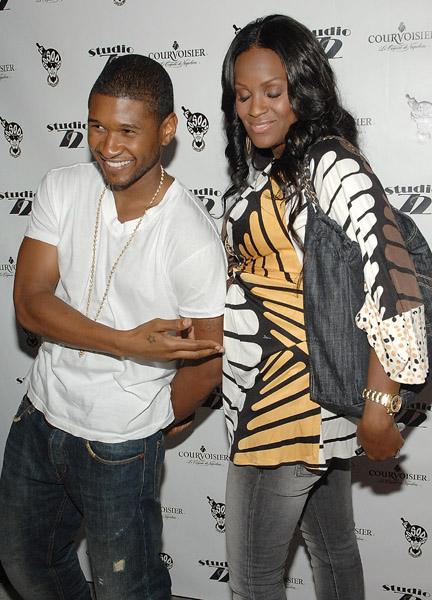 So the wedding went off without a hitch (this time at least). The third time is definitely the charm for Usher and Tameka Foster. Next we get to gossip about the pregnancy, along with subtle (and not so subtle) digs about Tameka's jaw line and hint of an Adam's apple. Usher was interviewed on "Ellen" today, and talked a bit about the wedding. Ellen's not exactly known for her hard-hitting interview style, so she lobbed a few jokes his way but didn't get all up in Usher's grill about the wedding cancellation hoopla. And I expect Ellen to get up in people's grills. Usher said that he and Tameka don't know the baby's sex, but he hopes it'll be a boy.
"Usher Raymond's baby may not be due until this winter, but the singer already has high expectations for his unborn child. The singer told talk show host Ellen DeGeneres that he hopes that his baby will be a boy. In the season premiere episode set to air on September 4, Usher, 28, talked fatherhood and also joked about his recent on-off nuptials with his stylist Tameka Foster, 37. Interview excerpts below:

Ellen: "Last time you were here, you were single. You said you wanted a lady that you could take from the Waffle House to the White House. You found her."

Usher: "I did. I found someone that I'm very, very happy to call my wife."

Ellen: "Is it a boy or a girl?"

Usher: "I don't know. I want it to be a boy."

Ellen: "Now, you're going to have a girl and she's going to see this tape and say, "Daddy, why don't you love me?" You better save some for some therapy. But you're going to love her if it's a little girl."

Usher: "Yeah."

Ellen: "You want a boy, why? So you can play sports with him?"

Usher: "I think every man wants a son. He's own little own doll. If it's a boy, I'm going to name him Usher. I'm hoping to name him that. I've been playing with a few names. I'm the fourth. Usher Raymond the fourth. I just want to pass the name on. Maybe I'll change the middle name."

Ellen: "What about if it's a girl? Have any names? What about Usherette?"

Usher: "I thought you would've suggested Ellen first."

Ellen: "Well, that's the obvious. I'm just saying as second choice. Usherette? Or what about 'Boo'?"
[From Us Weekly]
I'm pretty sure that, no matter what the gender, if it's got half of Tameka's DNA that baby is guaranteed to at least LOOK like a boy. I give this couple 2 years, max. And I'm only saying that much time so I don't get yelled at in the comments. Whatever went on before the marriage – that led to the wedding being canceled a few hours before the event – has got to be significant. There's no way whatever it was could be resolved within a week. And no woman I know would be willing to get married in a lawyer's office at the last minute, unless they had something up their sleeve. I know there's the whole "Tameka was in prison" thing, and the "threatening to kill her half-sister for ratting her out to the National Enquirer" thing. It's completely my own conjecture, but I think their issues are just the general "Tameka is batshit crazy" thing and "Tameka is really a dude named Tyrone in disguise" thing. And a guy can get over a lot of things, but finding out his lady is a dude is not one of them.