Miley Cyrus dressed her fiancé Liam Hemsworth up and brought him out for Oscar Night. The Lesser Hemsworth looks really nice all polished up. Together they attended not one but two parties. First up: Elton John's Academy Awards viewing party that raised over $5 million for his AIDS Foundation:
My favorite men 🙂 @eltonofficial @liamhemsworth pic.twitter.com/AWIECLwZiO

— Miley Ray Cyrus (@MileyCyrus) March 5, 2018
Liam looked debonair in a Burberry notched lapel tux. For the viewing party, Miley wore a hot pink and silver Moschino that looks like a sequined evening gown eating a prom dress. There's way too much going on for my brain to process. Her starburst earrings are lovely, though.
Miley's dress for the Vanity Fair party is another matter entirely. The cream and black Prabal Gurung is hitting every '80s nerve in me and I am living for it. I adore the short batwing sleeves and the soft draping. I'm enjoying all the designers experimenting with mis-matched fabrics, too. I would have left out the button-loop detail at the bottom but overall, I just love this. She finished off her look with emerald jewelry and a vibrant red lip.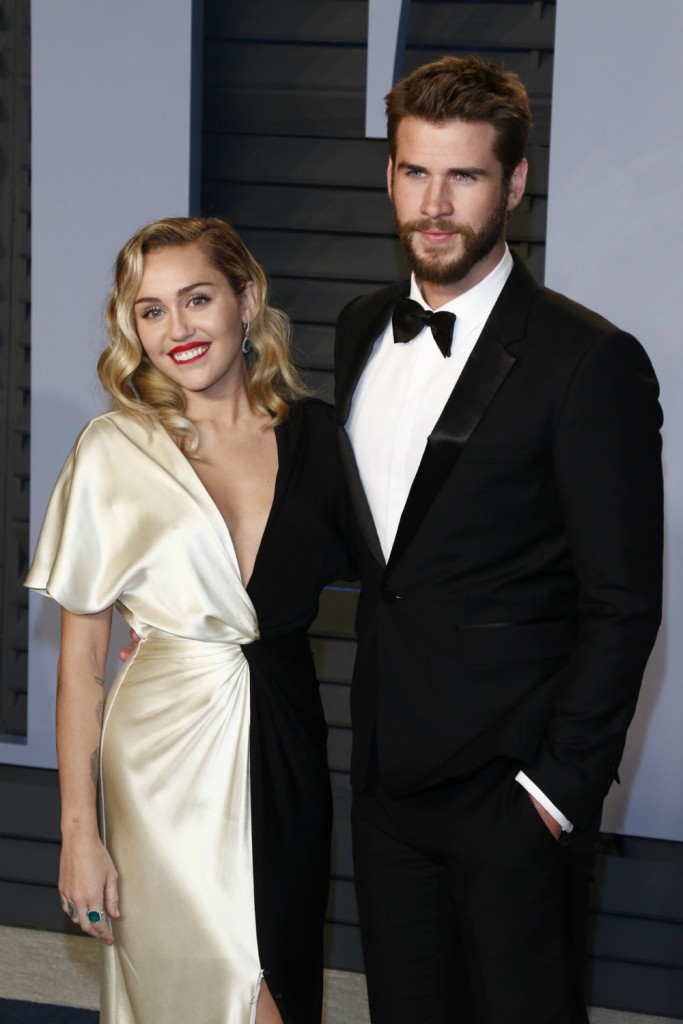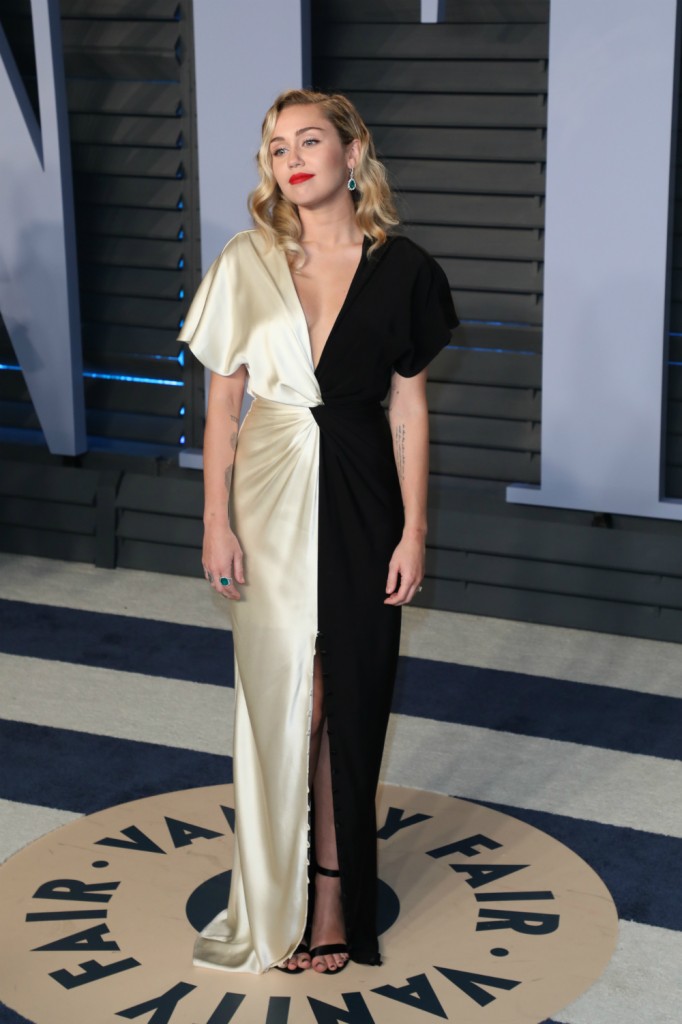 Ellen Pompeo was also at the Vanity Fair party in this Azzaro Couture patterned jumpsuit with black, obi-inspired sash detail at the waist. I love it. It would work without the additional draping on the hip but the solid color sash keeps the patterned fabric from being overwhelming. Same for the length of the pant. Had they been full length pants, it would have been too much. It's a fun, edgy look that stays on this side of being too many ideas thrown together. Her loose waves and simple accessories keep the look from wearing her.
Tatiana Maslany from Orphan Black wore this emerald green and black Rasario gown. I like how well the dark green blends with the black but still pops. The dress itself is pretty, if nothing special. She wore her black and white Time's Up pin on the black part of the bodice which frames it nicely. I don't care for her hair with this look. The dress is too sleek to pair with a messy updo. At the very least, she should have statement earring to show off. But she looks so happy, I'll give the hair a pass.
Halsey is such a chameleon. I love that but I also have trouble recognizing her at first glance. Halsey attended the VF party with rumored beau G-Eazy in this two-tone Galia Lahav strapless gown and silver platform sandals. The color is great. I'm not crazy about the sequin fabric over her left boob that looks like a molded aluminum foil embellishment. Truthfully, though, save for the fan at the neckline, this looks so much like my senior prom dress, I'm being won over by nostalgia. Plus, I'm so in love with her hair and earrings, I think it's elevating the whole look. As for the bright blue eyeshadow, not many people can pull that off so if you can, I say go for it. She and G-Eazy spent a lot of time smooching on the carpet and in the party so I guess he agrees with me.
photo credit: WENN Photos, Getty Images and Twitter