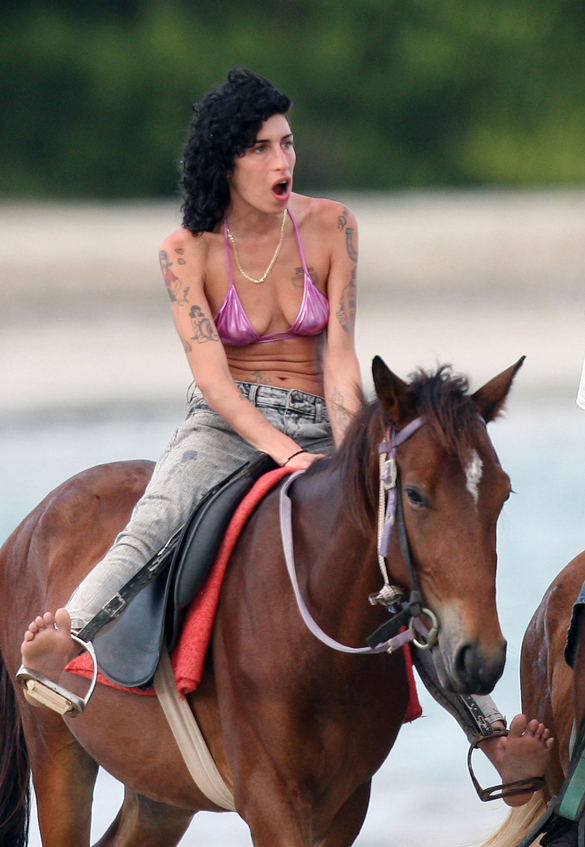 Politicians love to exaggerate. Okay to be fair, so do writers. I am incapable of speaking in anything other than hyperbole 90% of the time. But normally you can tell when someone's exaggerating to make a point versus… well going totally crazy. That seems to be the deal with a former governor-general in St. Lucia, who has gone absolutely mental at the idea that Amy Winehouse may live there permanently. He did everything but compare her to plagues and locusts and talk about how she'll munch on the souls of kittens.
AMY Winehouse is a "tattooed reptile" who will bring "untold human suffering" to St. Lucia. The former governor of the Caribbean island has written a public appeal begging officials to stop the Rehab singer from buying a house and settling there permanently.

Jeff Fedee wrote in the St. Lucia Star newspaper: "I would strongly urge she be denied residency status to purchase property in St. Lucia. Is she being given special treatment? She'd be a menace and a dangerous influence to our society because the demons that inhabit her tortured body will have to be fed."
[From the Daily Telegraph]
Um… day-um. Someone is clearly not a fan. Bitter, party of one? What other clichés can I throw out there? It's one thing to say, "Hey, this Amy Winehouse is not a good character, I don't think she's the type of person we want living here." It's quite another to say "her tortured body will have to be fed." Which, I'm sorry, is very zombie-like, and thus totally passé. From the vast majority of reports most of the island's residents like Amy just fine. Even after she played naked Scrabble with some old people and crawled up to people's tables begging for drinks. So, I don't know, it seems like they've found a good compromise that works for most of the people. No previous reports of reptile-esq name calling.
I hope if she does stay, Amy decides to park her "tortured body" in a house right next door to this guy.
Thanks to Agent Bedhead for the story idea.
Here's Amy in Saint Lucia on April 6th. Images thanks to BauerGriffinOnline.