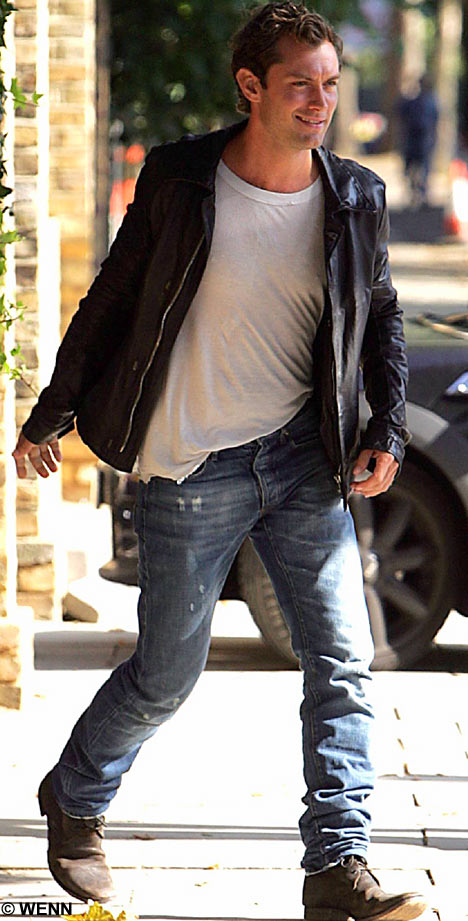 Jude Law was arrested for what was said to have been an attack on a paparazzo outside his home in West London. The photographer claims he was just waiting at the bus stop nearby, all innocent like, when Law recognized him and went up to him, trying to grab the camera from him, even though he was not taking pictures at the time.
According to the photographer, Law called him a pedophile and said that he was trying to get pictures of his children. He then tried to grab the camera, and the man is said to have "minor injuries" as a result.
The guy called the cops, who came and arrested Law. He was bailed out of jail and must appear in court in October.
This is very similar to an incident last year in which Law went off on a paparazzo and called him a pedophile for trying to take pictures of Law's kids, who were there with him at the time.
The photographer said: "I was at a bus stop near Jude's house but I wasn't taking pictures of him. My camera was still in the bag.

"He was by himself when he recognised me and started accusing me of being a paedophile and that all I wanted to do was take pictures of his children. I was shocked at his behaviour."

A police spokesman confirmed that officers attended the incident. "Police were called out in the Maida Vale area after reports of a disturbance and inquiries are being made."

Law was taken to Marylebone police station on suspicion of causing bodily harm and bailed to return next month.

Law has spoken in the past about his attempts to protect his children, Rafferty, 10, Iris, seven, and Rudy, four, from the public glare.
The article goes on to recount when a director helped Law channel his anger for a scene in which he was supposed to hit a windshield. He was told to imagine the windshield as the paparazzi, and he hit it the windshield so hard it cracked.
You can understand the guy trying to protect his children's privacy and flipping out about it but it doesn't sound like the kids were even around. Maybe we're not getting the full story and the photographer was taking pictures of Law's children 10 minutes before he came out and tried to get his camera. The must be a lot more to it if he was just coincidentally outside of Law's house at a bus stop, toting his camera.
Ex trashy lovers Jude Law and Sienna Miller do have a lot in common. Sienna called photographers "f'ing rapists" while she was at the launch of her new clothing store and could have used some good publicity. It's clear that Law and Miller share the same regard for the paparazzi despite the fact that they helped make them famous.