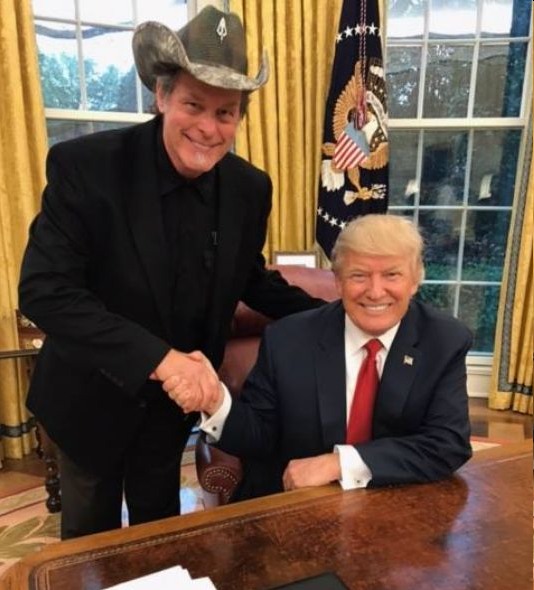 While it's a completely pathetic extravaganza of stupidity, I'm actually sort of enjoying how the Stoneman Douglas survivors have absolutely made the Deplorables' minds melt into puddles over the past month. The Deplorables simply don't know how to handle these beastmode teenagers. I think some of the Deplorables – like Laura Ingraham – are just trying to do the tried-and-true "let's throw a lot of bullying, misinformation and mockery at these kids and see what happens." What happened was the kids – with very little effort – fought back and asked Ingraham's sponsors to withdraw support. A dozen advertisers already have, including Liberty mutual, Office Depot and Hulu. Ingraham is in such a newly precarious position that she suddenly announced that she's taking this week off, although Fox News insists that she was always going on vacation this week.
So Ingraham's method – old-school GOP tactics, honestly – wasn't going to get anything done. They needed a front man with no sponsorship to lose. They needed someone who is already clearly insane and already clearly problematic as hell to make their nonsensical case against these kids. They found Ted Nugent. The same guy who openly spoke of assassinating Hillary Clinton and Barack Obama. The same guy who literally sh-t himself to avoid the Vietnam draft. He was also one of the first guests to the Trump White House. Now that man is accusing these CHILDREN of being "liars" and having "no soul."
National Rifle Association board member and classic rocker Ted Nugent slammed survivors of the Parkland, Florida, school shooting, calling them "liars" and "poor, mushy-brained children." Nugent made the comments during an interview on "The Joe Pags Show," a nationally syndicated conservative radio program.

"All you have to do now is not only feel sorry for the liars, but you have to go against them and pray to God that the lies can be crushed and the liars can be silenced so that real measures can be put into place to actually save children's lives," Nugent said about the Marjory Stoneman Douglas High School students. "These poor children, I'm afraid to say this and it hurts me to say this, but the evidence is irrefutable, they have no soul," he added.

"The lies from the left, the lies from these poor, mushy-brained children who have been fed lies and parrot the lies, they are actually committing spiritual suicide because everything they recommend will cause more death and mayhem, guaranteed." Nugent said.

Later in the interview, radio host Joe Pagliarulo showed him clips of survivors David Hogg and Emma Gonzalez railing against the NRA on CNN.

"The dumbing down of America is manifested in the culture deprivation of our academia that have taught these kids the lies, media that have prodded and encouraged and provided these kids lies. I really feel sorry for them because it's not only ignorant and dangerously stupid, but it's soulless," Nugent said after watching the videos. "To attack the good, law-abiding families of America when well-known, predictable murderers commit these horrors is deep in the category of soulless," he added. In his response, Nugent also defended the NRA.

"The level of ignorance goes beyond stupidity. Again, the National Rifle Association are a bunch of American families who have a voice to stand up for our God-given, constitutionally guaranteed right to keep and bear arms," Nugent said.
Of course Ted Nugent is an utter catastrophe of a human being. But that's why he's being used as the front man for the current wave of attacks on these kids. The Deplorables have tried using more legitimate figures, from Laura Ingraham to Dana Loesch to various conservative commentators, to attack these kids and the kids have always ended up owning the debate/conversation. But there's no debating with a mad man like Nugent. So all they can do is ask for an apology, which is what they're doing. Considering Nugent's legitimacy comes from his closeness to Trump and those kinds of white supremacists, I would suggest that maybe the kids shouldn't even engage him.
Photos courtesy of WENN, Getty, social media.