I know that I'm an Old, but I really don't understand the point of insulting people on their social media accounts. Like, why would you follow Bella Hadid on Instagram if you're only going to post mean or bitchy comments directly TO her. I'm a Nasty Woman and I love to talk sh-t about a lot of people, but please… I'm too classy to talk sh-t TO a celebrity on their social media. Anyway, a few weeks back, someone did talk sh-t about Bella Hadid… on a fan-run account. And Bella saw the comment and responded:
Thanks to the genius Instagram account, @commentsbycelebs, (which yes, tracks comments celebs make on Instagram) they spotted that Bella called out an Instagram troll and caught all the comments for us to see. A Bella Hadid Instagram fan account, @ballahadid, shared a split photo of Kendall Jenner and Hadid with the comment, "Kenny or Bella?"

An Instagram user, @foufiasse, left a comment accusing both models of getting plastic surgery, while also attacking their personalities. "2 fake bitches sitting in a tree, first comes the nose job, then come the lips, oh and don't forget the built in cheeks lmao y'all trippin' fam, money can get you a new face but not a nicer personality which these two girls need."

Hadid saw the comment and defended her character in a reply. "I wish you would know either of our personalities. And not only that, I wish you would only grasp a heart of your own. Blessings to you sweetheart. Jealousy is a cry for help that I wish I could help you with." The Instagram user deleted her comment after Hadid responded, and added another: "@ballahadid it's all gone girl, but seriously this whole thing has taught me a lot."
This would be like the social media version of me talking sh-t about Bella Hadid in a post and Bella commenting on Celebitchy under her real name that I'm a terrible person. Which… fair enough, I am. The fact that Bella was tracking the comments on a fan-run IG is an odd detail though, right? Well, anyway, Bella is not going to let any of this go. People Magazine caught up with her at Coachella and asked her about this mess:
Earlier this month Bella Hadid hit a breaking point. After an Instagram user left a negative comment about Hadid and Kendall Jenner's appearance and personality, Hadid hit back hard — and she doesn't regret it one bit.

"I usually never respond to anybody and I think that night I just really had had it," Hadid tells PEOPLE at the Levi's Coachella Brunch about her reaction to the negative comment. "At the end of the day I don't want to mean, and I don't want to 'clap back.' We're all just human beings and it wasn't even about what they said about our faces, it was just that — don't attack my personality because you don't know me. That's what deeply hurts me."

Over the weekend, the 21-year-old model told PEOPLE that it also hurt her to see Jenner's personality attacked as well. "They don't know Kendall either and people have their different perceptions of her, too. But she's such an amazing girl and so kind and so sweet and really generous from her heart and people really don't know that about her. I think that at that point I was just like, I'm done."

While calling out a negative commenter was a "once-in-a-while kind of thing," she's learned to protect her privacy more on social media and not get too caught up in other people's opinions, whether positive or negative.

"I used to be a really big over-sharer," says Hadid, who counts over 17.4 million followers on the social media platform. "I learned that protecting myself and my heart is more important to me right now. I feel like at this point you sometimes start to believe the things that people say to you, whether it's good or bad, but I like to share things that mean a lot to me."

She wishes she can have a separate account to post more personal photos for her fans, but for now she's keeping those kinds of things to herself. "I think to be able to conserve my own self, I need to be able to take a step back and keep my center and keep my privacy."
I get what she's saying and she has every right to stand up for herself and refuse to be bullied online…but…again, this was a fan account! The person wasn't talking sh-t TO Bella or trying to bully her directly. It's a minor point, granted. But is it really bullying if you're talking sh-t about a celebrity or model just… into the void of the internet? Also: I do think Bella has a personality. She's had plastic surgery and she can sometimes look dead-eyed in photos, but the girl has personality.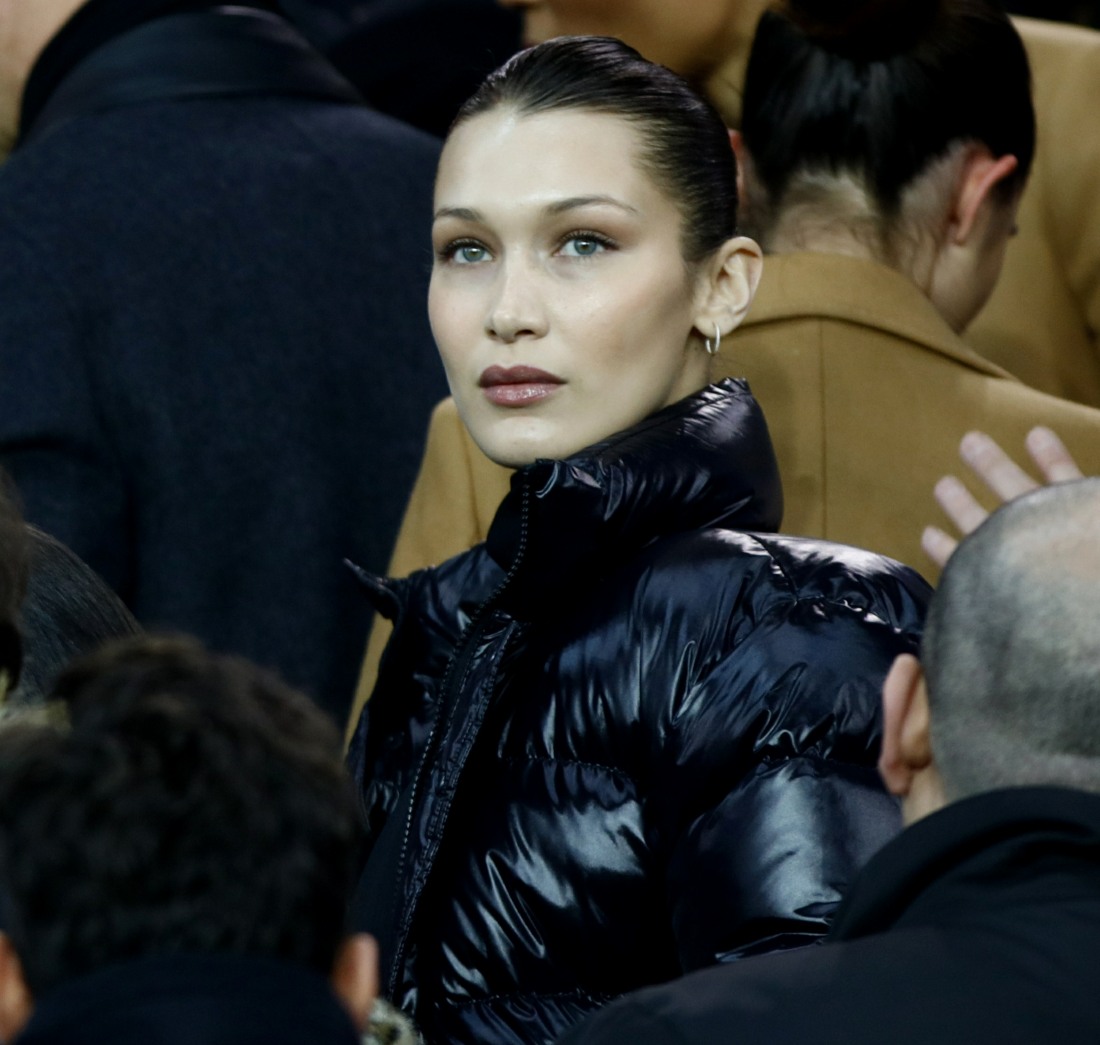 Photos courtesy of WENN, Instagram.