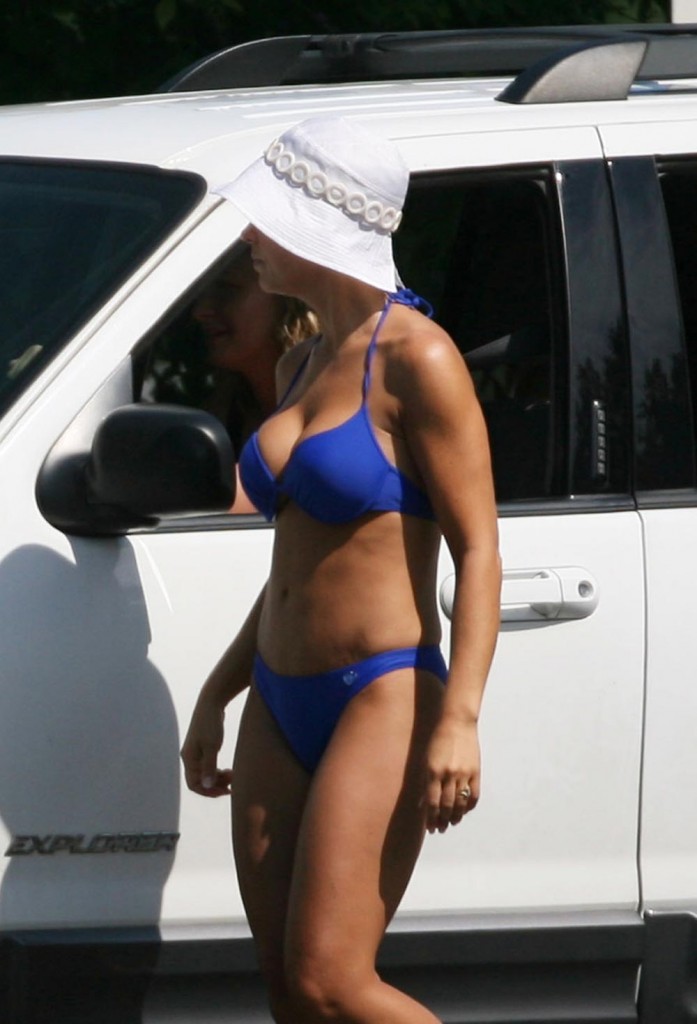 A friend of mine feels sorry for Kate Gosselin. She says that Kate is misunderstood and although she can be a royal pain in the ass at least she's working hard for her family and is trying to keep things together. Jon, on the other hand, is total dead weight according to my friend. She thinks that Jon is the one who is passive-aggressive and wanted out of the relationship and the responsibility while Kate desperately tried to make her marriage work. She doesn't think Kate would cheat, either, and believes the stories about her romancing the bodyguard are either untrue or that the affair didn't happen until after Jon took off.
I can see that side of it, but I don't really agree. I don't watch the show in full as I'm overseas and don't have access, but I've seen plenty of clips that are condensed down to show Kate at her most bossy, and she certainly is bossy. She didn't necessarily drive Jon away, but the demeaning way she treated him didn't help. I think she's trying desperately to milk her kids and the series for as much publicity and money as possible. This woman wore a bikini on her front lawn recently. It's all about cash and freebies for Kate and she seems to be more concerned about her media career than her children's well being. Jon isn't exactly father of the year as Kaiser mentioned, either, and he's acting like a drunken co-ed lately, so I can definitely agree on that point. To me, these poor kids don't have a parent on either side who is looking out for their best interests.
Things might get even worse for these kids when they're old enough to face the slimy media trail their parents left. According to Star Magazine, Jon Gosselin is planning a tell-all that will detail the end of his marriage and reveal that he didn't get any from Kate for over a year before they finally split:
Star has learned that Jon is penning a scathing tell-all that threatens to expose Kate's darkest secrets!

Jon, 32, has had enough of being portrayed as the bad buy – and he's ready to defend himself in a book that could earn $10 million! He's already written half of the manuscript, and when he starts shopping it around, he won't be at a loss for publishing contacts, ironically, thanks to Kate, the author of two books!

Jon plans to reveal that he and Kate… hadn't had sex in a year before she got so close to Steve, and even before that, they were seldom intimate, says the source. "She'd withhold sex when she wanted to punish him. Sex is important to Jon, but she didn't care…"

In Jon's book, which could hit shelves as soon as November, he plans to reveal that he began to fall out of love with his wife about three years ago, when she started alienating both of their families. (today, Kate has no a relationship [sic] with any member of her family). "It was like she was too good for them," says the source. "Once Jon started to back off from her, Kate could sense it, and it made her crazy. That's when she decided that money would be her new love…"

Now, with the breakup and having to help support eight kids, unemployed Jon desperately needs money coming in – and $10 million for his book is the payday he wants.
[From Star Magazine, print edition, July 6, 2009]
I don't know if this is true or not – it's Star Magazine after all, and I can't see Jon's book being worth $10 million. A couple million sure, but ten million seems way overblown for your average reality show tell-all. It could be a bestseller, though, especially since these two have dominated the tabloids for weeks. Reality shows can sure exacerbate a family's dysfunctional tendencies while giving them plenty of opportunities to continue to cash in on their own downfall.
Photos are from 6/25/08. Credit: INFPhoto.com