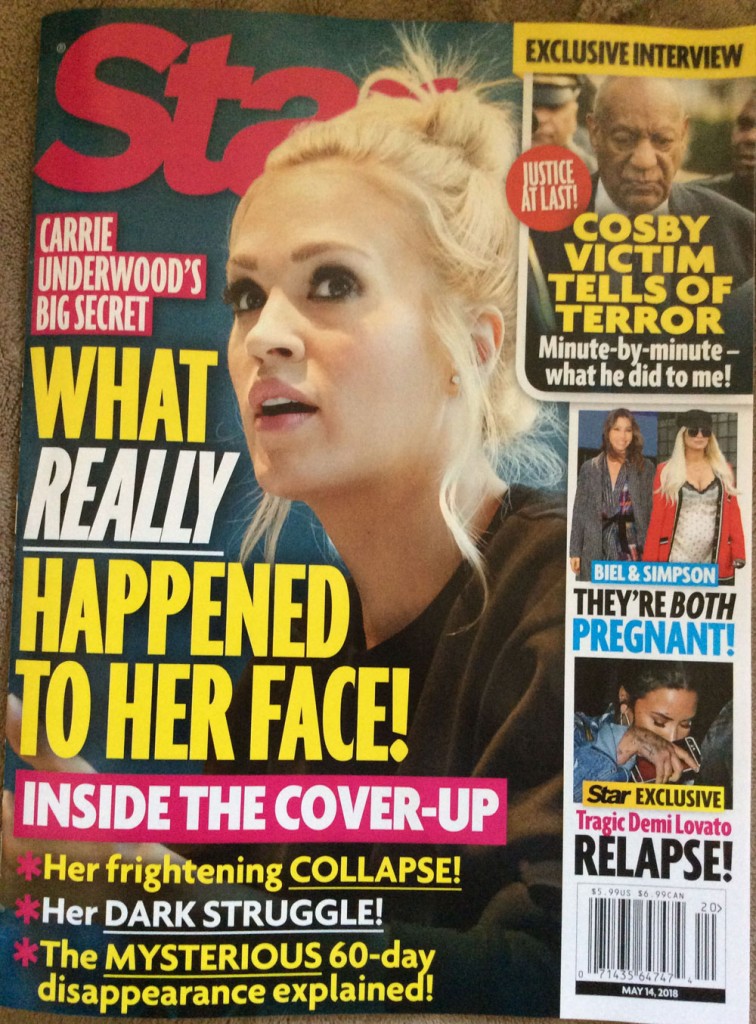 Star's new cover story promises to tell "what really happened" to Carrie Underwood's face during her accident in November. Instead it's just full of speculation about the fact that she didn't tell the story right away. They don't seem to have any insider information, but they do bring up the point that Carrie never explained why Mike was away when she had the accident. It probably never occurred to her and she was more worried about her face than people speculating.
Carrie looked her usual gorgeous self [at the ACMs], thanks to heavy makeup… but the hazy details about her injuries only fueled the frenzied speculation about the truth behind her mysterious accident. "There's been talk about secret plastic surgery, a marital spat and even a cover-up," an insider tells Star.

In Carrie's initial statement last year, she said her husband, Mike Fisher, was out of town, and that he immediately flew back to Nashville to be by her side – a version of accounts that has since only raised more eyebrows. "In all this time, it's never been explained where he was and why," says the insider, pointing out that [Mike] had already stepped down as captain of the Nashville Predators three months earlier…

But Carrie may never be ready to reveal all. Despite her triumphant return to the stage, the singer… is still struggling.

"Privately, she was afraid that her face would never be the same… I hear she still has nightmares and worries that she'll never be 100 percent again, and all the questions are only making it harder. Carrie insists it was just an accident and wants to put the whole thing to bed once and for all."
[From Star Magazine, print edition, May 14, 2018]
For what it's worth, I believe her and feel badly for her that Star is using this to sell copies. I think that she was mortified about how she looked for a while and didn't know how it would turn out. This is exactly what she's said in interviews. It took her so long to tell the story because she was waiting to see how she would heal. If it didn't turn out ok she might have decided to wait longer and to get more reconstructive work. This is probably the hardest thing she's had to deal with in her life so far. Yes she's privileged, rich and lives a charmed life but that doesn't mean that this didn't affect her quite a bit. Also, you can still find her extra and annoying and have sympathy for her.
Carrie has been out and about since her ACM appearance. She performed the National Anthem at her husband, Mike Fisher's hockey game on Sunday in Nashville. She also went to NY to see season 7 American Idol winner, David Cook, perform on Broadway in Kinky Boots on Wednesday night. I'm jealous! Here's a photo of her with David backstage.
Carrie recently posted this teaser for her "Cry Pretty" video.
photos credit: Getty and Star