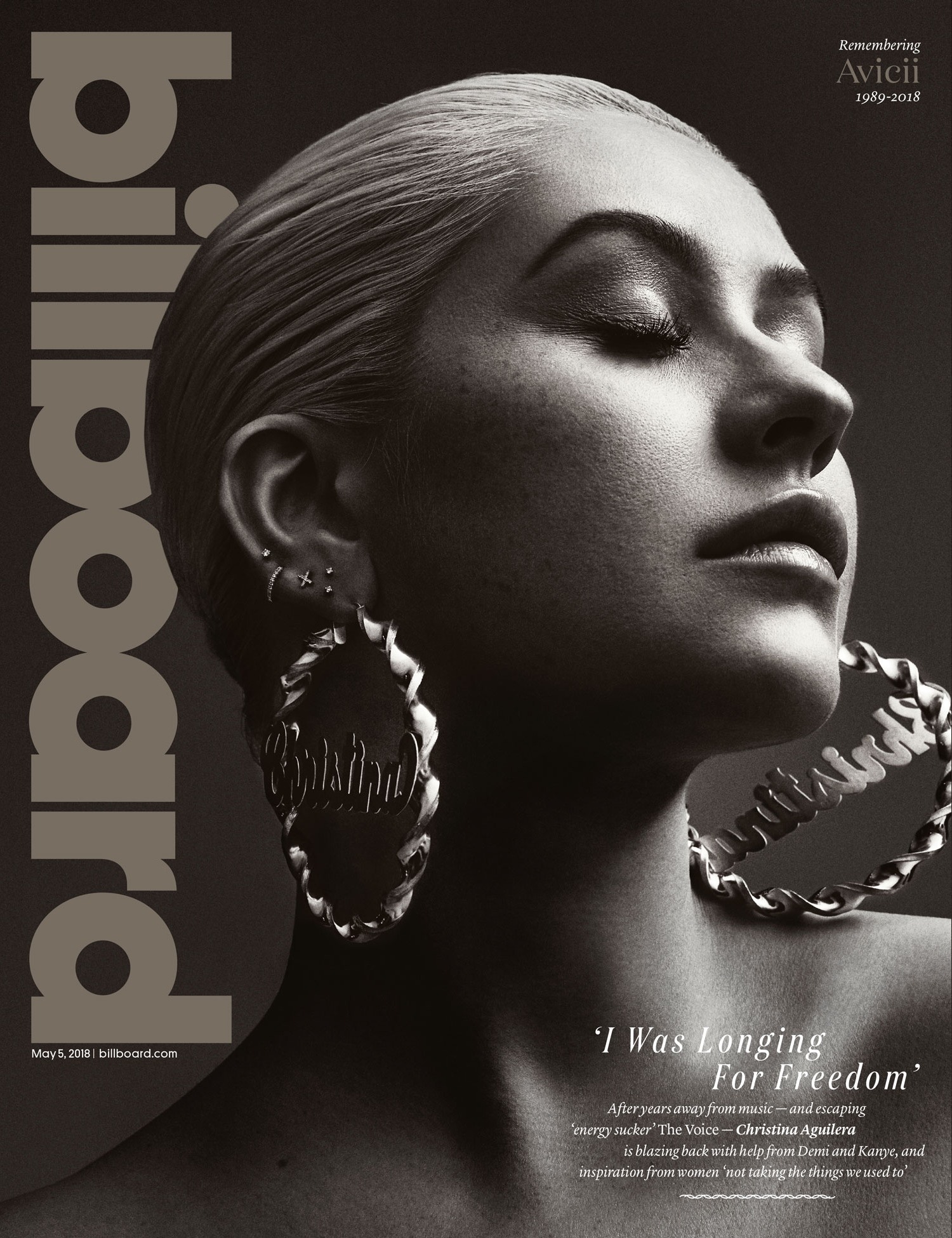 Christina Aguilera is on some kind of comeback tour. Literally, she's going on tour, but also: she wants us to know that she's back. She's got new music, she's not your pop princess, she's dark and edgy and she loves Kanye West. Kanye produced several tracks on her new album, Liberation, but I don't know if he had a hand in her first single off of this new album, which was just released this week – go here to see the NSFW video for "Accelerate." True story: at first I just had this video playing as I was writing and I was like "oh hey, this song isn't that bad actually!" Then I started watching the video and I had to turn it off. The video is no bueno. She's trying too hard to be "OMG SEXY." I'm not saying she has to sit around in a nun's habit, but I cringed and winced several times just watching 50 seconds. Second-hand embarrassment.
Anyway, Christina also covers the latest issue of Billboard, and this profile isn't… terrible. She seems sober, which is a good thing, and she seems to be a healthy frame of mind. But I just get the feeling that her comeback isn't going that well. You can read the full piece here. Some highlights:
She keeps her house dark like a cave: "I like to keep it pretty moody and vibe-y. I'm not a big daylight girl."

She longed for freedom after years on 'The Voice': "I was longing for freedom." Coming home from the set, she remembers, "I would just take everything off — the makeup, all of it — and would blast hip-hop, or Nirvana, 'Creep,' Slayer. Anything like that to get me out of that zone, that TV mode."

She doesn't drive, so this is how she rolls: We call up her assistant, who calls up her driver, who quickly ushers us into an enormous black Escalade with shades for the (heavily tinted) windows. Inside, there's an ice bucket filled with Tito's vodka and white wine, which Aguilera refrains from imbibing, because despite how dark she has made it in the vehicle, it's still only 3 p.m.

She's a huge Kanye fan: "I've always been a huge fan of Kanye. Outside of, you know, his controversial aspects, I just think he's a great artist and musicmaker and beatmaker. The artists that he chooses to pluck from different walks of life are so interesting."

When asked if she'd ever return to The Voice: She scrunches up her porcelain face and says she would prefer to discuss "positive things." Still, she can't help but delve into what was wrong with the show, which was a lot. "It became something that I didn't feel was what I had signed up for in season one. You realize it's not about music. It's about making good TV moments and massaging a story. I didn't get into this business to be a television show host and to be given all these [rules]," she continues. "Especially as a female: You can't wear this, can't say that. I would find myself on that show desperately trying to express myself through clothing or makeup or hair. It was my only kind of outlet."
The rest of the interview was just about the music really – very little about her personal life. She's still with that dude, Matt Rutler, and they're still "engaged" although she doesn't wear an engagement ring. She built her tour and promotion around the fact that she's a mother of two and she needs and wants to be home as much as possible. She seems eager to be back in the industry in a big way, but who knows if this is the album which will get her there.
Photo and cover courtesy of Billboard.