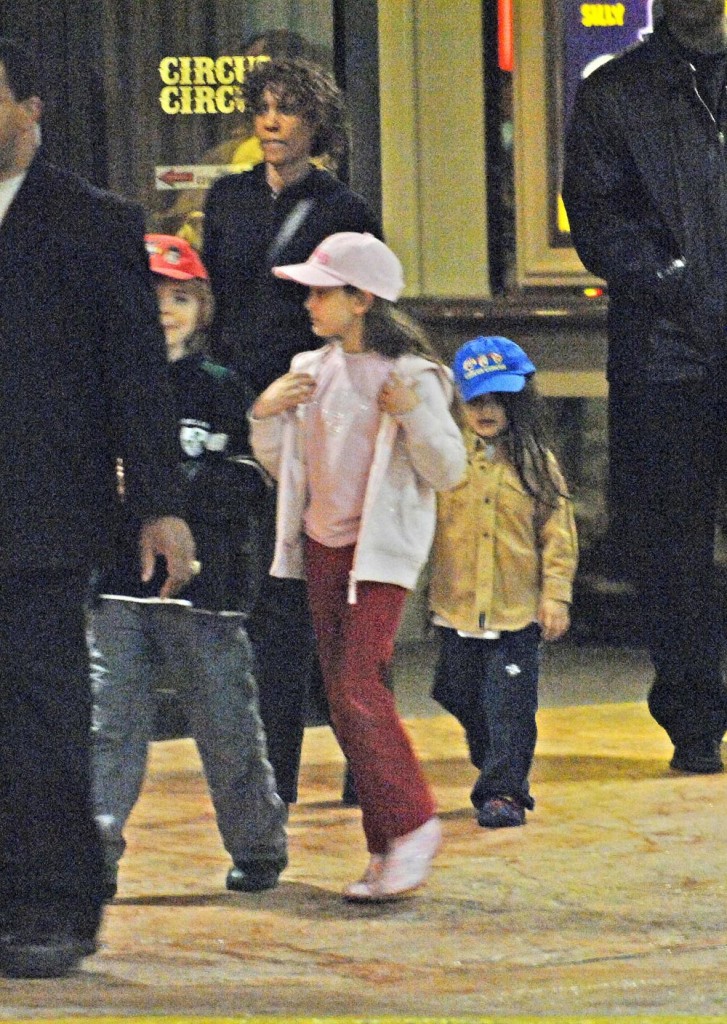 The Times of London has a fascinating and perhaps partially embellished interview with Grace Rwaramba, Michael Jackson's nanny for over ten years. Grace was fired by Jackson in December when she tried to stage an intervention for the drug-addicted star. The story paints a sad picture of the last few years of Jackson's life as Grace describes how he wasted every scrap of money that came in and refused to trust the people who cared about him. As he pushed Grace and his family away, other people came in to fill the void and take advantage of him. In the end the frail singer was taking a cocktail of powerful drugs and living in a dirty rented home, incapable of paying a maid despite shelling out six figures in monthly rent and without the money to have a birthday party for his daughter. Grace's statements are consistent with the details that are coming out in this case and with what we've read about Jackson in the press. According to people close to Grace, she was in a vulnerable place when she talked to the journalist, whom she considered a friend, and her words are being taken out of context and embellished:
Here are the highlights by topic:
On Jackson's mother Katherine looking for money after his death:
Early on Friday, Jackson's mother, Katherine, contacted Grace from his house. Shockingly, she wanted to know where his money was. Grace recounted: "Katherine just called me. She said, 'Grace, the children are crying. They are asking about you. They can't believe that their father died. Grace, you remember Michael used to hide cash at the house. I am here. Where can it be?'

"I told her to look at the garbage bags and under the carpets. But, Daphne, can you believe this? This woman just lost her son a few hours ago and she is calling me to know where the money is!

"I asked to speak to the children. She said they were sleeping. But she just said they were crying. She never let me speak to them. She said, 'Grace, where are you? Come. I will pick you up from the airport.' She sounded so strong. So strong!"

On Jackson's sad personal state:
"I don't know what to do. He doesn't let me see my babies. I have written to him. He doesn't answer. I can't call him because he changed his phone number. These poor babies . . . I am getting phone calls that they are being neglected. Nobody is cleaning the rooms, because he didn't pay the housekeeper.

"I just got a phone call that Michael is in such a bad shape. He is not clean. He has not shaved . . . His nails . . . He is not eating well. I used to do all this for him.

On Jackson's drug use:
Grace was a witness to Jackson's abuse of prescription drugs. She said he took a mixture of them — in her words, "he always ate too little and mixed too much".

"I had to pump his stomach many times . . . He always mixed so much of it. There was one period that it was so bad that I didn't let the children see him."

She claims he was furious with her for getting his mother and sister Janet to help. "We tried to do an intervention. It was me, Janet, his mother. I co-ordinated it. He was so angry with me.

"He screamed at me, 'You betrayed my trust. You called them behind my back.' I told him, 'Michael I didn't betray your trust. I try to help you.' But he didn't want to listen. That was one of the times he let me go."

On his sponsorship by the son of the King of Bahrain – he didn't fulfill his promise:
Her account of the money and hospitality he received after his trial from Sheikh Abdullah, the son of the King of Bahrain, reveals a man who had no understanding of of money.

"During the trial Jermaine (his older brother) suddenly connected him to Sheikh Abdullah. I was happy because he was so down. He was scared. Nobody else called. So Michael was spending hours on the phone with Abdullah. He is the one who is sending the money for the lawyers."

Abdullah, she said, called her one day and asked for her bank account. "I said why? He said he was sending money to Michael through my account. He sent $1m. Then another $35,000.

"Katherine needed money too. So Michael told me to give her my ATM card. She was cashing out of the machine every day. I checked it."

Last year, Abdullah sued Jackson in the London High Court for £4.7m for reneging on a music contract that would have paid back this and other loans. Grace told me: "When Abdullah sued Michael last year, Michael said in the beginning, 'Oh, I never got money from him.' He tried to frame me that I took the money."

"From the time we flew to Bahrain, we actually didn't have a home. At the beginning they put us in the palace. The idea was that Michael would create a charity and a CD with Abdullah.

"But when Michael failed to do it, I felt that the atmosphere changed. After several weeks, we were told that the uncle of Abdullah was coming back and needed to have his house."

On Jackson squandering money when they had nowhere to live:
"Suddenly — I can't remember now how it came — he received some money. Instead of buying a small house, so that we won't go from one hotel to another or stay with friends, he told me, 'Grace, you have to go immediately to Florence to buy antiques.' He wanted me to spend £1m.

I flew on my credit card. When I arrived in Florence and saw these antiques, I called him and said, 'This is not worth anything.' Michael never listened to me. He said, 'Buy it. Buy it.' We didn't even have a home to live in so we had to put the antiques in some storage."

On staying with friends in small homes and moving from hotel to hotel
All the time, they had the three children in tow. Grace was getting tired of "running with them from hotel to hotel" so she accepted an invitation to take Jackson and the children to stay with friends of her own near Dun Laoghaire on the outskirts of Dublin in Ireland.

"They own a recording studio. They were so nice to us. They did a favour for me. Michael left them bills, he never paid them back."

By then it was mid-2007. The entourage's next stop was in New Jersey, the modest family home of Frank Tyson, a Jackson aide named as one of the five "co-conspirators" during the sex abuse trial.

Grace said: "Frank's family is not rich. They have a small house. We stayed there for weeks. Michael stayed there downstairs alone.

"The kids slept with me in one room. I didn't mind because I tried to make it fun for them. But I felt so bad that we were staying such a long time at this family's small home.

"I tried to develop a friendship with Frank's mother just to tell them thank you but when Michael saw we were getting friendly he said, 'Don't trust her. She is not interested in you. She just talks to you because of me.'

On the Nation of Islam taking advantage of him
Back in California, Jackson rented a house from the Nation of Islam. According to Grace, he was grossly overcharged.

"The Nation of Islam was telling him that the house we had in Los Angeles, after Neverland was sold, cost $100,000 a month. I checked with many real estate agencies.

"To rent this house should not have cost more than $20,000-$25,000. He had no clue."
[From TimesOnline.co.uk]
Grace suffers from lupus, but had no health insurance while she was employed by Jackson. She also wasn't paid after October of last year. This is a sad, kind of heartbreaking account of a man who was a shy musical genius but became an addict incapable of managing money and unable to accept help or trust anyone close to him. It does put the last two decades of Jackson's life in another light – if he was taking so many drugs in such dangerous combinations, no wonder he appeared so eccentric to the public. He was whacked out of his mind on heavy prescription painkillers and various drugs. So many people assumed that Jackson was just a strange kind of marginal character who was trying in vain to live his lost childhood. That was surely a large part of it, but ultimately it was the drugs that did him in, and the drugs that probably changed him from an eccentric best selling artist to a frail, paranoid addict who was unable to financially support his family despite earning hundreds of millions during his storied career.
Deepak Chopra's daughter: Grace was taken advantage of for that story
Malika Chopra, Deepak Chopra's daughter, is friends with Grace and penned an essay about this interview for The Huffington Post. Malika claims that the author of the piece in The Times, Daphne Barak, took advantage of Grace and used her friendship to get information on Jackson at a vulnerable time. It's not true that Grace pumped Jackson's stomach, claims Malika, although she doesn't deny Grace's account of Jackson's drug abuse. Not all of the quotes are accurate, and Grace does want Jackson's mother to get custody of his three children.
Grace's quotes are now being picked up by other tabloids and will find their way into more magazines and articles. (People Magazine is also featuring some today, including the inaccurate claim the Grace pumped Michael's stomach several times. For the record, Grace never pumped Michael's stomach. She has no idea how she would even do such a thing.) Which quotes are true, which are in context, (many are not) to me frankly doesn't matter. I will not be surprised if Daphne releases audios or videos soon.

Grace feels used, insecure and shaken that she could have been so naïve, particularly having witnessed so many vultures in Michael's world over the years. She made a mistake. The sad truth is that when you are a celebrity, or a close friend or family of one, in a world of tabloids, you must be impeccable in what you say and to whom. Michael probably faced the epitome of vultures, bloodsuckers and hanger-ons displayed in his endless cycle of managers, enabling doctors, and new business partners. How could anyone blame him for becoming so paranoid in his life?

In the article, Daphne tries to portray a rift between Katherine Jackson and Grace. This is not true.

I would like to go on record, with Grace's permission, to say that Grace firmly hopes that the Jackson family gets custody of Prince, Paris and Michael. It would be detrimental to the children to be separated, and they should be with Michael's family. They should know their grandparents, aunts, uncles, and cousins, and they should learn about who he was as a person, not just as an icon. She has no interest in custody, and just wants the children to be happy and secure. She will be there for them whenever they need or want her.

As for the appetite for the salacious details of Michael's life, my hope is that we let him go in peace. We already know he led a tortured life. He also led a great one in which he loved, and was loved, by many.
[From The Huffington Post]
I guess we can't be surprised that now that Michael is gone, those close to him are being exploited too. Malika Chopra explains this well, asking "Michael probably faced the epitome of vultures, bloodsuckers and hanger-ons displayed in his endless cycle of managers, enabling doctors, and new business partners. How could anyone blame him for becoming so paranoid in his life?" I still think it had a lot more to do with the drugs.
Grace Rwaramba is shown in Las Vegas with Michael Jackson's children. Credit: Ben/Victor/Bauer-Griffin