Jennifer Lopez is known for her trademark curves. The former Fly Girl talked about body image and makeup with InStyle magazine for their upcoming June issue. In the interview, Jennifer discussed her recently-launched capsule collection for Inglot and cited the late, great makeup artist Kevyn Aucoin as her muse. She said that because of him, she's not afraid to try new looks. She added that with cosmetics, "You can do all kinds of crazy things and then wash it off and start over." Here are some other highlights from the interview:
On her influence on body image and acceptance:
So many people have come up to me over the years—famous people, people I meet on the street, fans, everybody—and they say that very thing: "Thank you so much. I have the same type of body. I used to think I was fat, but now I feel beautiful." My generation was very much focused on size 0 models. It was just so unattainable for most normal people, including me. My mom and my grandmother were the ones who drilled into me, "This is how we are, and this is what's beautiful." My dad loved my mom's body—all the men in our family loved the women's bodies. Being curvy or not being 6 feet tall was never a bad thing; it was actually something that was celebrated. And so, later on, when I brought that in front of the world, I wasn't really trying to send a message. I was just being myself.

Why she always embraced her curves:
They didn't bother me at all. But I got a lot of flak for it from people in the industry. They'd say, "You should lose a few pounds," or "You should do this or do that." It finally got to the point that I was like, "This is who I am. I'm shaped like this." Everybody I grew up with looked like that, and they were all beautiful to me. I didn't see anything wrong with it. I still don't!

On her fitness regime:
I like to work out in the morning. It loosens me up, gets me ready for the day, and keeps me strong. I'm convinced that working out is part of what makes me so happy. I really believe that when you take care of yourself and work to stay healthy, you're better able to take care of those you love.

What does she want to teach her daughter Emme?
The one thing I really want to teach her is to love and respect herself first and to make sure she commands respect from others….I try to get her to focus on the things that matter: being a good person, friend, and daughter, being happy with herself, and doing the things she loves.
Jennifer's comments and confidence have made a fan of me, and I'm sure not the only one. At NBC's upfront on Monday night, World of Dance host Jenna Dewan gushed about her to Entertainment Tonight, confessing that "half the reason I did this show was to find out Jennifer's secrets and I have not done it yet." She does have a theory, however. She posited, "I think it's just natural, which is the most annoying part of it all. She just like kills it. She can still own a stage. Ugh, she's everything!" And, as for whether or not she will soon be Mrs. Alex Rodriguez, Jenna said, "I'm sure that's happening."
Part of Jennifer's "secret" could be genetics, as evidenced by the sweet selfie she shared with her mother, Guadalupe, on Sunday. The hereditary blessings seem to be moving onto Emme, who resembles her famous mama more and more each day.
And, as for Alex, he and Jennifer were seen canoodling at a benefit gala benefiting the NYC anti-poverty campaign, The Robin Hood Foundation, which was held at the Jacob Javitz Center on Monday night. The 48-year-old dazzled on the red carpet in a black gown by Alex Perry, showcasing her toned gams with a insanely high side slit. She also performed at the event in an equally impressive fringed leotard and sparkly thigh-high boots. I think she looks amazing, and I think she's a great inspiration for girls everywhere.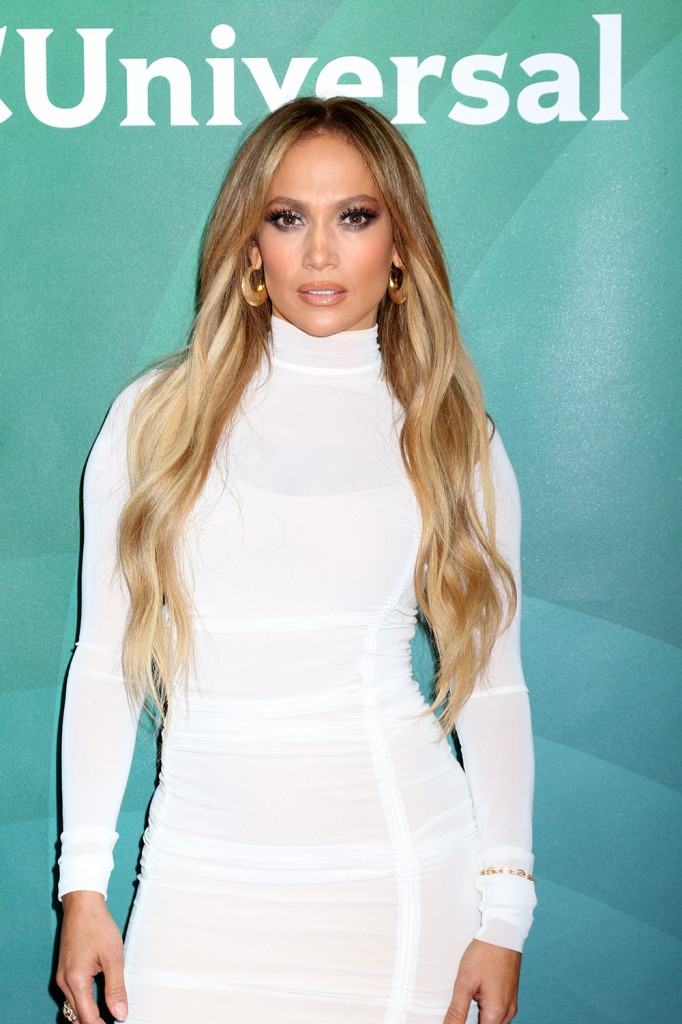 Photos: Getty Images, WENN.com, Instagram