Incredible Amanda Seyfried in the July issue of the @ELLEUK Photographer – Sebastian Faena #AmandaSeyfried #АмандаСайфред #Elle pic.twitter.com/0wAyleryrd

— Amanda Seyfried (@SeyfriedDailyVK) June 1, 2018

Does anyone else have a newfound respect for Thomas Sadoski and Amanda Seyfried's relationship after reading his response to the Arrested Development fiasco? Sadoski issued a really blunt and uplifting statement condemning the men of AD for dismissing Jessica Walter as she cried about being verbally abused by Tambor on set. It made Sadoski seem like a rare stand up guy who gets it, and it came across as genuine outrage, not performative wokeness.
Sadoski was married when he met Seyfried on the set of a play they did in 2015. There's some sketchiness around when and how they got together. Stories claim they didn't get romantic until Sadoski had filed for divorce and they happened to work together again on a film. Whatever happened, they seem solid now. Amanda has a new interview with Elle UK, to promote Mamma Mia 2, and she talks about her marriage to Sadoski, which was prompted by Trump getting elected in a way. She also discusses gun control, she has some admirable opinions about that, and being taken seriously in her career now that she's older.
On gun laws: 'What exactly are you protecting? At this point, I actually demand a reason as to why people believe that assault rifles should be sold in Walmart. Why do you need an assault rifle? Arming teachers? Teachers are not security guards. Teachers are not bodyguards. They are f**king teachers. They're there to educate. F**k you. Kids are being killed. And they keep saying, "It's not the guns that kill people, It's the mental illness." Well then, let's talk about mental illness.'

On her decision to marry actor Thomas Sadoski: 'It was one of those things where Trump had gotten elected, the world was going mad, and I was like, "This is a dream I might never wake up from. If that's the case, let's just get married."'

On Motherhood helping her to develop a new love for what she does: 'Things are better now I'm older, rather than as a teenager, when I was treated terribly: "Oh, you're in your 30s now? I guess I can trust your opinion, or trust you'll show up to work on time," even though I've never, ever been late, even as a 15-year-old. But I feel like now I have a kid, it just goes without saying that I'm responsible… I learned after having a child: not to take things so personally, because it's such a waste of time.'

On it being a powerful time for women in Hollywood: 'People aren't afraid. The #MeToo and #Time'sUp movements are all about feeling empowered to tell the truth and not be afraid of repercussions. Because that's the thing. You want to keep your job, your sanity, your reputation. You can preserve those now; you can make sure that nobody else is being silenced, or made to feel uncomfortable or violated.'
I feel similarly, like my relationship is this unreal respite from all the bullsh-t that's going on in the world. I've already been married though so that isn't particularly appealing to me. I do get the urge to say "f-k it, the world is ending" in a lot of instances. You may as well go for it because anything could happen at any moment and you just don't know what it will be. Seyfried explains that feeling well. Her thoughts on #metoo seem a little pollyanna-ish, but she works in that industry, she knows it well, and I would really like her to be right.
Mamma Mia 2 is out July 20th.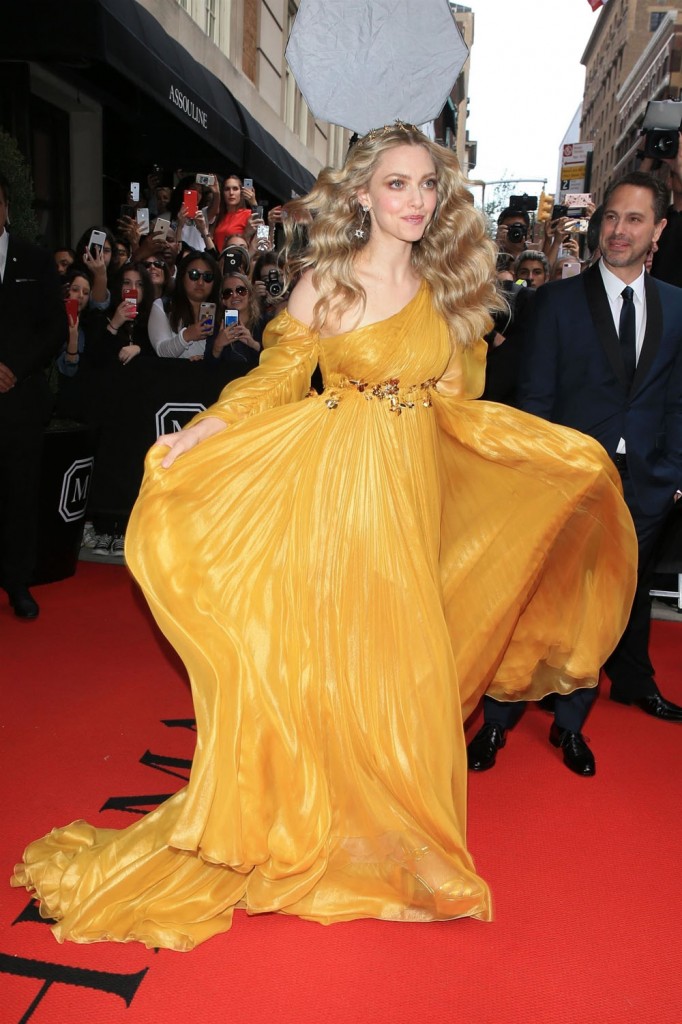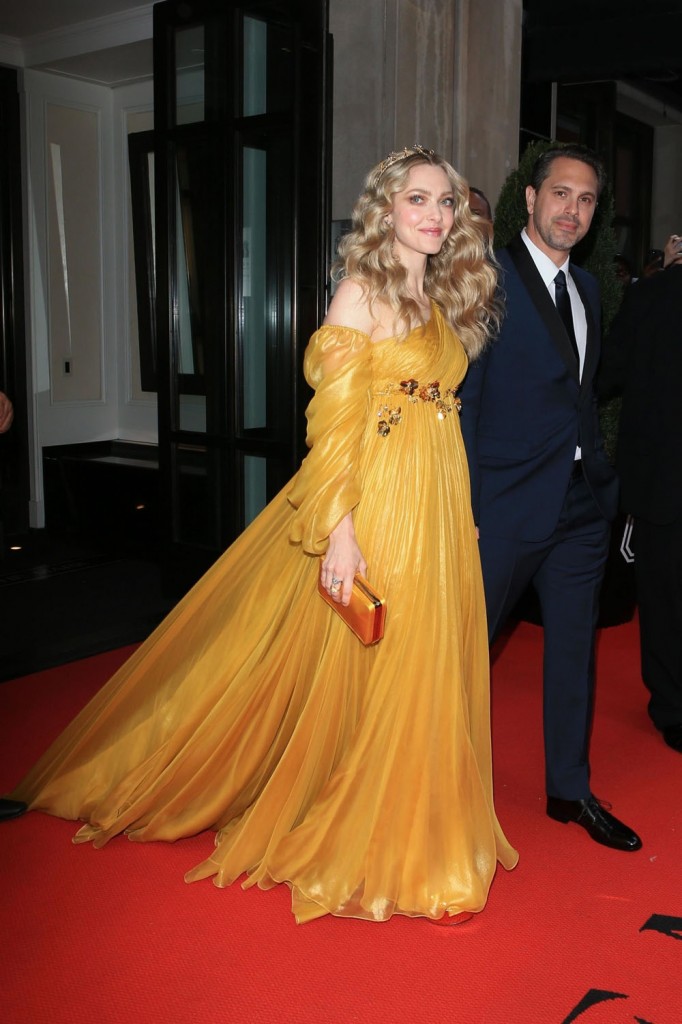 Photos credit: Backgrid, Twitter/Elle UK, Instagram/Amanda Seyfried