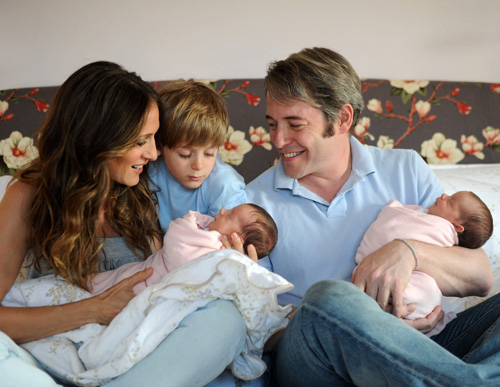 Sarah Jessica Parker, 44, and Matthew Broderick, 47, have released a family photo featuring their newest additions: twin girls Marion and Tabitha, born June 22 by surrogate. They also have son James Wilke, 6 and a half. The photo is listed as a "complimentary handout image" by agency Getty and is also carried by the AP. It looks like they decided to give the photo free to the public without any licensing fees or associated costs. Good for them!
The image is a touching portrait of everyone looking at one of the babies as she sleeps sweetly. You can see the pride and happiness on Sarah and Matthew's faces while James has a look of quiet wonder.
In a statement confirming the birth last week, the family's rep said that "The babies are doing beautifully and the entire family is over the moon." That sure looks to be the case, and congratulations to Sarah, Matthew and James on their new arrivals!
Photo via Gossip-Girls