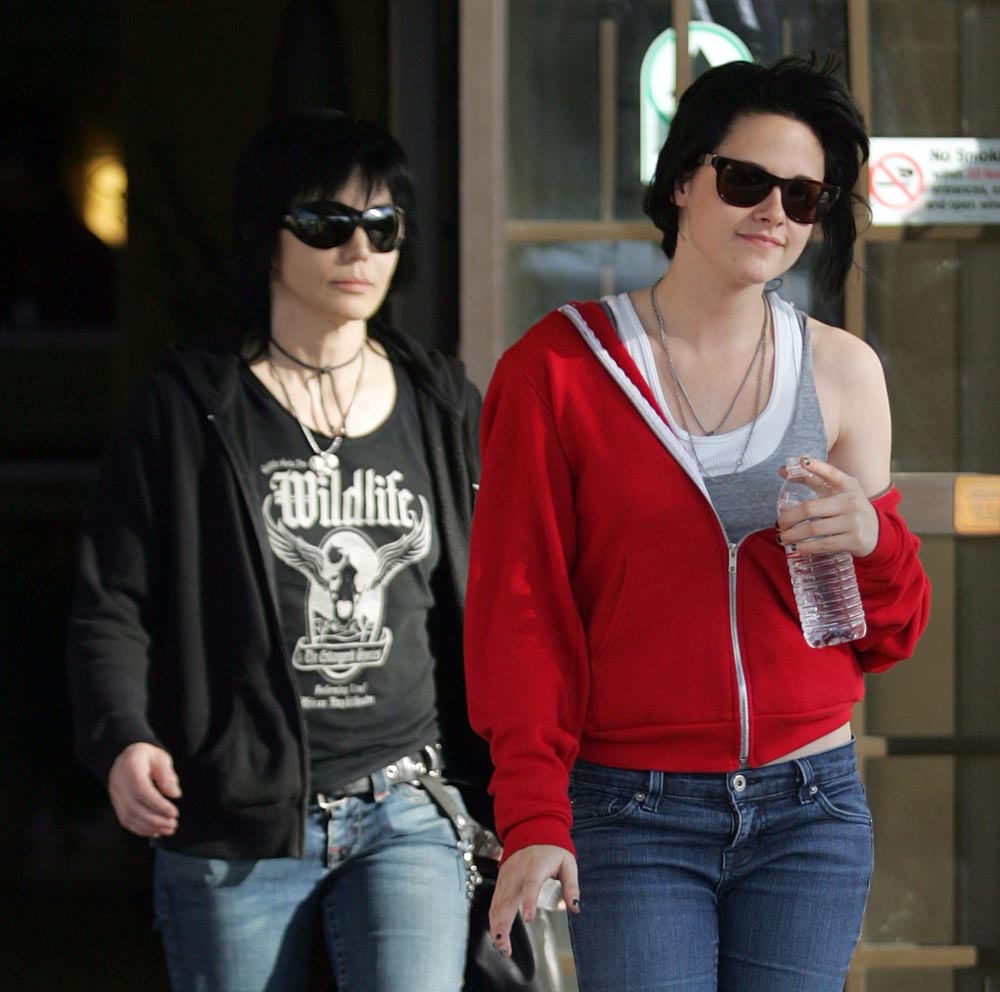 It seems Joan Jett is concerned that Kristen Stewart might not be up the challenge of playing her. Joan's official website released a statement as production on The Runaways started, saying in part, "While Joan is not involved with the casting decisions, she is eager to see Kristen's work and meet with her about the upcoming role." Translation: "Kristen Stewart is not worthy, but I won't bad-mouth her until she pisses me off." Meanwhile, Kristen seems to be diving head-first into playing Joan, even though her new ragged haircut seems to be pissing off the Twihards who demand that Bella should only have long, romantic locks of hair, because that's the way Robert Pattinson likes it! And the Twihards definitely know what Pattz likes.
It seems Joan has made a few trips to the set to see Kristen and give her some first-hand lessons in Being Joan Jett. Unfortunately, Joan is really hardcore, and she made poor Bella cry. Uh-oh. Now the Twihards are going to come after Joan Jett! Eh, I bet Joan could take them:
Joan Jett is all about tough love.

The rocker gave Kristen Stewart, who plays a young Jett in the upcoming biopic "The Runaways," a hard time last week, causing the young starlet to burst into tears on set.

Says an insider, "Joan just wants Kristen to play an authentic version of herself, so she needled her a little bit too much. But she apologized when she realized how upset Kristen got."

At least there's no bad blood between the two. Says our insider, "They're like mother and daughter now."

Better watch out, Joan — mess with Kristen and you'll have Rob Pattinson to contend with. (LUCKY!)
[From The New York Daily News]
In other news from the production of The Runaways, Tatum O'Neal (Oscar-winning daughter of Ryan O'Neal) has been cast as Joan Jett's mother, while Alia Shawkat (of Arrested Development fame) will be playing Robin, "an 18-year-old tall and slender bass player who is the oldest and most feminine of the band, hinting further that the character may have been created in essence of the band's original Micki Steele."
I think Kristen was probably the best choice to play Joan because really, who else could they get, Megan Fox? But I wonder at the wisdom of the casting as far as fanbases go. Yes, Kristen is one the hottest actresses around, and I applaud her desire in wanting to try a new, hardcore character. But will her Twihard fanbase stick with her as Bella morphs into Joan? Doubt it.
Joan Jett and Kristen Stewart are shown out on 6/18/09. Kristen is also shown on set on 6/22/09. Credit: Fame Pictures