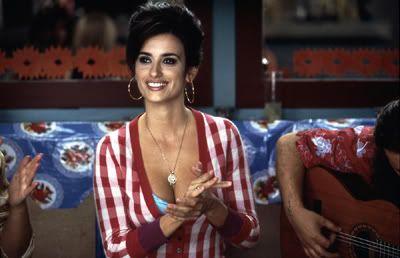 Penelope Cruz stars in Pedro Almodóvar's Volver, a film that explores the relationships between three generation of women. Cruz stars as the daughter of a woman who dies and returns as a ghost to fix unresolved issues from her life.
Almodóvar is an Academy Award-winning director and screenwriter for About My Mother in 1999, and Talk to Her in 2003.
Volver will be in Spanish with English subtitles and is due for release in the US in June, 2006. The film opens in Spain on Friday and was screened for journalists today.
Penelope Cruz is drawing heat for starring in a different movie that celebrates bullfighting. Cruz plays the mistress of a legendary bullfighter in the film Manalete, which is filming now. Adrien Brody also stars. Cruz does not wear fur and is sensitive to animal rights, but feels that bullfighting is part of Spanish culture and should be portrayed. The producers are using old footage and computer-generated effects and promise no animals will be harmed.
Here are pictures from the film and from yesterday's photocall in Madrid. Pictures [via]
Six more after the jump.
Update: Some images removed on request.