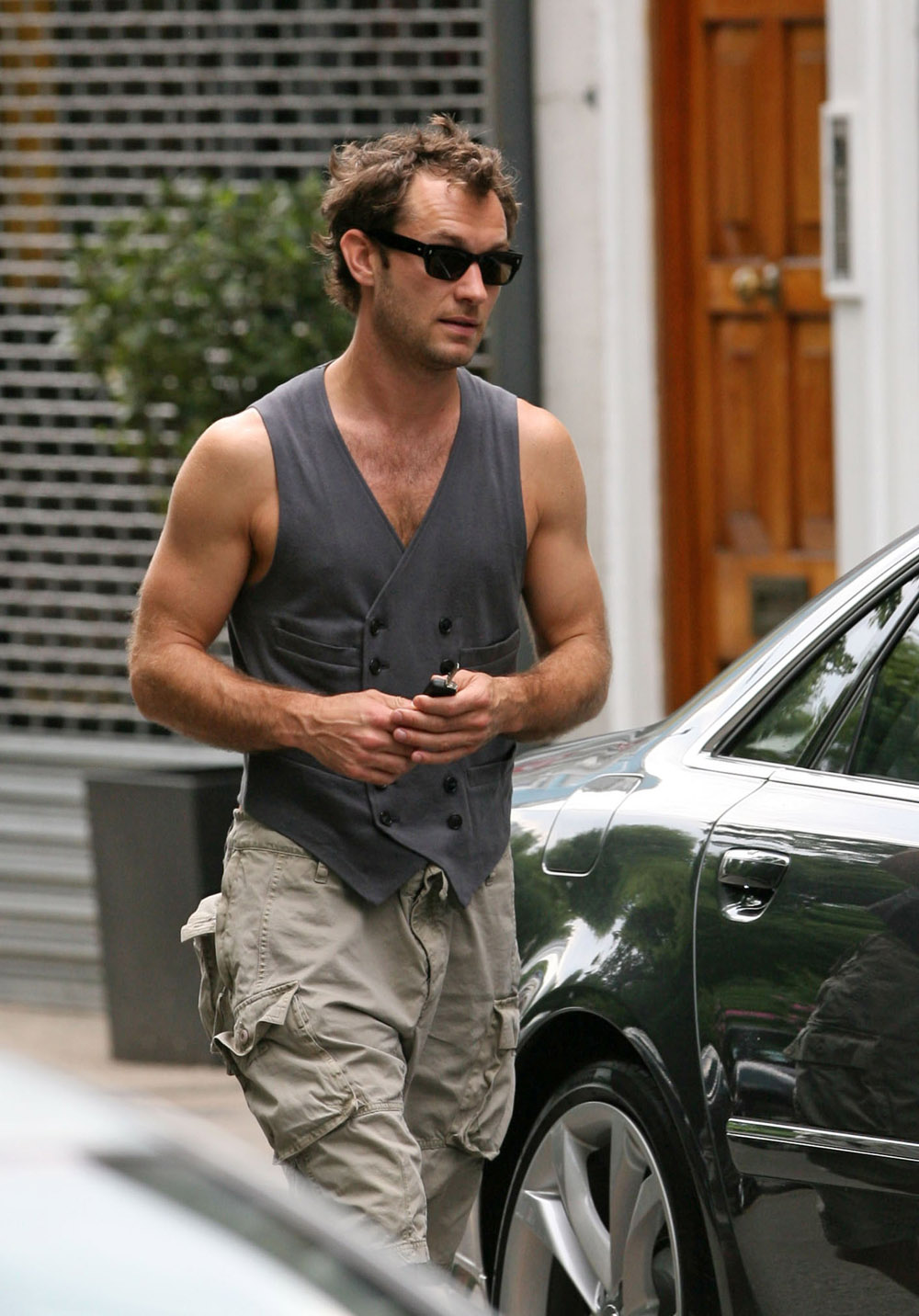 Imagine you're Jude Law. Get off the nanny! No, seriously now. You're Jude Law, and you want to take your youngest son Rudy to a London Starbucks. What do you put on? A t-shirt and some jeans, maybe? Or do you try too hard to look like you just pulled together some weird combination? Do you grab your fancy double-breasted grey vest and a pair of cargo shorts? If you were really in Jude Law's head, you would always pick the fancy vest. In and of itself, the vest is funny, but I love that Jude is wearing nothing under or over the vest. How embarrassing is Jude for his kids? "Da–aad! You can't wear the vest with cargo shorts and flip-flops!"
Honestly though, Jude Law looks pretty hot in these pictures. I'm remembering my crush on him circa 2000. The vest distracts from his hairline, so now all I can see is his shockingly buff arms. Yeah, I'd still hit it. The nannies and the vests may come and go, but Jude is still pretty foxy.
In other Jude Law news, his London run of Hamlet is doing really, really well. Jude got some of the best critical acclaim of his career for his turn as the misanthropic Dane, and it was just announced today that the same Donmar Warehouse production of Hamlet – with Jude – will be coming to Broadway.
That collective "oooh" you just heard from Broadway is the sound of theatergoers whose solid (or sullied) flesh has melted and resolved itself into a dew after learning that Jude Law is headed their way.

Mr. Law, the "Cold Mountain" and "Talented Mr. Ripley" star, will play the title character in a Broadway production of Shakespeare's "Hamlet" that is transferring from the Donmar warehouse in London.

In a news release Tuesday, publicists for the Broadway run of "Hamlet" said that the play would be directed by the Donmar Warehouse's artistic director, Michael Grandage (Broadway's Frost/Nixon), and would run for twelve weeks at the Broadhurst Theater.

Previews are scheduled to begin on Sept. 12 and an official opening is slated for Oct. 6. Additional actors from the Donmar Theater company are expected to join the "Hamlet" cast, and a production of the play is planned at Elsinore Castle in Denmark from Aug. 25 through 30.
[From The New York Times]
That's actually very exciting – Broadway enthusiasts will correct me if I'm wrong, but I believe this will be Jude's first Broadway show since his breakthrough performance in Indiscretions at the very start of his career. The bad news is that Hamlet will be coming to New York at exactly the same time as Sienna Miller's turn in After Miss Julie. Could we be seeing yet another Jude and Sienna hook-up?
Images thanks to BauerGriffinOnline.