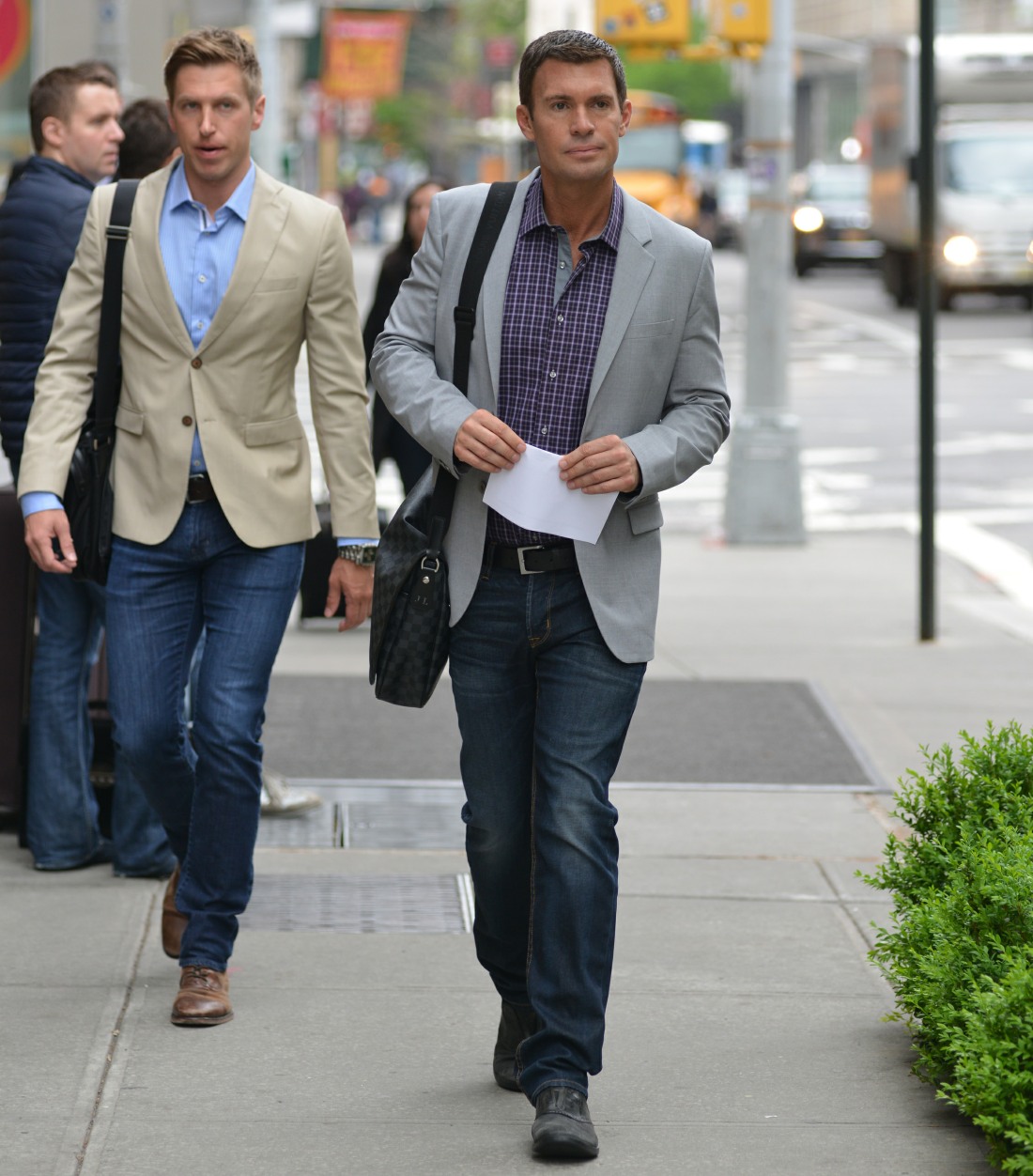 I watch a lot of those house-flipping and home-improvement shows on HGTV. I've never gotten into Bravo's Flipping Out though, mostly because the show is mostly about the "star" Jeff Lewis and his life, rather than the details of his actual house-flipping business. And let me tell you, Jeff Lewis is an absolute a–hole. He's OCD and extremely anal retentive, but that's no excuse when he's treating everyone in his life like they're all there to serve him. He's a bitchy drama queen of the highest order. Well, anyway, a few years ago, Jeff and his partner Gage Edward hired a woman to be their surrogate and carry their daughter Monroe. Everything worked out and they got a perfectly healthy baby. Except now the surrogate is suing Jeff and Gage, and wooo, does she have a good case.
The relationship between Jeff Lewis and the surrogate who carried his 19-month-old daughter Monroe Christine began to deteriorate when the Flipping Out star made an off-color joke about her vagina as she gave birth to his first child with partner Gage Edward. Alexandra Trent was seen on multiple episodes over two seasons of Flipping Out, after Lewis and Edward hired her to carry Monroe. A season 10 episode (filmed on Oct. 25, 2016 and aired Aug. 31, 2017) documented Trent's delivery, with Lewis and Edward — and the Flipping Out cameras — in the hospital room as it happened.

The show even captured the first moments Monroe was placed in Lewis and Edward's arms, for skin-to-skin contact, seconds after her birth. But as sweet and emotional as Monroe's delivery was, Lewis made a Joke afterwards that Trent found offensive and embarrassing.

During interview setups filmed later and spliced into the episode, Lewis said, "If I was a surrogate, and I had known there was going to be an audience, I probably would have waxed. And that was the shocking part for Gage. I don't think Gage had ever seen a vagina, let alone one that big."

On Tuesday, Alexandra Trent filed a lawsuit claiming that Lewis and Edward had personally humiliated her and left her "deeply damaged" by making the "disgusting" comment on the show about her, according to the complaint obtained by PEOPLE. She's also accused Bravo and Flipping Out producers Authentic Entertainment of filming her vagina without permission, claiming that she had never given consent to have her delivery filmed and that it "caused incredible anguish, self-loathing, contempt and depression."
The rest of People Magazine's coverage features exclusive statements from Jeff Lewis, wherein he acts like he's the victim and he's completely "devastated" that this poor woman is suing them for very good reason. Jeff also went on and on about how the lawsuit has brought he and Gage closer together, like anyone gives a sh-t. Let me be clear: if you are hiring a woman to be your surrogate and carry your child for nine months, you DO NOT say one f–king word about the poor woman's vagina or the state of her bush. You do not make "jokes" to camera. You do not film the birth without her permission and you sure as hell don't air the birth on national television. There was such a deep-seated misogyny to those comments too, and I cannot believe these men have a daughter now.
Photos courtesy of WENN, Getty.