One complaint I've heard often about the MTV Movie and Music Awards is that the ceremony has been suffering from a lack of star power. That and the fact that Keeping Up with the Kardashians beat RuPaul's Drag Race for Best Reality Show – but maybe that one is just my complaint. The network upped the ante with a surprise appearance by superstar Lady Gaga.
Gaga won the award for Best Music Documentary for her revealing Netflix doc Five Foot Two. She beat Jay Z, Diddy, Demi Lovato and HBO's The Defiant Ones, about producer Jimmy Iovine and Dr. Dre (which I actually thought was going to win, until I remembered this was the MTV Awards). After receiving her award from host Tiffany Haddish, Gaga acknowledged her fans, exclaiming "Thank you so so much for giving five foot two the award for best music documentary. I love you little monsters so much!" And, of course, the woman who brought you "Born This Way" made sure to add "Happy Pride Month!"
The 32-year-old singer went on to share a revelation about the film. She confessed, "I just have one problem, I recently found out that I am actually five-foot-three and three quarters…I am so, so sorry, but thank you so much." Gaga also had the honor of announcing the winner for Best Movie. She noted that "The five films nominated this year (It, Wonder Woman, Avengers: Infinity War, Girls Trip and Black Panther) filled our spirits, broke our hearts, broke the box office and led us on shiny-starred adventures that we are still coming down from." As for the victor, it was, as Gaga enthusiastically announced, "Black mother f—– Panther."
So, let's talk about the look. I think it was quintessentially Gaga. The outfit, a red leather corset with harness detailing paired with a sheer, black skirt is from Sarah Burton for Alexander McQueen. I love, love, love the corset. I also like the slicked on one side blonde bob and her flawless smoky eye and red lips. She gave fans a sneak peek at her look via an Instagram story on Saturday. She definitely gets a toot from me. I'm also thinking Gaga ought to start planning her wardrobe selection for next year's awards. With A Star is Born, she's sure to score a nomination.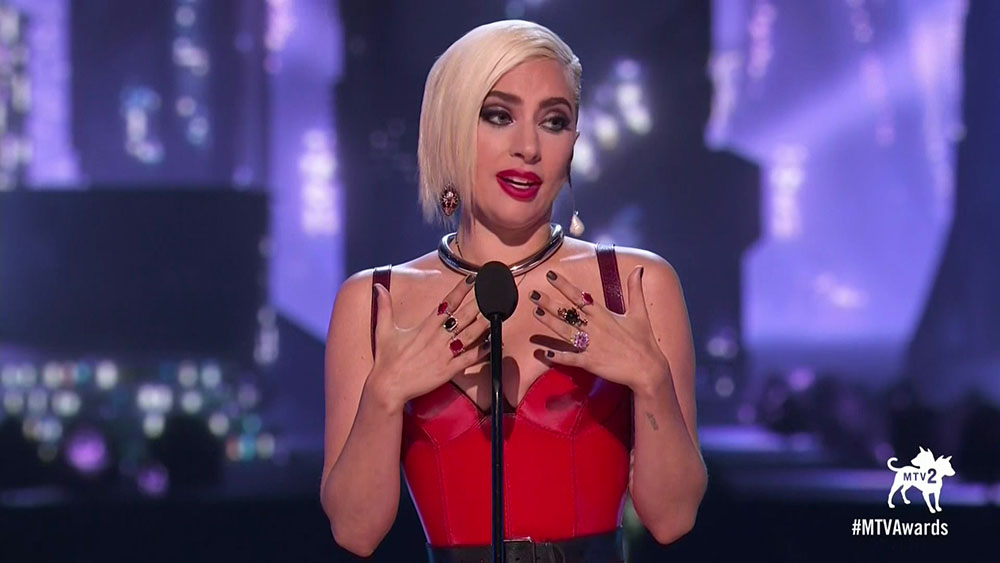 Photos: Getty Images, WENN.com