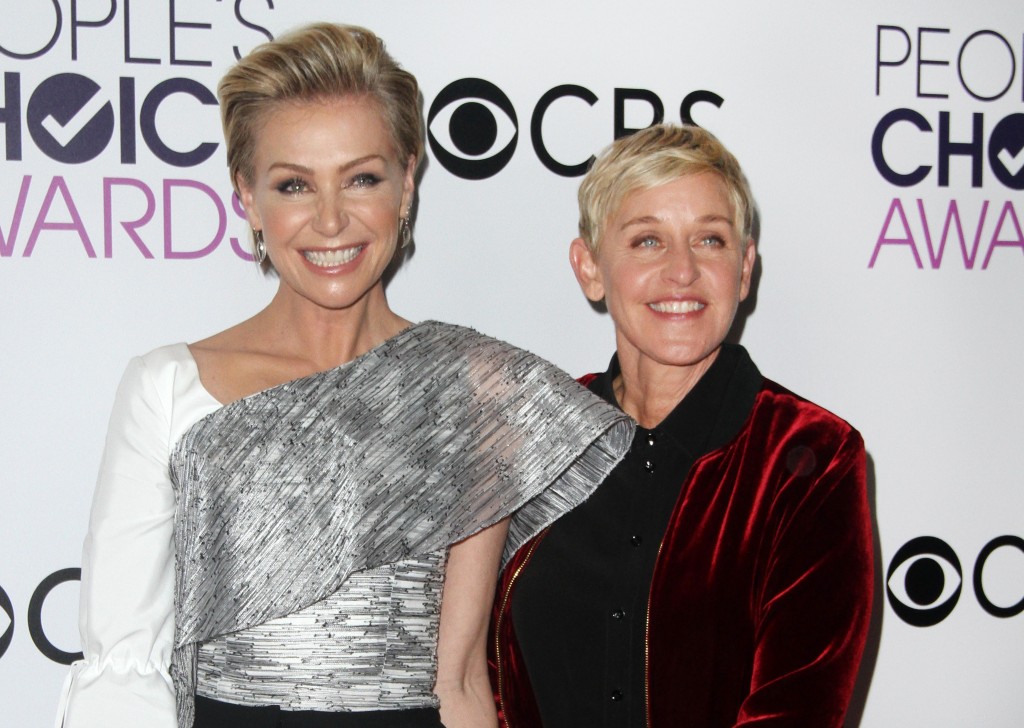 Portia de Rossi and Ellen DeGeneres are celebrating their their tenth wedding anniversary on August 16. Time sure flies, doesn't it? The 45-year-old actress has launched a new business venture, General Public, which creates exacting reproductions of original works using 3D technology, allowing both established and emerging artists to get multiple reproductions of their works out to the general public. At an event celebrating the partnership of General Public and Restoration Hardware held in West Hollywood last week, Portia looked back on her relationship with the 60-year-old comedienne. She said that it felt like their union was finally accepted by the general public when they hit the tabloids. Portia told US Weekly:
"The divorce rumors came and then we really knew the perceptions had changed. "I'm not kidding. I know it sounds ridiculous, but when that started happening I thought, 'Oh, now we're finally accepted.' We get the same s–t as every celebrity couple."
She went on to add that speculation that she was pregnant made her feel more accepted. As far as reading headlines about themselves or other celebrity couples, Portia says that "we avoid it. We don't care."
Also during the event, Portia admitted that she had try to discourage Ellen from making her return to stand-up comedy, telling People it was "not because she is not brilliant at it, but she has a job…right?! And it is a full-time job."
She went on to say that all the extra work would be "exhausting" for Ellen. Portia suggested that Ellen hold off until her show was done, but added, "my wife is very impatient, and, a little like me, once she has an idea she just can't shake it, and she just has to see it through."
Long story short, Ellen is going on an 8-night comedy tour in August and Portia is happy to admit she's wrong, telling the magazine, "it has given her energy, it has invigorated her." Portia did grumble that she's only seen Ellen's stand-up via her specials and won't see her new material until she takes it on stage, as Ellen won't work on her jokes with her. I dated a stand-up comedian Portia, consider yourself lucky. You'd be able to recite the jokes in your sleep.
As a big advocate for all things love (just call me Cupid Corey), I'm happy that these two have been able to endure the haters and have a strong, loving and (more) accepted relationship. We've still got a long way to go, but it's great to see the negativity continue to subside. Happy anniversary in advance, Ellen and Portia.
Photos: Getty Images, WENN.com