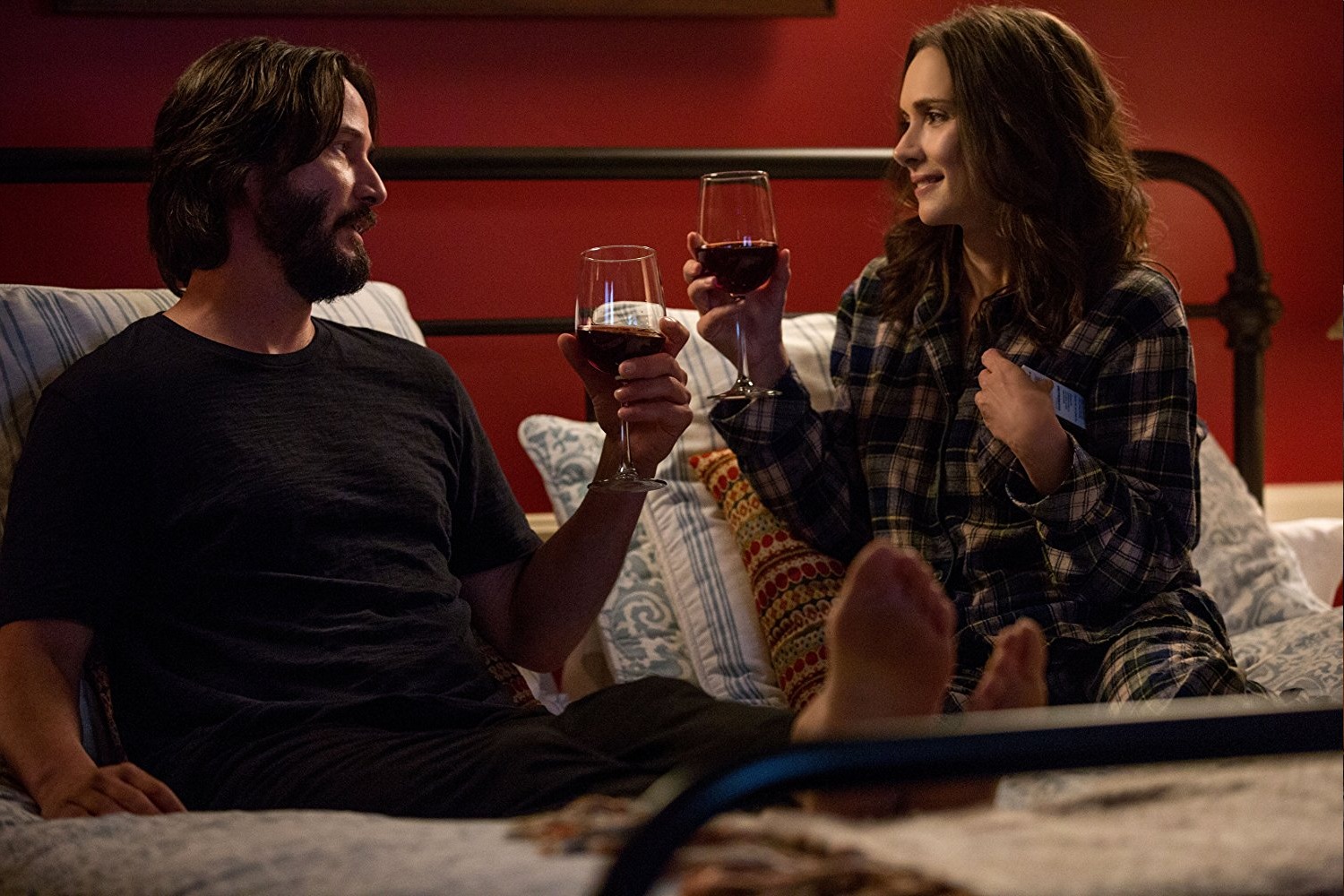 Keanu Reeves and Winona Ryder are from the same "cool '90s" generation. They were HUGE deals in the 1990s, and since then, their paths diverged. Keanu's star continued to grow and grow, and at this point, he picks and chooses his projects and passions because he has more money than God. Winona's star faded in the 00s, but in the 2010s, she's come back to a certain degree. It's also worth mentioning that Winona and Keanu have been friends this whole time, ever since Dracula. They've worked together throughout the years, and they decided to do Destination Wedding together to show off their comedic chops once again. Here's the trailer:
I don't know… I think it looks really cute? I love that they both said yes to this script – Keanu doesn't do enough comedic roles or romances these days, which is too bad because he's great at them. And Winona needs more scripts like this too. At a premiere for his film Siberia last week, Keanu talked about Destination Wedding and how he and Winona have maintained their friendship:
Even decades into his career, Keanu Reeves doesn't do half measures. "With each role that I play, I do give it my all," he said at the New York premiere of his latest movie, Siberia, on Wednesday night at the Metrograph theater. "I love acting and making films as much as I did when I first started, and that was a long time ago. I just love being a storyteller. . . . There's nothing else I'd rather do. I've had the chance to play really cool characters in some cool films; I just feel lucky and grateful."

…His other movie, Destination Wedding, marks his first romantic-comedy in 15 years—since 2003's Something's Gotta Give with Diane Keaton. The new rom-com reunites Reeves with his 1992 Bram Stoker's Dracula co-star Winona Ryder; the two play unhappy and gloomy guests attending a wedding in California wine country who develop an unlikely romance. The pairing of Reeves and Ryder is already generating buzz among Generation-X fans, who are clamoring to see the 90s idols together again on August 24.

"I had the best time working with Winona again. She's such a great actress. We had fun together making Destination Wedding—too much fun," said Reeves. "We play characters that are opposites of the same coin. I'm more of a pessimist, and she's more of an optimist, which causes lots of fighting between the two of us. . . . I haven't done a lot of romantic comedies, and I really loved the humor of the script and I loved all the dramatic experiences the characters go through."

Reeves said he has remained in contact with Winona over the years through text messages. "It's nice. She's a friend," he said. "I text Winona and write, 'Hey, Winona, what are you doing?' It's awesome."
Forget Halle Berry, I would love to see Winona and Keanu end up together. COME ON. That's like the Generation X fairy-tale: two '90s icons who have been through some sh-t and been friends for decades, and then they get together in their 40s/50s? That would be amazing. It's probably not happening, but MORE OF THIS.
Photos courtesy of Getty, promotional image from 'Destination Wedding'.