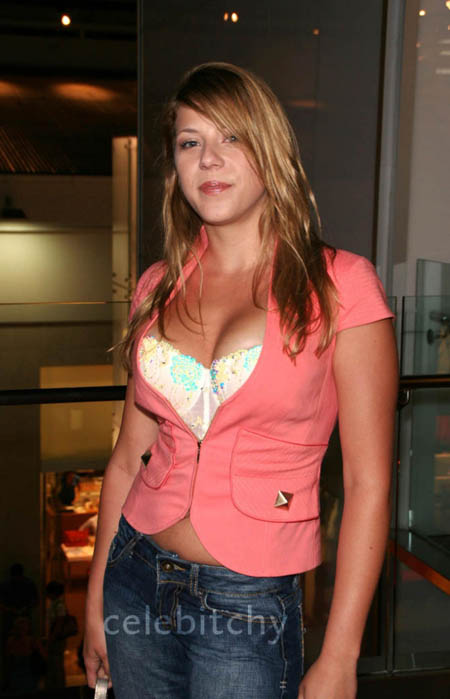 Jodie Sweetin was the middle child on Full House, for those of you who can't remember. She and her husband, actor Cody Herpin, are now expecting their first child. While this isn't exactly earth shattering, their way of announcing the pregnancy is unusual.
TMZ has the inside scoop on Jodie Sweetin, aka Stephanie on "Full House," and when we say "inside," we mean inside!

TMZ has obtained this sonogram of Steph's baby with hubby Cody Herpin, courtesy of the happy couple themselves. TMZ is proud to announce their oven bun to their family and friends. Jodie and Cody were married just weeks ago at the Little Church of the West in Las Vegas.
[From TMZ]
Sending out the sonogram picture is actually kind of cute; I wonder if you could sell it like celebrities do with their baby pictures? Then again, you claim any sonogram picture was a celebrity baby picture. Actually, you could pass off any newborn baby as belonging to just about anyone, if it looks vaguely like the parents.
Jodie was married to police officer Shaun Holguin in 2002, but they split in 2006. Jodie attributed the end of their marriage to her crystal meth addiction, saying her husband left her as it put his policing career in jeopardy.
Jodie got over her addiction last year, and hosted Pants-Off Dance-Off, which I've never seen but according to Wiki, mostly features people stripping down to their underwear while a music video plays.
She married Cody on 14th July of this year, leading some commentators to speculate whether then bun was in the oven before the wedding. I'm modern, so I don't care. I just say congratulations Jodie and Cody!
Picture note by Celebitchy: Jodie Sweetin is shown in the header image on 6/28 at a Pink Taco Restaurant opening in Century City, California. Thanks to WENN for this picture.