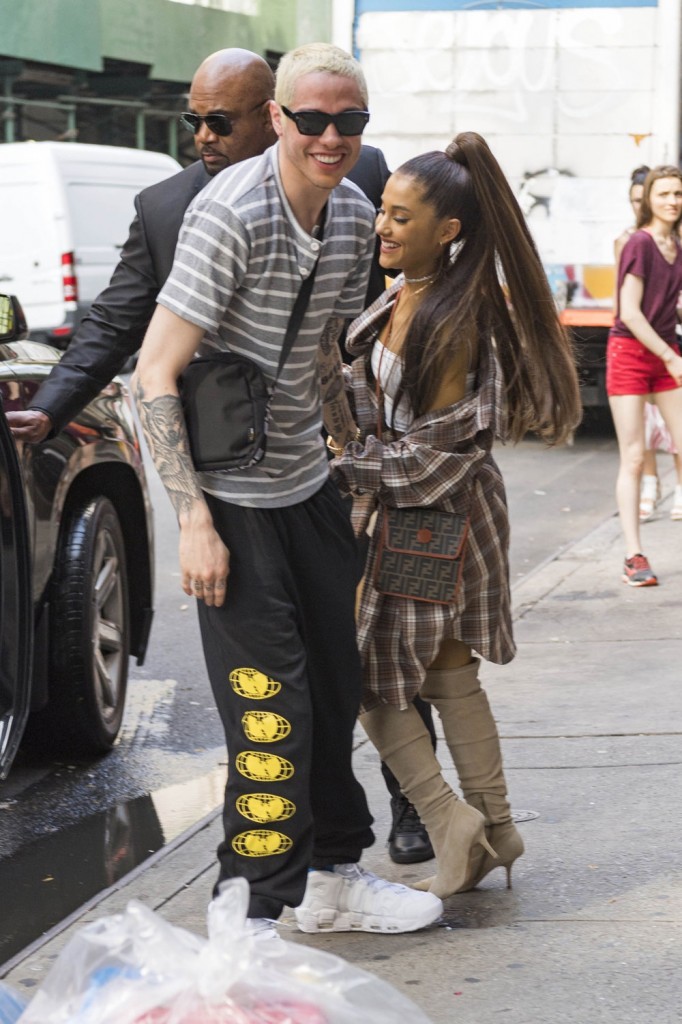 I just started using Instagram after finally switching from an iPhone to a Samsung. It took about three days before I was kicking myself for not getting a new phone sooner. (Androids can multitask and the battery doesn't die after a couple of hours.) Anyway follow me if you want! I'm mostly going to post our stories but I'm also into thrift shopping and retro fashion, dogs and fitness. Dlisted is on Instagram now too and you can follow Hecate here!
Although I'm still getting the hang of Instagram, I understand the need to take a break. I've done it several times with my personal Facebook account. It can be a time suck and the negativity, particularly from people you consider friends, can drag you down. (Plus eff Facebook.) It must be much harder to deal with comments if you're a famous person. Pete Davidson has deleted all his photos and posts on Instagram, posting the following IG story to explain his decision. He has 2.2 million followers.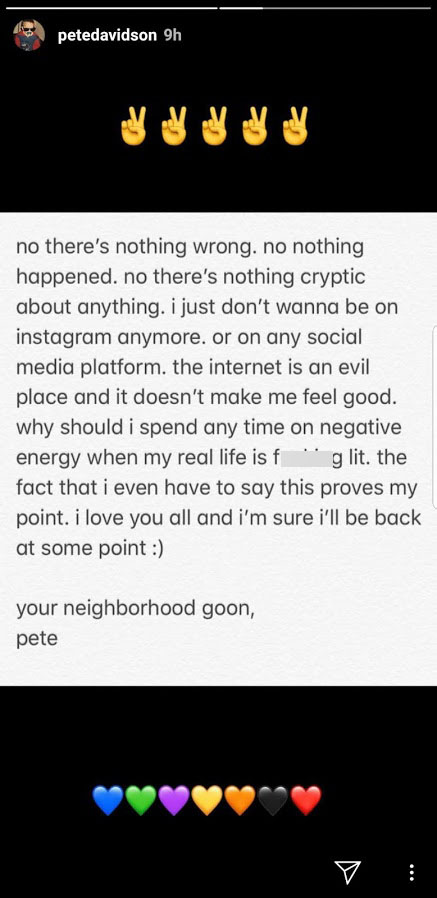 On a technical note, there's an option in Instagram, just like the one in Facebook, to temporarily disable your account. That way you can get a break without removing all your content. You can't follow people unless you have an account though. So Pete probably wanted to keep up with Instagram without dealing with comments on the things he says and posts there.
As for why he quit, a lot of outlets claim it's over responses to a comment he made on Ariana's post to her late grandfather:
The day before the dramatic cleansing — which included wiping his Instagram of photos of himself with fiancee Ariana Grande — Davidson faced backlash from commenters on a pic the 25-year-old pop star posted in memory of her grandfather.

"Miss n love you forever my best friend #4years," Grande wrote alongside a photo of herself with her grandpa, to which Davidson replied, "omg what a cutie."

Fans assumed that Davidson was referring to his love and hit back calling his comment "unnecessary" and "inappropriate."

Davidson defended himself writing, "Are you guys all insane? I was talking about how cute her grandpa is. What's wrong with that? You guys will really look for anything to attack people. It's sad."
Again, I don't get why Pete didn't just disable his Instagram instead of wiping it. It seems like a waste to delete all that content.
In the wake of Pete deleting his entire IG account, Ariana Grande turned off comments on hers and has announced that she's taking a break from IG and Twitter and is going to focus more on Snapchat. You know that Snapchat's stock is about to rise. (It's also possible that Ariana disabled her Instagram account. As of publication time her main page returns an error, although I am able to view individual posts she's made. Update: her page works fine in the app but it's still throwing an error in the browser.) [via Cosmopolitan]
yeh ! i'm prolly gonna post on der for a little while & take a breather from twitter & ig for a little. just sometimes can't help but bump into some negative shit that really can bum u out and it's not worth it honestly. promised i'd always tell you. i love u sm ! be well & happy

— Ariana Grande (@ArianaGrande) July 23, 2018
Ariana also explained that it's better for her mental health if she limits her social media exposure:
bc it destroyed my mental health and was horrible for me. i don't remember anything ab those years of my life and am doing so much better now. career wise and health wise. stop coming for me and my team when i've never been better literally in any department. LITERALLY.

— Ariana Grande (@ArianaGrande) July 23, 2018
This must be a nightmare to Ariana's PR team. She's promoting her new video, single and album and she has 123 million followers! She's second only to Selena Gomez on Instagram. This seems somewhat inevitable given how much Pete and Ariana have been sharing on social media. Did they have their first fight? Did they realize that fans would notice if they took just one day off from posting about each other? Buzzfeed has more analysis on this if you're interested. Some people think they broke up while others think they both want a break.
There's other news about these two which might also explain why they're stepping back. Ariana's ex, Mack Miller, just did an interview in which he wished her well on her engagement to Pete and said that he tries to limit his own internet exposure. Plus Pete recently admitted in a Q&A session during a standup routine that his proposal to Ariana happened in bed when he was high. [via US Magazine]
I just went to see Pete Davidson do stand up and he said he proposed to Ariana while he was smoking weed in bed

— carly (@carlyanz7) July 22, 2018
Ok so Pete was high and in bed when he proposed just a few weeks after dating Ariana. She was likely high too (see this comment) and she took him seriously, accepted and they announced it to the public. People are paying attention to the things Ariana and Pete share and they're connecting the dots. If those two are going to stay on social media they'll have to reach some kind of happy medium. They'll need to do the same for their relationship and it doesn't seem like they're quite there yet.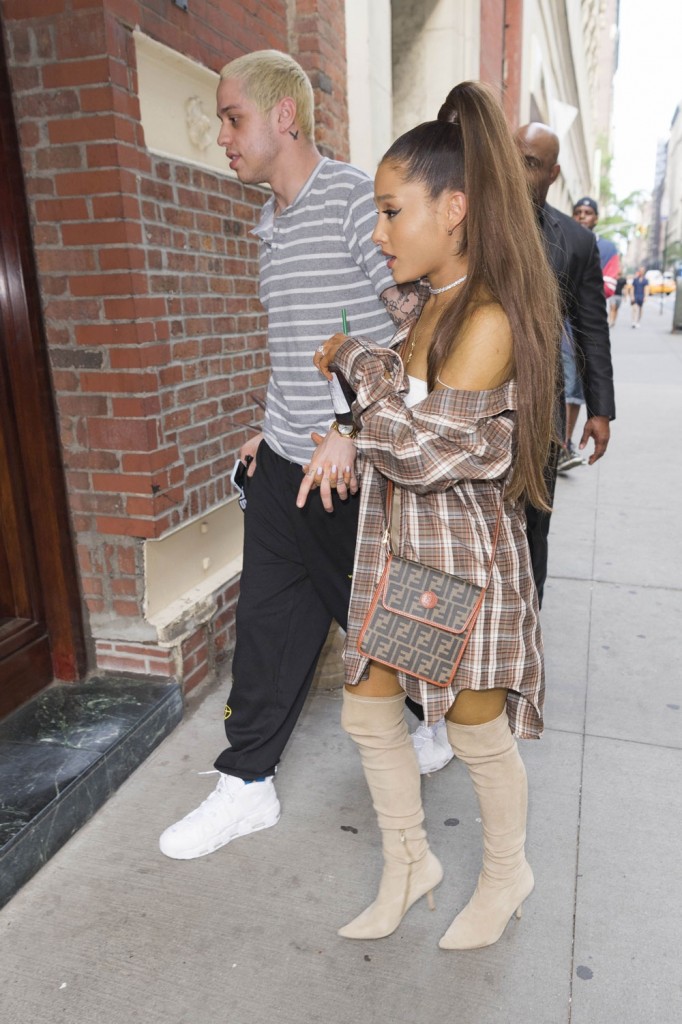 photos credit: Backgrid and Instagram