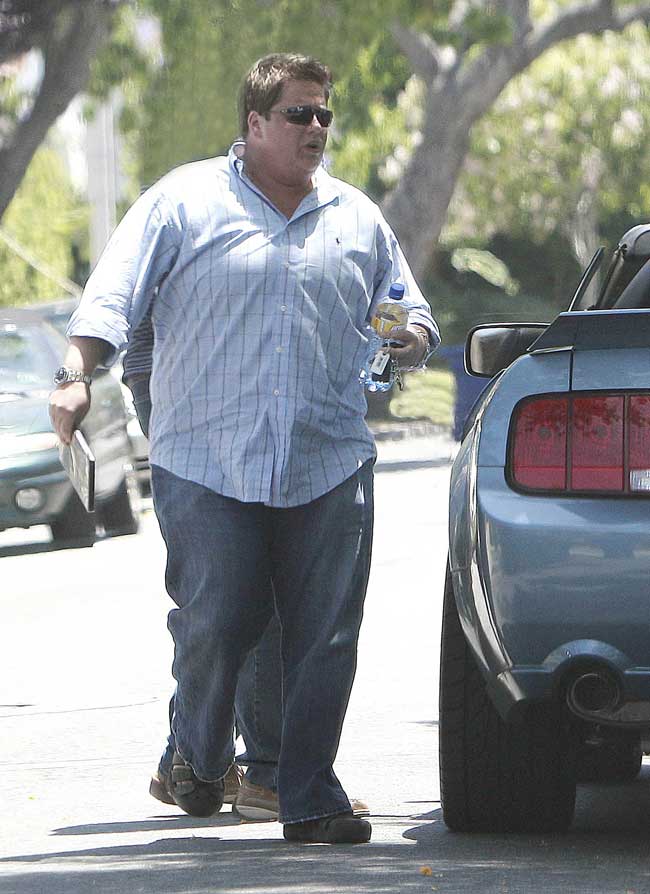 Cher's daughter Chaz Bono, formerly Chastity, is transitioning from a woman to a man with the support of his longterm female partner. Cher issued a statement two weeks ago saying that while she might not understand Chaz's decision, she will support him fully. She worded it better than I can recap, saying in part, "although I may not understand, I will strive to be understanding. The one thing that will never change is my abiding love for my child." Cher never referred to Chaz by a gender-related pronoun in her statement, which seemed like the right way to address the situation when, as a mom, she was still trying to make sense of it.
Producers have approached Chaz about creating a reality show documenting his sex change, and he's seriously considering it, according to the National Enquirer. Cher is trying to talk him out of it doing a reality show centered on his gender reassignment, as she values her family's privacy. Chaz has experience with reality television and appeared on Celebrity Fit Club 3 in 2006, losing 23 pounds. He has gained the weight back, and The Enquirer also claims that he's going to have lap band surgery to lose weight ahead of his planned wedding.
Cher is adamant about not wanting to get dragged into the crazy world of reality TV.

Now known as "Chaz," the 40-year-old daughter of Cher and music legend Sonny Bono recently announced she [sic] was undergoing the gender reassignment. She wants to do it before marrying longtime partner Jennifer Elia.

"Talk about must-see TV!" declared the friend. "Chaz has been fielding offers from reality show producers who want to show her [sic] sex change on camera.

"After appearing on 'Celebrity Fit Club' a few years ago, Chaz learned the ropes of reality TV.

"But Cher was shocked that Chaz even considered documenting her life – let alone her sex change on camer. Cher treasures her privacy…

"As a gay activist, Chaz is adamant about recording her sexual identity struggles and her transition from female to male," said her friend. "Her concern is that it be done tastefully. If she does it at all, she wants a documentary style format, and for it to be educational."
[From The National Enquirer, print edition, July 13, 2009]
Cher is right – Chaz should stay far away from reality TV if the goal is to make it educational. Reality shows take on a life of their own and create drama and a story arc when it's not necessarily there. People's lives then start to resemble the roles they're shoe-horned into and it's hard to separate reality from fiction. Chaz is getting married soon – they don't need the added stress on their relationship of a reality show.
Chaz could possibly work with documentary filmmakers who are aware and sensitive about transgender issues and create a special to air on cable. An average reality show producer will not do his story justice. HBO might be the place to air Chaz's story. A few years ago I saw a very moving documentary on HBO about a dying transgender man called Southern Comfort. There's also another documentary that aired in 2005 on HBO called Middlesexes that was relatively well received.
Corey Scholibo, the entertainment editor of The Advocate, told Good Morning America that Chaz's high profile status makes him a de facto representative for his community. "I think that he is going to be the most public face of the transgender community…
For America, and for the world it will shed light on a community I don't think they are all that familiar with and don't really know that much about."
Maybe a reality show could help too, but it would have to be done by people who thoroughly understand transgender issues and don't just try and exploit the situation for ratings.
Here's a link to a segment on Good Morning America on Chaz's gender reassignment process. He is not interviewed but it's a good look into why people are fascinated with this story.
Chaz is shown supposedly test driving a new Mustang on 7/1, but then he hugged the guy he was with, suggesting it was a friend, not a salesman. Credit: Coqueran/Fame Pictures