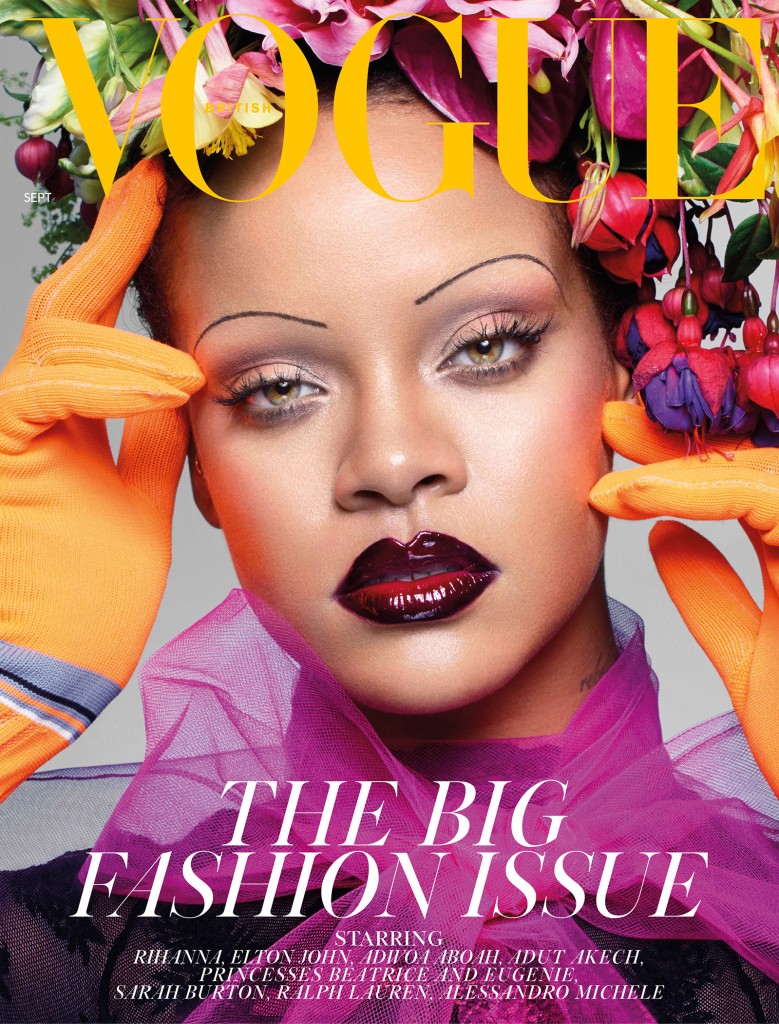 We're going to be getting some major Vogue drama here in America, with Beyonce set to cover the September issue, and Beyonce requiring Vogue to hire their FIRST black cover photographer. But Edward Enninful wasn't going to let American Vogue have all the groundbreaking glory. Enninful has been stressing diversity ever since he took over the editorship at British Vogue. And now he's decided to put Rihanna on British Vogue's September cover. Rihanna is the first black woman to appear on the September cover in the magazine's history.
Rihanna was shot by Nick Knight – who does a lot of the editorials for rock stars – and she was styled by Enninful himself. Enninful decided to do these razor-thin brows, which I'm still trying to figure out. How do I feel about them? How do you feel about them? For years now, we've been told by the fashion industry that bigger brows are "in," that we should all want big, thick hirsute brows to make us all look younger. That style has been taken to a ridiculous level, as even reality stars are filling in their brows to basically look like Sasquatch's Botoxed cousin. Maybe Rihanna is signaling a new trend: razor thin brows. Minimalist. Dietrich. Simple. Elegant? You can see the British Vogue preview here.
Rihanna posted some of the images on her social media too. I love all the headpieces. That's something that isn't said about Rihanna enough: she has a face for hats and dramatic headpieces. Of course, she has a face which can pull off just about anything (even bangs, dare I say).
SEPTEMBER ISSUE!!! @britishvogue
I'm so honored to be on the cover of your first September issue with British Vogue @edward_enninful Thank you for considering me! pic.twitter.com/ur3UlWoIXf

— Rihanna (@rihanna) July 31, 2018
September issue @britishvogue .
I finally got to work with Nick Knight for the first time! Legend. @edward_enninful get yours on Aug. 3 pic.twitter.com/aW2dACru93

— Rihanna (@rihanna) July 31, 2018
Photos courtesy of Nick Knight for British Vogue.